With the end of the summer split in sight, and playoffs looming, the LEC's All Pro-Team has been revealed:
The first team players are:
Origen's Barney "Alphari" Morris (89 points)
MAD's Zhiqiang "Shad0w" Zhao (92 points)
G2's Rasmus "Caps" Winther (118 points)
Excel's Patrik "Patrik" Jírů (61 points)
MAD's Norman "Kaiser" Kaiser (123 points)
The runners up:
G2's Martin "Wunder" Hansen (73 points)
Rogue's "Inspired" Słoma (72 points)
Rogue's Emil "Larssen" Larsson (99 points)
Rogue's Steven "Hans sama" Liv (60 points)
Rogue's Oskar "Vander" Bogdan (74 points)
And finally, in third:
MAD's Andrei "Orome" Popa (71 points)
Schalke's Erberk "Gilius" Demir (68 points)
MAD's Marek "Humanoid" Brázda (52 points)
Fnatic's Martin "Rekkles" Larsson (54 points)
G2's Mihael "Mikyx" Mehle (48 points)
The votes have largely been well received - or at least, the decisions made have been seen as justifiable. Alphari's stats over the course of the summer, for example, have been nothing short of extraordinary, and Caps' continued excellence in the face of G2's wider inconsistency surely earned him a great many votes as well.
Other stand-outs in voting include MAD Lion's playmaking jungle and support duo. Shad0w's Lee Sin montages saw off fierce competition from the likes of Rogue's Inspired and the great Godgillius, who helmed Schalke's miracle run into playoffs, and Kaiser's imperious support play saw him 49 points clear of 2nd place support Vander.
For some though, it's heartbreak. Hans Sama missed out on a spot in the first All-Pro Team by one vote - allegedly his own - that gave Patrik the prime position.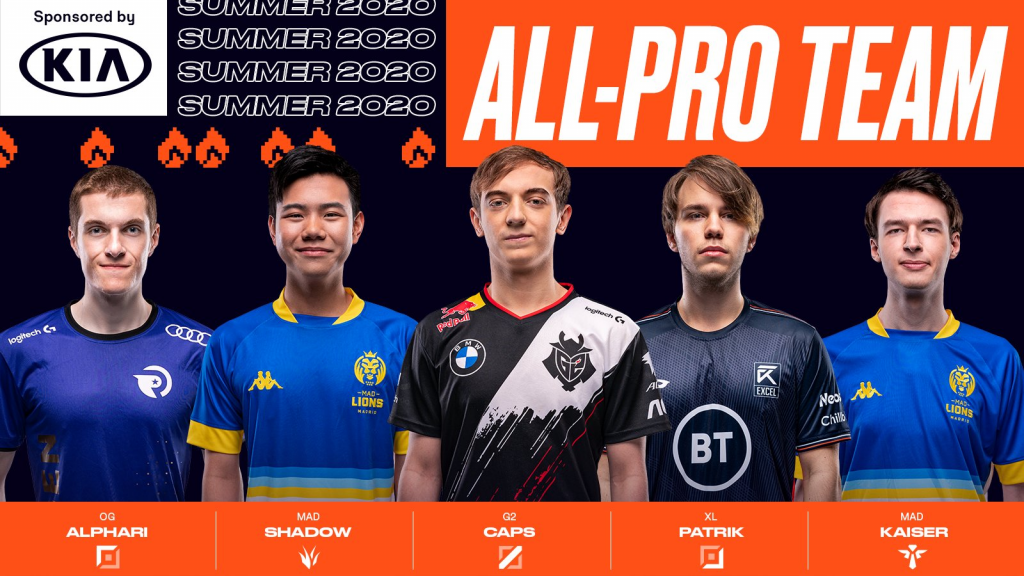 That's not to say there hasn't been controversy. Alphari's stats may justify his place at the top, but his team finished dead last in the league, making him the first player to be included in the All-Pro team who didn't make playoffs, nevermind finishing last. Mikyx getting 3rd place after a hot-and-cold split has also raised eyebrows, albeit only by receiving 49 points - the lowest of any player in contention.
Others have voiced surprise that no Rogue player made the first team, despite getting first in the regular season. It comes on the back of community conversation about how casters were allegedly underselling Rogue (a perception the LEC team tried to correct fairly rapidly), and lukewarm pro-player opinions around the Rogue squad.
All that said, four Rogue players did make the second All-Pro team - an impressive showing - and Hans Sama was a hair's breadth away from first team, highlighting the team's high level of consistent play. They'll want to prove that should have been more than enough to elevate them to first team in the upcoming LEC playoffs.
You can catch more LEC action on 21/08 at 17:00 BST/18:00 CEST, with Schalke 04 taking om SK Gaming in the first round of playoffs