Wednesday has rolled around, and another episode of Moon Knight for MCU fans to enjoy, dissect and shameless stare at. With a successful debut on Disney+ and a massive social media frenzy that followed in its wake, the second episode looks to answer many questions that remained after the conclusion of last week's episode.
This week, we got to see a little more of Marc Spector, a thoughtful side to Steven Grant, and a new character emerges, albeit with hilarious results. In this analysis, we'll be exploring a breakdown of Moon Knight Episode 2, Summon the Suit", ending with some final thoughts and a brief review of the series at this point.
Moon Knight Episode 2 – Breakdown: Hello there, Mr Knight
Following an overwhelmingly positive reception towards the first episode, the journey continues in the follow-up episode, aptly titled, "Summon the Suit". After Moon Knight finally emerges despite some reluctance, Steven wakes up in a terrifying state, likely reliving events from the first episode's conclusion.
Don't sleep, it's time for #MoonKnight. Watch the new episode of Marvel Studios' Original series on @DisneyPlus. pic.twitter.com/2008FuVZRD

— Marvel Studios (@MarvelStudios) April 6, 2022
Still restrained to his bed, he catches up with him, making his way to work, only to discover that parts of the museum have been temporarily closed due to "burst pipes". Unfortunately for Steven, thanks to security footage, he loses his position at the museum's gift shop due to acts of vandalism he committed, or rather Marc as Moon Knight committed.
Instead of fretting over the loss of his job, he plans to investigate the mysterious objects he had found in his apartment (more on that later). The key leads him to a self-storage facility where he discovers military-grade containers and other equipment and a duffel bag.
Not only did the items inside the bag startle him, but realising that the golden scarab was, in fact, an actual artefact in his possession alongside Marc's passport. Marc finally emerges to explain that they are the avatar for the Egyptian deity, Khonshu, God of the Moon.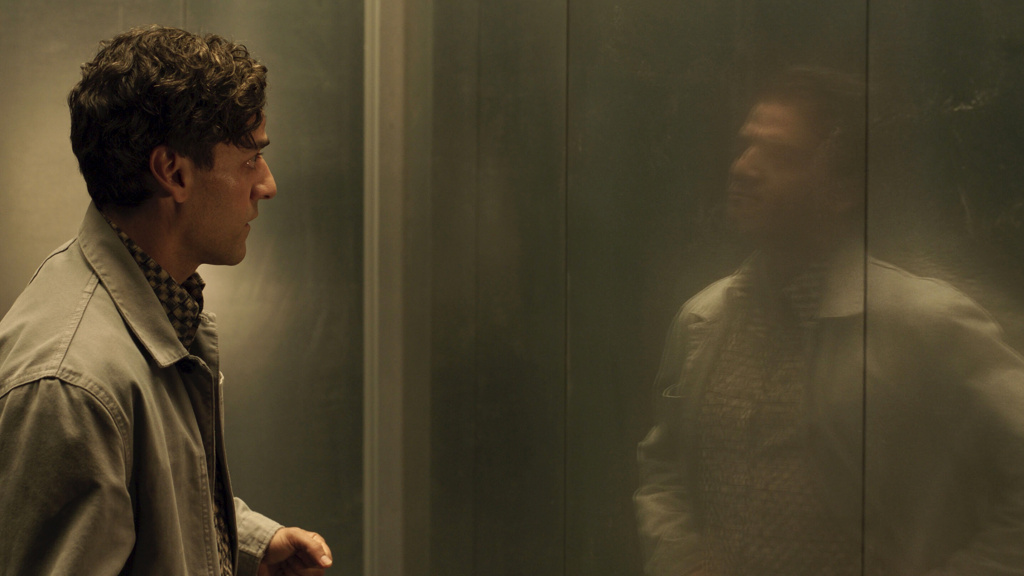 While he doesn't detail how long he has been in "servitude" to Khonshu and what acts he has completed and is yet to complete; it does involve the golden scarab leading to Ammit's Tomb. At this point, Marc attempts to convince him to relinquish control of the body for him to complete his mission when Steven decides to go to the authorities.
This goes awry as he nearly gets thwarted by Khonshu as echoes of a hilarious scream follow. Perfect timing for Steven as Layla, the woman from the phone call in episode one, appears from nowhere on a scooter and reveals that not only did she track the phone to London and that she's Marc's wife. Interesting.
They head back to Steven's apartment, which belongs to his mother's when Layla reveals that she had tried to contact Marc for months. The reason? Divorce papers. However, much of the contents inside Steven's apartment reflect much of Layla's upbringing and experiences, but the feel-good moment gets halted by a sudden knock at the door.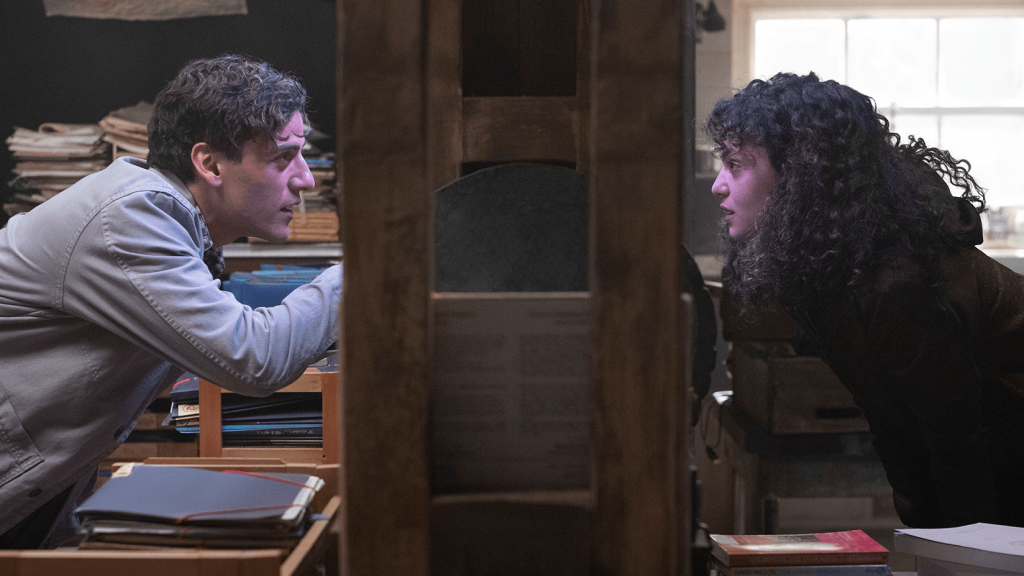 We finally get to meet two shady police officers who apprehended Steven; all the while, Marc tries to convince him once again to hand the body over. These officers were obviously in cahoots with Arthur Harrow as he indulged Steven in his ideal utopia, Bob Dylan music included.
As the pair display varying objectives, with Steven pointing out the errors of judging people before them making fatal mistakes, Arthur begrudgingly asks Steven about the whereabouts of the golden scarab, for which Layla appears with the scarab in hand.
A chase ensues with yet another jackal as Steven struggles to "summit the suit". While he'd eventually summon a suit, not the Moon Knight suit, we got our first look at the Mr Knight character, which was previously teased through promotional posters.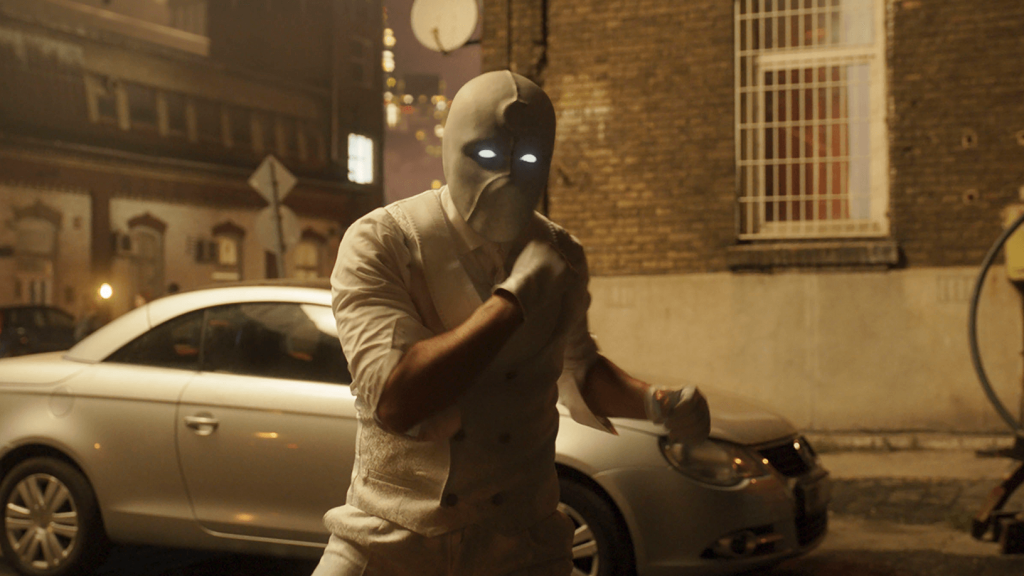 While many had hoped for a near comic-book accurate portrayal of Mr Knight, instead, Steven got a crack at the character, which provided some rather entertaining moments and witty one-liners that, for sure, do give one second-hand embarrassment.
However, it feels somewhat refreshing for Steven to be in control of Mr Knight instead of Marc, allowing both Steven and Marc to have a hand in guiding each persona. While the suit looks near-perfection, the fight with the jackal is rather weird yet fascinating to watch, even when Steven lands an impressive punch.
As Steven enjoys the spoils of the powers that come with donning the suit, he eventually allows Marc to take control in the meantime. This summons the actual suit, which, as Moon Knight, quickly disposes of the jackal while looking like an amazing badass.
DAYUUUUMN STRAIGHT OUT FROM THE COMICS#MoonKnightpic.twitter.com/L6bYULUAGj

— Mike (@mikelaurenzz) April 6, 2022
As Marc tries to calm Steven down, being on the reverse side of things, the duo comes to blows towards the episode's conclusion as Steven calls Marc a "parasite", asking for his body (and his life) back.
With a livid Khonshu disappointed over losing the scarab to Harrow, we find a shirtless Marc/Steven in a hotel room (possibly) somewhere in Egypt as their pursuit for the golden scarab continues.
Moon Knight Episode 2 – Breakdown: Review and Final Thoughts
While I'm not someone who likes to compare the merits between episodes, episode two was undoubtedly on the more wacky side while still doing an excellent job of fleshing out the characters. We have finally got to see Marc Spector take control of the body; unfortunately, it only occurred towards the end of the episode.
Before meeting him, we got introduced to Mr Knight and based on reactions on Twitter, the responses have been lukewarm at best. Granted, some fans were disappointed that they didn't get a near-faithful adaptation of the character; I may somewhat agree with those who oppose this narrative.
They will definitely develop more of Mr.Knight in the MCU! Y'all should chill and have some patience. I really remember how i was mad about how whedon wrote Captain America in his Avengers movies and then I got much better Steve Rogers in Russo's films. So its just matter of time

— Marc (@MarAbh999) April 6, 2022
It's only been two episodes, and there is still plenty of time for a more comic-book accurate version of the character to appear. Similarly, one fan pointed out that allowing Steven Grant to take possession of Mr Knight made events more enjoyable to watch.
Additionally, comments regarding character development made them appreciate the MCU version of Mr Knight, with all its quirks. I've echoed a similar sentiment, noting Oscar Isaac's comments on how the character has been Marvel's legitimate example of a "character-study" since Iron Man.
With four personas revealed to audiences in just two episodes as there have been reports of a potential curveball arriving in the fourth episode. Either way, the series is quickly becoming one of my favourite Marvel Studios/Disney+ shows thus far.
Moon Knight is streaming on Disney+ with new episodes set for release every Wednesday at 12 am PT / 3 am ET.
Featured image courtesy of Marvel Studios.