After a few weeks of pause in July, Twitch Rivals is ramping up production of events in August, starting with the Hermit Raiders with Hermitcraft tournament.
Twitch Rivals is joining forces with Hermitcraft, famous vanilla and modded whitelisted Minecraft Server with a 9-years-long history.
The event will see players battling in a special "Hermit Raiders" game with unique challenges for all players and teams.
If you like to watch your favourite Minecraft streamers playing some crazy games against each other, this event is something you will not want to miss.
Let's check out all the details.
Twitch Rivals x Hermitcraft schedule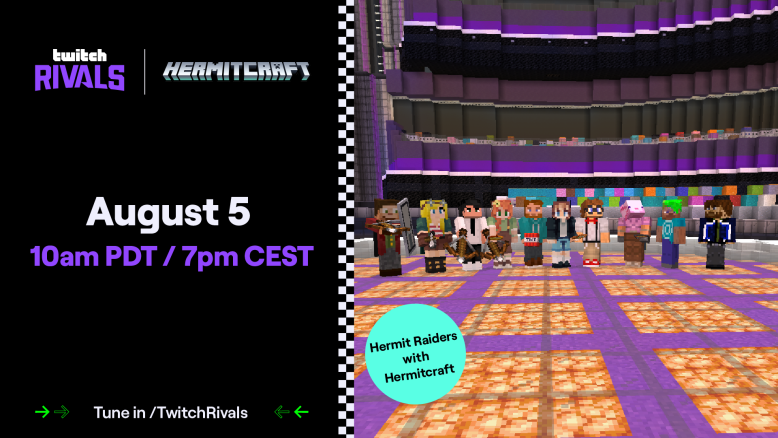 The event will be a 1-day event, scheduled for 5th August 2021.
The event starts at 7 pm CET / 1 pm ET / 10 am PT and should end around 11 pm CET / 5 pm ET / 2 pm PT.
Twitch Rivals x Hermitcraft format and rules
6 teams of 4 content creators
5 rounds of "Hermit Raiders"
Each round of Hermit Raiders will consist of a unique trigger and a unique raid
The trigger is an objective that begins the raid
Teams need to defeat all of the raid enemies as fast as they can
Teams will be ranked and awarded points in the order they complete the raid, including the time taken to trigger it
Teams will also be buffed or nerfed between rounds based on their performance
At the end of 5 rounds, teams will be ranked based on their cumulative point totals
Twitch Rivals x Hermitcraft teams and players
In total 24 Minecraft streamers are invited to participate in the event.
They are split into 6 teams of 4 players, and this is the full list of teams:
Team Cub
Cubfan135

PearlescentMoon

GoodtimeswithScar
Team Rendog
Renthedog

Inthelittlewood

hypnotizd
Team Docm
Docm77

LogicalGeekBoy

Xisuma
Team False
Falsesymmetry

ImpulseSV

Skizzleman
Team Iskall
Iskall85

Captainsparklez

XbCrafted
Team Gemini
Twitch Rivals x Hermitcraft prize pool
The event boasts a $30,000 prize pool, which will be shared amongst teams as follows:
1st- $7,000

2nd-$6,000

3rd-$5,000

4th-$4,000

5th-$4,000

6th-$4,000
How to wat Twitch Rivals x Hermitcraft: Stream
The event will be broadcasted live on the official Twitch Rivals channel, hosted by Joe Hills and Pixlriffs, with game commentary, interviews with Hermits, and analysis.
Additionally, all participating content creators will be allowed to stream their POV of the tournament.