The first trailer for Venom sequel Venom: Let There Be Carnage has debuted online and gives us a fresh look at Woody Harrelson as Cletus Kasady as well as the first look at his villainous alter-ego Carnage.
Watch Venom: Let There Be Carnage trailer
The trailer kicks off in a humorous fashion, with Tom Hardy's Venom making breakfast and singing to Tom Hardy's Eddie Brock in the apartment they share, the scene ending with Venom blasting Brock with tomato ketchup. 
We then meet Kasady, who was actually introduced as an Easter Egg at the end of the last movie, though his hair has clearly been cut since then.
Kasady is a criminal who speaks to Brock from his prison cell, believing the pair have a connection, while journalist Eddie's interest in Cletus doubtless has something to do with the Daily Bugle front page glimpsed in the footage, which concerns "The Hidden Victims of Cletus Kasady."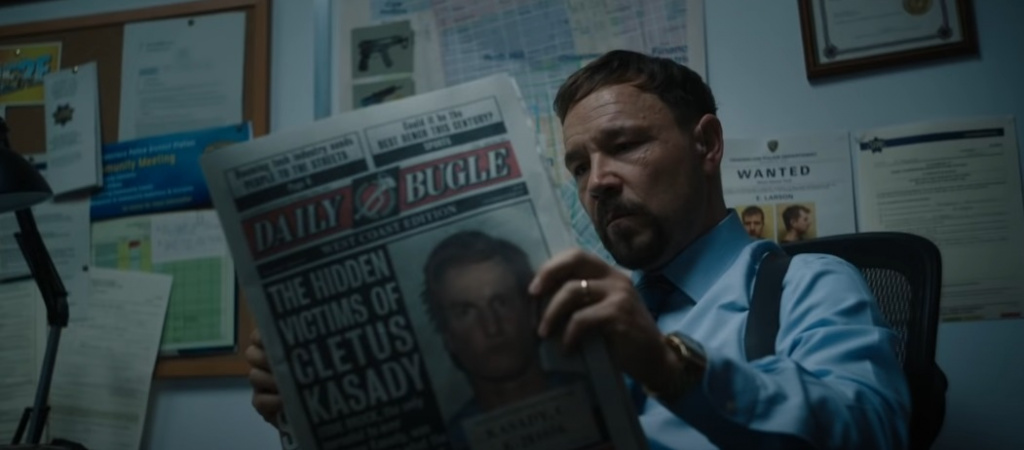 (Picture: Sony Pictures Entertainment)
The trailer then journeys to the Ravencroft Institute for the Criminally Insane, where Frances Barrison/Shriek – played by Naomie Harris – is similarly incarcerated, and while we don't see much more of her character, there is a quick shot of Shriek wreaking havoc in her glass cell.
We get a couple of fun scenes inside Mrs Chen's convenience store from the first movie, while Michelle Williams also returns as Eddie's off-on-off-again girlfriend Anne Weyeing. But the trailer's key moment plays out during Kasady's execution when something goes wrong, and rather than being put to death, Cletus turns into monstrous supervillain Carnage.
Andy Serkis directs Venom: Let There Be Carnage, with the film set to hit screens worldwide this September.
For more on TV and movies, visit our dedicated entertainment section.