As if the Mamba Signature Challenge was not doing it to make us fondly remember one of the most iconic players in the league's history, 2K has given us the ultimate tribute item to move the needle.
The official MyTeam Twitter announced earlier today, they just released Limited Edition packs and boxes with a new edition of the Fan Favourites series.
The Fan Favourites 2 packs and boxes are now live in MyTeam's pack market so if you were planning on breaking the piggy bank you now have a new destination for your VC in order to get a chance to get a G.O.A.T Kobe Bryant with 99 attributes all-around.
You can buy packs individually for 9,375 VC, buy a 10-pack box for 84,375 VC or a 20-pack box for 187,500 VC that includes a box topper with a guaranteed limited edition item from the series.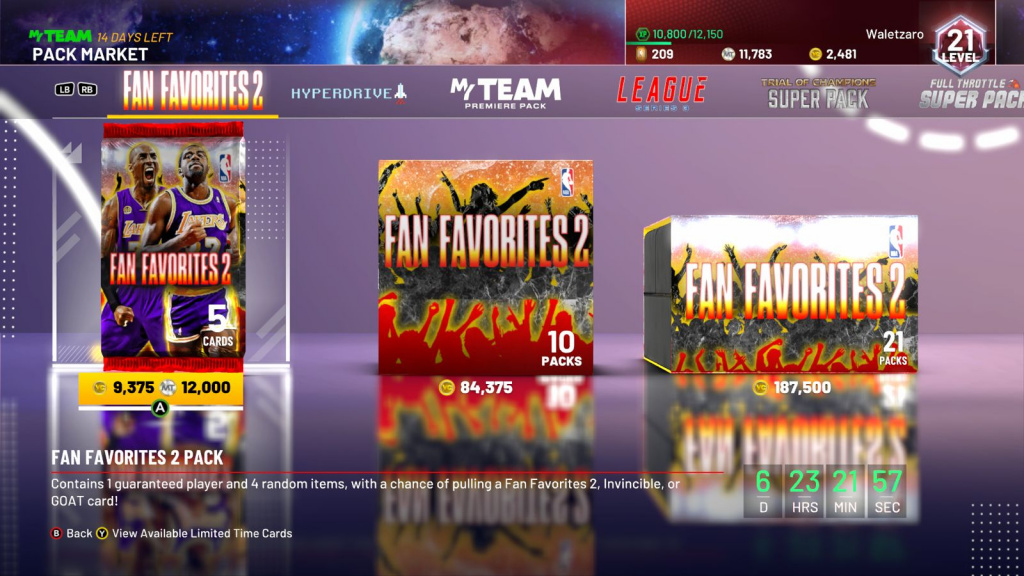 Each pack contains four random items like contracts, shoes, coaches, etc, plus a chance to pull a G.O.A.T., Fan Favourites 2 or Invincible player item.
Here is the full list of Fan Favourites 2 exclusive items available within the packs:
99 OVR G.O.A.T. Kobe Bryant - Los Angeles Lakers
99 OVR G.O.A.T. Magic Johnson - Los Angeles Lakers
99 OVR Invincible Kawhi Leonard - Toronto Raptors
99 OVR Invincible Kristaps Porzingis - New York Knicks
99 OVR Invincible Ben Simmons - Philadelphia 76ers
99 OVR DM Rudy Fernandez - Portland Trail Blazers
99 OVR DM Boris Diaw - Phoenix Suns
99 OVR DM Sim Bhullar - Sacramento Kings
99 OVR DM Danny Ferry - Cleveland Cavaliers
98 OVR DM Felipe Lopez - Minnesota Timberwolves
98 OVR DM Isaac Bonga - Los Angeles Lakers
98 OVR DM Eric Paschall - Golden State Warriors
98 OVR DM Gerald Green - Phoenix Suns
98 OVR DM Brian Scalabrine - Brooklyn Nets
Be on the lookout because we will bring you the latest news and tips on NBA 2K, Madden, FIFA and all your favourite sports games.