Before we start with NBA nostalgia as the season it's about to end and the game it's about to transition to its next version, MyTeam keeps giving us plenty of reasons to smile.
As the MyTeam Twitter announced earlier today, they just released a Limited Edition Pack with players from the Brooklyn Nets, Los Angeles Clippers and Denver Nuggets, including nine completely brand new player items.
The Season Rewind Packs are now live in MyTeam's pack market for you to buy, yet you have to be quick because they will only be available for 24 hours.
You can buy packs individually for 11,500 VC, buy a 10-pack for 101,500 VC or a 20-pack for 202,500 VC. Essentially, if you were to buy more than one pack you get a 10% discount.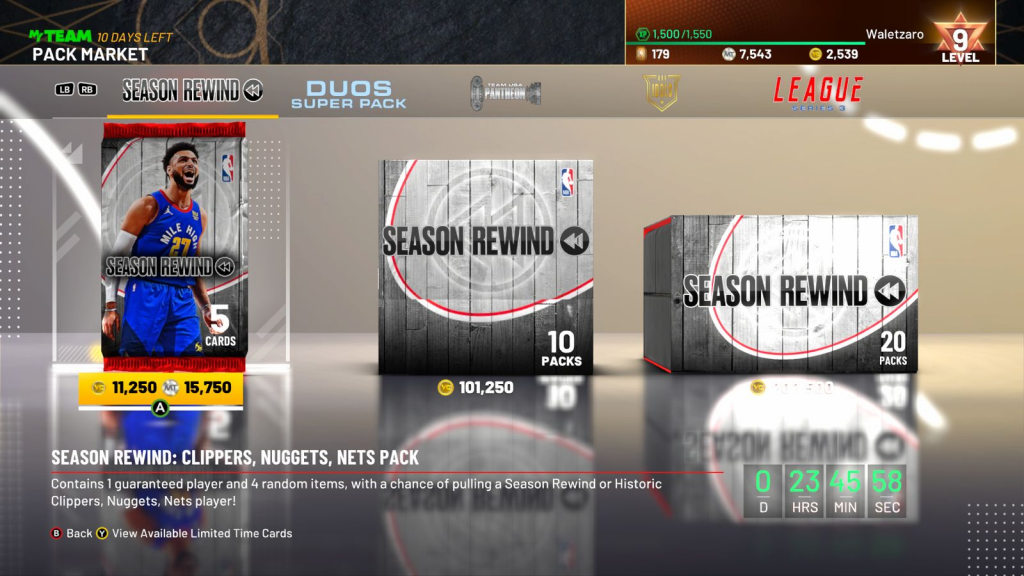 (Picture: NBA 2K21)
Each pack contains a guaranteed player plus four other random items like contracts, shoes, coaches, etc, with a chance of pulling a Season Rewind player or and Historic players from the before-mentioned franchises.
Here we give you the nine brand new items included in some of the packs:
99 OVR Demarcus Cousins - Los Angeles Clippers

99 OVR Jamal Murray - Denver Nuggets

99 OVR Spencer Dinwiddie - Brooklyn Nets

98 OVR Facundo Campazzo - Denver Nuggets

98 OVR Marcus Morris Sr. - Los Angeles Clippers

98 OVR Landry Shamet - Brooklyn Nets

96 OVR Ivica Zubac - Los Angeles Clippers

96 OVR Bruce Brown - Brooklyn Nets

96 OVR P.J. Dozier - Denver Nuggets
Be on the lookout because we will bring you the latest news and tips on NBA 2K, Madden, FIFA and all your favourite sports games.