It has become inevitable not to think about our run with NBA 2K21 coming to an end, with all the good memories, heart-stopping games and iconic buzzer-beaters that filled our leisure time.
The official MyTeam Twitter announced earlier the release of the third and last batch of the Hyperdrive item series.
The Hyperdrive III Packs are now live in MyTeam's pack market so you can spend some VC to get a chance to get one of the newest Invincible player items or one of the Hyperdrive exclusive items.
You can buy packs individually for 7,500 VC, buy a 10-pack for 67,500 VC or a 20-pack for 135,000 VC. Essentially, if you were to buy a box you get a 10% discount.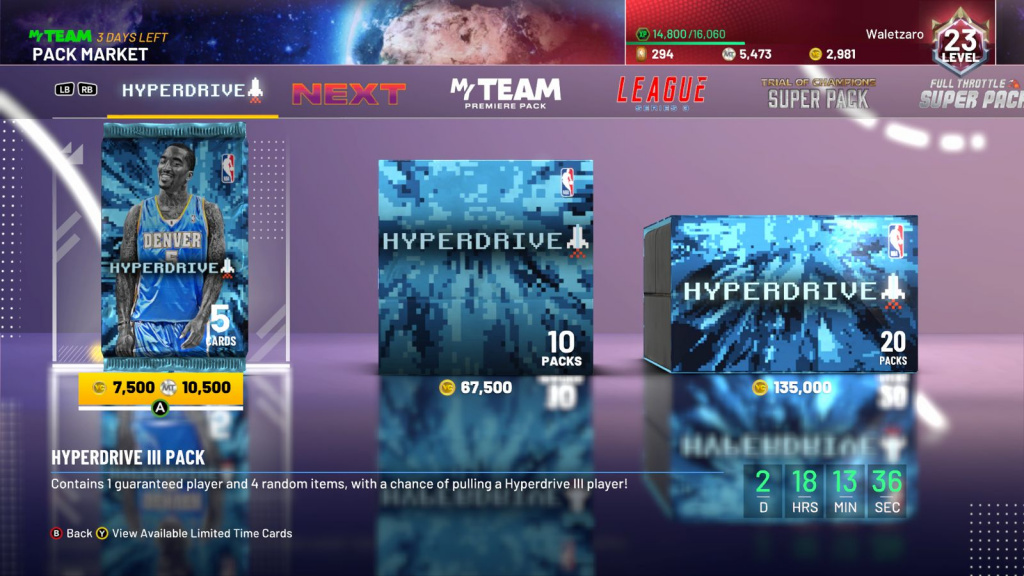 Each pack contains four random items like contracts, shoes, coaches, etc, plus a chance to pull an Invincible player item or one from the Hyperdrive series.
Here is the full list of Hyperdrive III exclusive items available within the packs:
99 OVR invincible J.R. Smith - Denver Nuggets
99 OVR Invincible Joel Embiid - Philadelphia 76ers
99 OVR DM Monta Ellis - Golden State Warriors
99 OVR DM Tim Duncan - San Antonio Spurs
99 OVR DM Domantas Sabonis - Indiana Pacers
99 OVR DM Bryant Reeves - Memphis Grizzlies
99 OVR DM Cedric Maxwell - Boston Celtics
99 OVR DM Larry Bird - Boston Celtics
MyTeam Locker Room Codes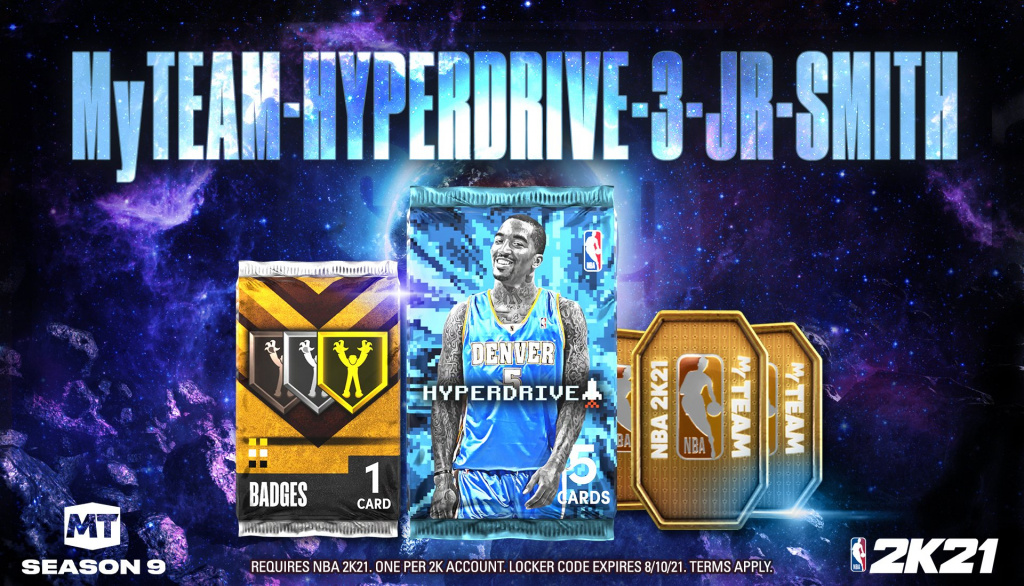 2K also gifted us a locker code that will be functioning the whole week with a chance to earn a Hyperdrive II pack. 
After you enter each code, you will earn a ball drop mini-game that include other possible prizes like badges or tokens. The locker code is:
MYTEAM-HYPERDRIVE-3-JR-SMITH
Be on the lookout because we will bring you the latest news and tips on NBA 2K, Madden, FIFA and all your favourite sports games.