Overwatch pro Cai "Krystal" Shilong's issues with his former team, Hangzhou Spark, seem to be far from over. BiliBili Esports, the owners of the team, are demanding a hefty sum from their former DPS player, claiming he breached his contract during the 2019 Overwatch League season.
According to Chinese translator OWBeacon, BiliBili Esports filed a request on June 15th, demanding that Krystal pay back around $2.13 million due to his actions.
Official: On June 15, Bilibili Esports filed a request for arbitration at the China International Economic and Trade Arbitration Commission, demanding that Krystal pays no less than 15 million RMB in reparation (~2.13 million USD) pic.twitter.com/r7aqe6jcft

— OW Beacon (@OWBeacon) July 14, 2020
"On June 15, Bilibili Esports filed a request for arbitration at the China International Economic and Trade Arbitration Commission, demanding that Krystal pays no less than 15 million RMB in reparation (2.13 million USD)."

BiliBili's case for breach of contract stems from Krystal's request for a 10-day break during the 2019 season to take care of his ill mother in Beijing. Spark honoured his petition, but he failed to return by the agreed date, prompting Hangzhou to release a statement on 25th July explaining the situation.
In that first statement, the Chinese team fined him  "3 times for his salary of his absent days without permission" and was further "gravely warned," yet the intention was to incorporate him once again to the roster. This quickly changed a few days later when they confirmed, in August 2019, that Krystal was indefinitely suspended and they would be pursuing legal action.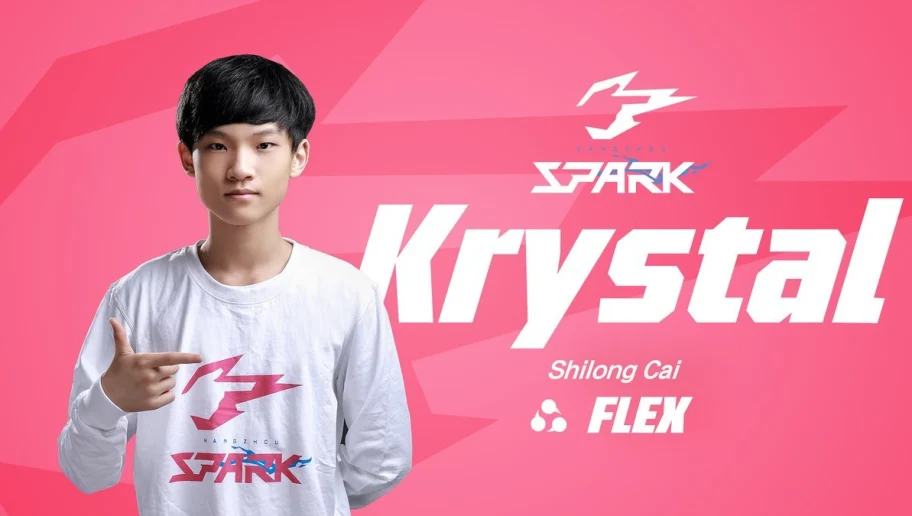 Krystal's disruptive behaviour overshadowed his incredible in-game skill (Credit: Hangzhou Spark)
In a lengthy Weibo post (the Chinese equivalent of Facebook) translated by Reddit user BluebellP, the Spark would make Krystal's disruptive behaviour public. Written by Hangzhou's chief supervisor, Long Duo, he detailed all the transgressions the 19-year-old committed since joining the team.
It appears that Krystal's behaviour had been troublesome from the outset with Duo claiming that; Krystal consistently delayed scrims during pre-season, demanded to live separated from his teammates, and purposefully entered the USA on a tourist visa while having a work one granted, then proceeding to delay his re-entry multiple times.
Throughout the season Krystal would bail on the team, missing scrims, demanding role swaps (as a DPS player stuck in a support position during the GOATS meta, he asked to play as a tank) and even requested a trade as he felt the coaching staff was not treating him fairly.
"We attempted to pick teams with him to contact (GZ Charge, Boston Uprising, Washington Justice). Afterwards, Cai Shilong asked for progress updates many times, and we communicated with other teams over the phone with him present, but the other party clearly stated they had no interest," Duo explained.
The big bomb was dropped when Duo revealed Krystal was lying about his mother's condition as the reason for going back to China. Shilong's mother lives in Beijing, but as Spark confirmed, Krystal flew to Shanghai instead.
"As for the series of explanations he has conjured, I can use one sentence to summarize them all: 'When you tell one lie, you need a thousand lies to round it out.'"
Oddly enough, Krystal was very much a part of the organisation almost halfway into 2020. OWBeacon reported in March of this year that the Chinese prodigy was participating in scrims with the Chengdu Hunters and there was interest in signing him, but the hefty buyout fee prevented the transfer from happening. It was until June when Hangzhou finally decided to part ways with him.
This well-documented lack of professionalism didn't stop other teams from showing an interest, with the player's potential clear for all to see.  Summer Showdown champions, Guangzhou Charge, announced Krystal would be joining the squad weeks after becoming a free agent.
Whether the gamble will pay off or not remains to be seen, but at 19 years of age, if the Chinese star can turn his career around, it would make for an impressive redemption story.