UPDATE: Brady "Agilities" Girardi, damage-dealer who spent the first two OWL seasons with Valiant and made his return after playing in 2020 with Toronto Defiant, confirmed he won't actively look for a team for the upcoming season.
ORIGINAL STORY:
Just over a month away from the start of Overwatch League Season 4, the Los Angeles Valiant have confirmed via social media that they're dropping all current staff members and players, claiming "COVID-related visa issues," as the team was set to play their matches from China.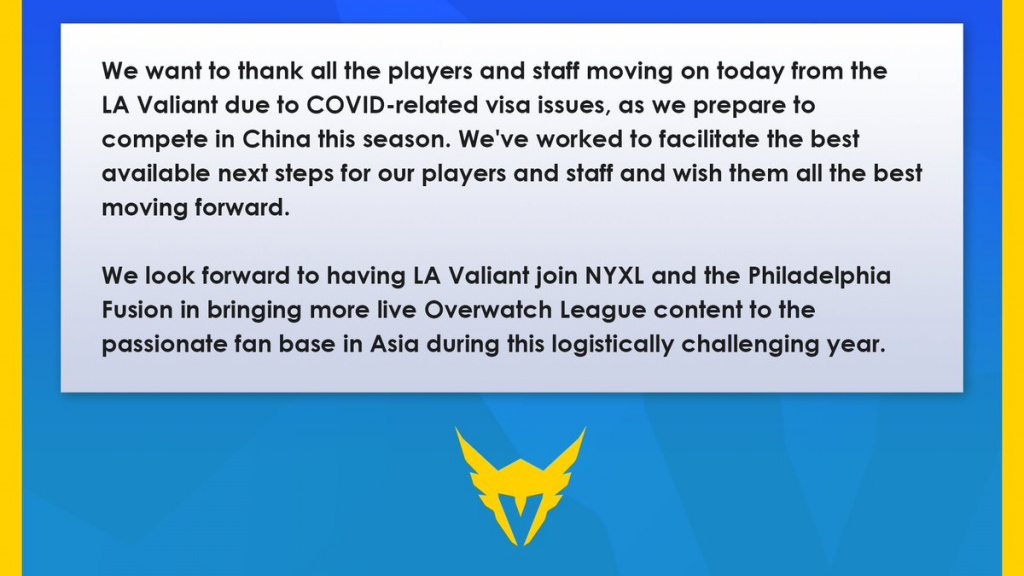 (Image: Los Angeles Valiant)
In the same statement, the team has said that they have been working to "facilitate the best available next steps for our players and staff."
The shocking news came just weeks after Overwatch insider Arran "Halo" Spake revealed that Immortals Gaming Club, owners of Valiant, were selling the OWL franchise to an unspecified Chinese buyer. IGC categorically denied this rumour.
While the information regarding any sort of takeover is still unconfirmed, Halo mentioned that the new ownership's vision included fielding a Chinese roster.
As a result of this, Michael "Packing10" Szklanny, now former coach of the Valiant, renowned for taking a perceived bottom of the barrel roster to an 8th place finish in 2020, has decided to focus on Immortals' Valorant squad in the immediate future.
Dear Overwatch

Read: https://t.co/Kd6URCV4UI

— Michael Szklanny Sr. (@Packing_10) January 29, 2021
According to the Overwatch League 2021 roster construction rules, any team must have at least seven players signed to season-long contracts by the 4th of January. However, these can be "terminable by the team without cause, subject to payment of a buyout fee to be agreed upon by the player and their team."
"The minimum buyout fee will be equal to the salary owed for either the lesser of 30 days or the number of days remaining in the season," the rulebook states.
A silver-lining for the Valiant players is that teams can still make trades during this timeframe as well as sign free agents. Of course, most squads have already made all the roster swaps they deemed necessary and the real struggle would be to convince any owners to take players who were left out to dry with less than two months before the new season kicks-off.
We'll keep you updated as the story develops.