The Overwatch League's 2021 season will start in April, two months later than its February billing of previous years.
Last year was supposed to mark a new dawn for the Overwatch League. Every team was scheduled to host events around the world for the first time through a city-based, home-and-away model, making OWL reflective of the game's international cast and player base.
The COVID-19 pandemic however, as with all esports, forced Activision Blizzard to scrap these plans shortly after the season began - cancelling live events, pushing the competition online and dividing tournaments into regions to reduce latency.
For 2021, Activision Blizzard, while sticking to some regional divisions, is making worldwide online tournaments a more regular staple.
Announced in a video with Overwatch esports vice president Jon Spector, the 2021 format will see teams divided into two groups between East and West. Teams in each group will play regular regional qualifier matches to decide seeding in four standalone tournaments across the season, which will feature top teams from both regions competing in one bracket.
All regular season matches will contribute towards qualification for the 2021 Season Playoffs, but only the top teams will qualify and compete in the main four tournaments.
Activision Blizzard is banking on the minimum latency tool added in Overwatch last October to make international competition possible. This allows you to set a target lag value for custom games - meaning players who have latency lower than this minimum setting will automatically have their network traffic delayed to meet the minimum and, hopefully, make matches fairer.
To reduce the chances of connection issues, western teams will also be flown out to a facility in Hawaii to compete against eastern teams - putting less distance between them.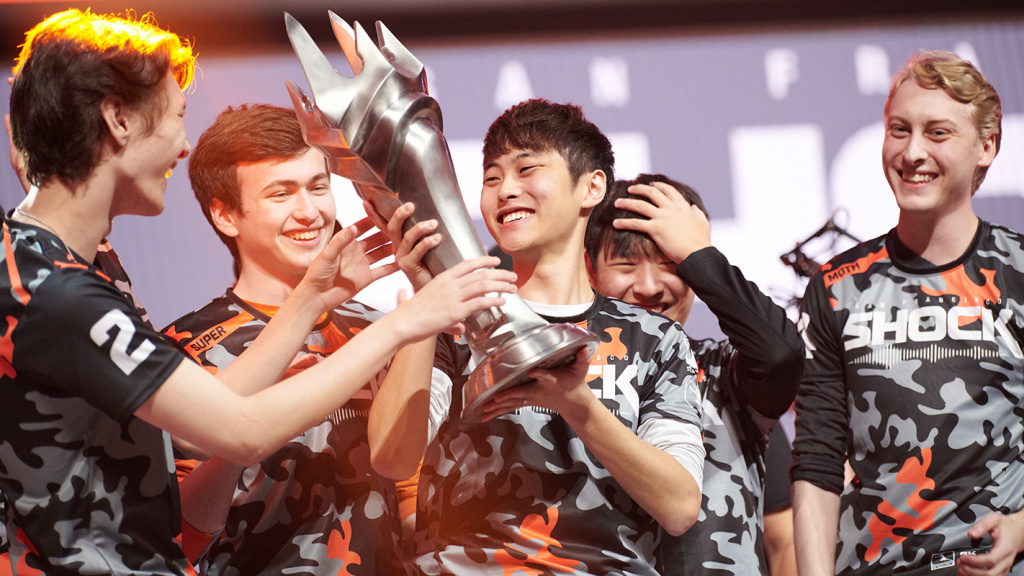 San Francisco Shock have been Overwatch League champions two years in a row (Picture: Blizzard)
Activision Blizzard also promise improvements to the viewer experience, with a new, revamped virtual set originally utilised during the Overwatch League 2020 finals, along with boosting the quality of match streams, and a video series to spotlight top players and teams.
As Sean Miller outlines below in our interview, a spoiler mode is in the works too, designed so viewers can catch up with matches spoiler-free on the Overwatch League website. 
More details are expected to be announced at BlizzConline on 19th February 2021, which also looks to offer another glimpse at the whereabouts of Overwatch 2. 
Overwatch League 2021 groups
The East
Chengdu Hunters
Guangzhou Charge
Hangzhou Spark
Los Angeles Valiant
New York Excelsior
Philadelphia Fusion
Shanghai Dragons
Seoul Dynasty
The West
Atlanta Reign
Boston Uprising
Dallas Fuel
Florida Mayhem
Houston Outlaws
London Spitfire
Los Angeles Gladiators
Paris Eternal
San Francisco Shock
Vancouver Titans
Toronto Defiant
Washington Justice
To discuss the Overwatch League 2021 format, GINX TV spoke with Sean Miller, senior manager of product strategy and operations at OWL, about bringing back international events in the online space. 
The pandemic affected the Overwatch League's plans last year massively, how has it been planning for this year knowing it'll likely take place online?
The process has been interesting to say the least. It's been a learning process in just about every way you can imagine. And 2020, we very much had to think on the fly, right? It was doing online competitions for the first time and restructuring the season. I think the advantage with us this year heading into 2021 is COVID's being going on for a little while now and we can plan a little bit better. That's been the big difference maker is just the time we have to plan and put real thought into making these plans as good as they can be.
Are you assuming everything will be online at this point? How flexible are the plans so that in-person events could return if it's safe enough? 
So we want to do live events. There's nothing like going to an Overwatch League match and being with thousands of people who share the same deep passion of the game and of the teams you do, and feeling that energy. We want it to happen. Obviously we're going to put the health and safety of everybody above what we do, that's why we're trying to remain flexible.
Should conditions improve to the point where we can do live events, then we'd like to. I think the second part to that is it varies quite a bit by region as well. Some regions of the world, like China for example, things are much better for live events there now than they are in the US - so we'll have to be flexible by region and play it by ear as best we can. And be prepared that should conditions be at the point where we can host live events, that we're ready. That's the plan. 
What have you learnt from the changes last year that you're applying to 2021?
I think what we were able to really learn in 2020 from an online competition perspective is fairness and ensuring that the players were on a level playing field. I think as we head into 2021, how that's going to be levelled up is through the minimum latency tool, which is really the foundation that makes global online competition possible for 2021 on a regular basis.
Because in 2020, we did the regional tournaments which were awesome. For 2021 the plan is to do every tournament at a global level - and the only way we can do that is because of this awesome new feature that we've developed with the Overwatch team. 
Are you guys confident the minimum latency tool can sustain high level competitive play?
We've done a lot of testing of this feature which is why we're so confident in it now. We've tested with our players, with our teams, with employees, so being able to say that the latency from Hawaii to the eastern region where teams will be playing will be acceptable has really come from all that testing.
It's been an iterative process really of how we've been doing it and what that threshold is, like is 120 ping too much or is 100 ping too much, what is the number that's too high to have it make sense? It depends in large part honestly by the pro player you're talking about, for me, I probably wouldn't notice too much at 120 or 130 ping, but the pros do notice. So we very much rely on them to help us [with] what's acceptable and what's going to stop you from getting the headshot.
So as we've worked through what's acceptable and what's not, we feel very confident that it's going to be acceptable for these players on both sides of the world.
Is this a new Activision Blizzard base in Hawaii? How did you land on that location? 
Hawaii is, on the surface, everyone's like "Oh Hawaii, let's go to the beach and hang out, send me please". But the two big points with Hawaii from a practical point are that the location with the latency we've talked about - it just happens to be in a very convenient part of the world that makes the latency possible and that's number one.
Number two is the travel and immigration perspective. Since Hawaii is a state of the US, it makes teams travelling from the North American region and the EU much more simple than it would have been, had it been another country. Just simpler is the easiest way to say it. That's how the Hawaii decision came about was those two big reasons. There's no Starkiller Base in Hawaii but it's going to be an excellent location and it's really going to serve those needs we need it to in 2021.
What was feedback like from the pro players about the 2021 plans?
One of the things I've enjoyed with going through this whole process is all the feedback we're able to solicit from teams, fans and players. We're in constant communication with the players. We actually have a Discord set up with them and they come to us all the time with questions.
We've been very collaborative with the teams as we've gone through multiple iterations of what 2021 looks like and finally landed on this specific one which has received universally positive feedback from all the teams and players. Their feedback is definitely incorporated as we iterate on all our versions.
With this minimum latency tool, does that mean the Overwatch World Cup could return in some capacity? 
We'll have more to share on that soon. Obviously the World Cup is an event everybody loves. I don't know anybody that doesn't love the Overwatch World Cup. So should safety conditions permit, they are the kinds of things we'd love to do. But we'll have more to share on all that.
The Overwatch League 2021 starts in April.