It's been a gruelling season for the Overwatch League as the COVID-19 stopped the expansion plans Blizzard had for OWL that involved playing regular-season matches across North America, Europe, and Asia.
As we finally arrive at the last stretch of competition, it's do or die for all 20 teams in the OWL, as season playoffs are their last chance to prove their worth until 2021.
Here's everything you need to know about the Overwatch League 2020 Playoffs.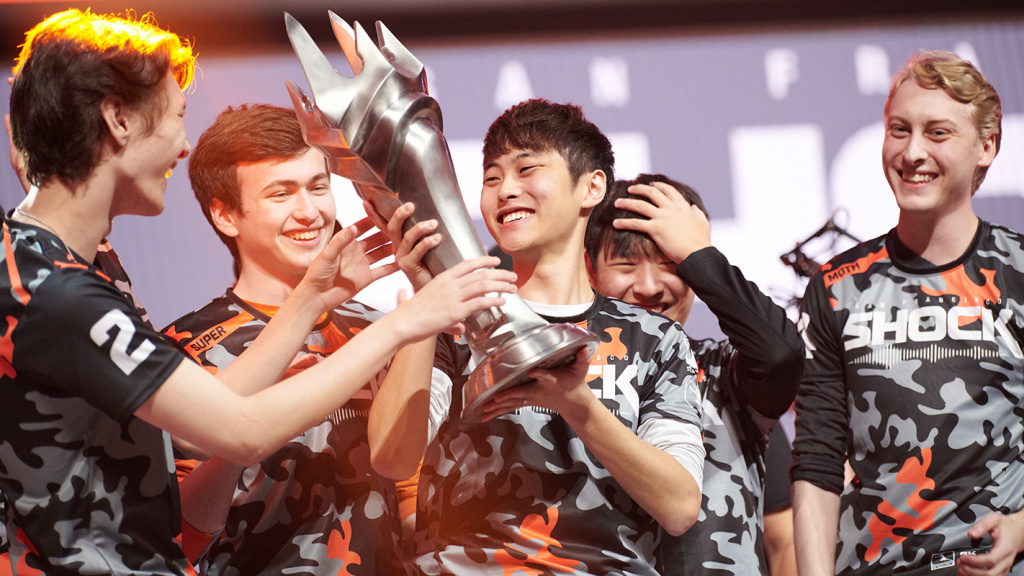 Can the San Francisco Shock go for the back-to-back OWL titles? (Photo: Blizzard Entertainment)
Overwatch League 2020 Playoffs schedule and format
All 20 teams (13 from the North American region and the seven from Asia) will be placed in a distinct bracket according to their regular-season records. The higher your seed, the more bye's you will be granted as well as the possibility to pick your opposition.
As for the lower seeds, each region will pit the bottom-placed squads in a single-elimination play-in tournament to decide which teams will be left out and which ones will make it in. Only the Top 5 seeds from NA and the Top 2 from Asia will make it directly to the playoffs.
The matches will start this next 3rd September and run through the month until the Top 2 from each region are determined. With the final four squads decided, a two-week break will follow to allow for proper health measures while traveling, as the NA side will fly to Asia to compete against the APAC squads in a LAN environment .
These four teams will then face off in a double-elimination bracket to determine the Overwatch League 2020 Champion starting 8th October, with the grand finals set to be played on the 10th.
North America standings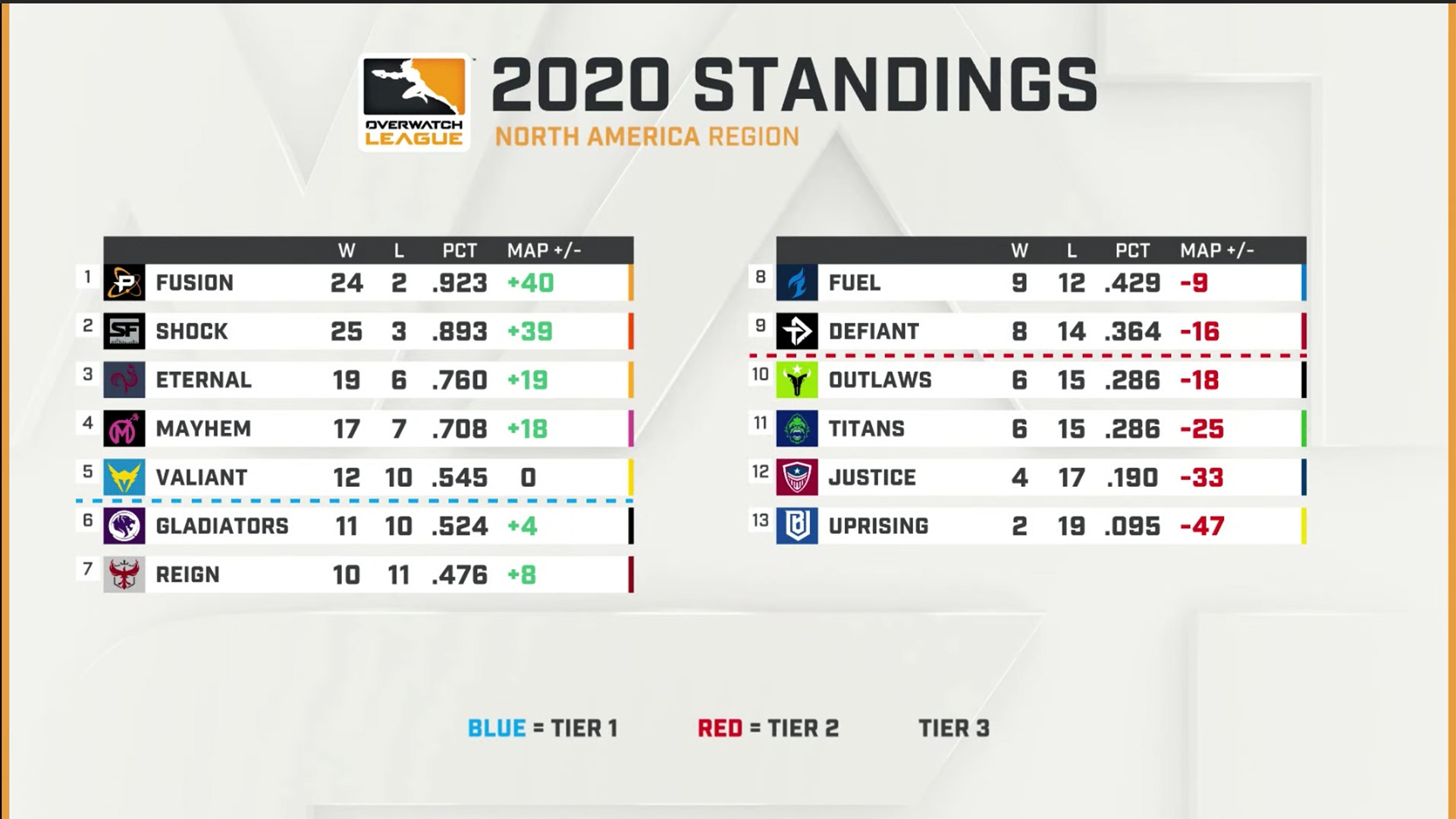 North America first elimination round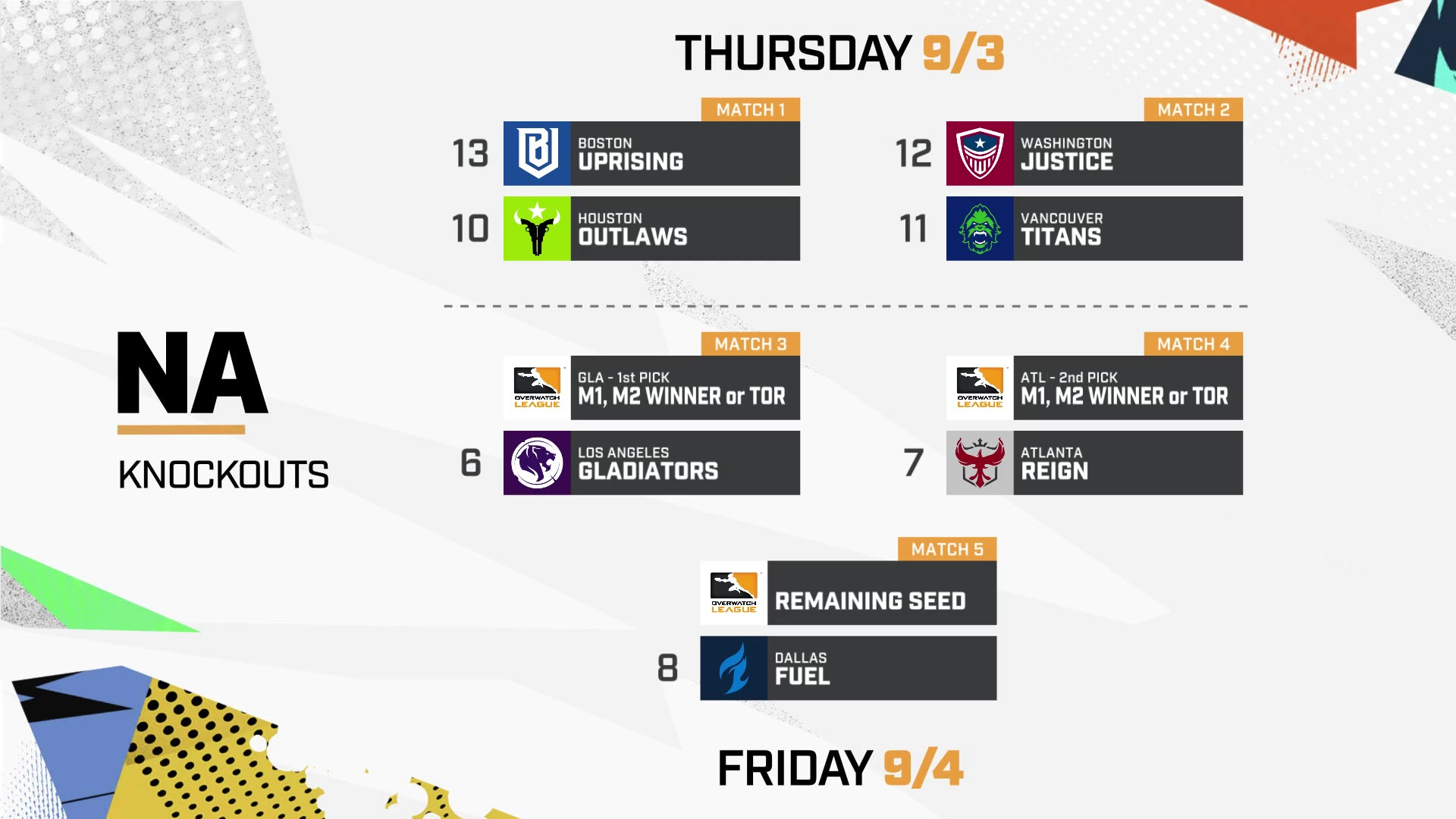 Asia standings
After the Chengdu Hunters and London Spitire play their respective match next 4th September, top seeded teams will decide their opponents moving into the next round of competition.
Overwatch League 2020 Prize Pool
Every team that makes it into the playoffs will receive part of the prize money, here's the breakdown:
League Champion: $1,500,000     
Runner-up: $750,000     
Third Place: $450,000     
Fourth Place: $350,000     
Regional Third Place Teams (2) $250,000     
Teams Reaching Double-elimination Rounds (6): $75,000
Where to watch the Overwatch League 2020 playoffs
As always, you will be able to watch all the OWL matches in the official Overwatch League YouTube channel.
We will update you on official start times for all matches and how the bracket progress as more information is revealed, in the meantime, check out the last minute roster rules changes that could see teams sign surprising free agents during the playoffs.