Overwatch League made its online return last week, and as 2020 rolls on with a fully online format
for the rest of the season
, we get a better glimpse at the strengths and weaknesses of the 20 teams looking to dethrone the San Francisco Shock.
Let's take a look at the best moments from Week 9:
It's Hammer Time in North America.
It's no surprise that the Asian subdivision lives in its own bubble, playing mostly what's looked upon as off-meta compositions, and while Chengdu Hunters did implement a bit of Torbjorn during their matches - paired with Soldier:76 - it was the NA region that made the Swedish engineer a staple this weekend.
The reason for Torb's inclusion was to shut down dive compositions. Without Mei and McCree in the pool, the turret presents a difficult nuisance to play against while maintaining constant pressure on the enemy tanks.
Some teams like the Paris Eternal opted for a different route, prioritizing quick frags over damage over time with the Doomfist, with various degrees of success.
Sombra turns off the lights in Asia
Why wasn't Torbjorn as seen in the Asian region this week? A certain Mexican hacker had something to do with it.
Sombra was the preferred pick for every single Chinese team, even the known meta-defying Hunters resorted to her as a mainstay of their compositions. 
The other big change in terms of metatalk between both regions is the flex tank position, with Zarya taking a more prevalent role over D.Va in the west. This was due to the lack of consistent Sombra damage compared to that of Torbjorn's, with the graviton surge also working as a more impactful ultimate, being combined with EMP most of the time.
Finally, Fuels Good Man for Dallas
15 matches, 70 maps, and 10 months later, the Dallas Fuel won an Overwatch League match! Something that every Fuel fan has been waiting since the 3-0 victory over Washington Justice last June.
The victim was Los Angeles Valiant - a squad that beat Dallas in their own Homestand during Week 1 - failing to stop one of the few off-meta squads that opted for Gui-un "Decay" Jang's Tracer to continuously pick off LA's backline with precise pulse bombs.
Mr. 300K managed an impressive 66 final blows that sentenced a Valiant team to an 0-2 weekend. Speaking of…
Lastro's chaotic energy not good enough for Valiant while OGE's redemptions tour carries on with Gladiators
Both Los Angeles teams find themselves once again on opposite sides of the field.
Valiant looked to be on the rise after their big upset against San Francisco Shock last week, however, during the runback, they got outplayed on several phases of the game
A big part of Shock's return to form was due to Lucio being back on the pool, with Grant "Moth" Espe dominating his counterpart, Jung-won "Lastro" Mun, whose biggest play this week was getting fined for inappropriate behaviour on the lobbies match chat.
Meanwhile, on the purple side of things, the Gladiators had no mercy with Dallas in the match prior to Fuel's long-awaited victory. 
Former Dallas main tank, Min-seok "OGE" Son, showed off in a big way despite some sloppy play from the Gladiators, being a huge clutch factor against a Texan team that showed the glimpses of brilliance that led them to beat the other LA squad. 
After securing a relatively comfortable 3-0 win, OGE broke the hearts of his former supporters with an image that speaks for itself.
Sorry for @DallasFuel fans.🤔i just want to talk about what i need to do.

I still need to fix my nervous problem and my mechanic. I'll try to get better for next time. Stay safe everyone !!!! And have a good day. pic.twitter.com/a1yoVCzu4t

— OGE (@OGE_ow) April 4, 2020
From a 0-40 to oh lordy, the Shanghai Dragons are for real
The Cinderella story that is that of the Dragons is on its way to possibly writing another chapter.
Going from Season 1, a historic mess in which they managed to lose all 40 games, to being the last ever OWL Stage winners beating San Francisco Shock on Stage 3 of Season 2, to possibly OWL Champions in Season 3?
It's hard to say how good is Shanghai compared to the rest of teams outside Asia, but as it stands, they're looking crisp, calm, and collected. They learned their lesson after getting dumped 3-0 by the Hunters last week, decided to establish a proper set of starters, and in the process steamrolled both the Hangzhou Spark and Chengdu Hunters.
Damage dealer Lee "Lip" Jae-won, flex tank Kang "Void" Jun-woo, and support Lee Jae-gon looked like the shining stars of the Dragons during this week, with the former RunAway star tieing the record for most environmental kills in OWL - on his first appearance as Lucio after last week's bans - with 9.
Overwatch League Week 9 Highlights 
Toronto Defiant 3-1 Washington Justice 
Los Angeles Gladiators 3-0 Dallas Fuel
Los Angeles Valiant 1-3 San Francisco Shock
Shanghai Dragons 3-0 Hangzhou Spark
Chengdu Hunters 2-3 Guangzhou Charge
Houston Outlaws 1-3 Paris Eternal
Philadelphia Fusion 3-0 Washington Justice
Dallas Fuel 3-2 Los Angeles Valiant
Chengdu Hunters 1-3 Shanghai Dragons
Guangzhou Charge 2-3 Hangzhou Spark

Overwatch League Standings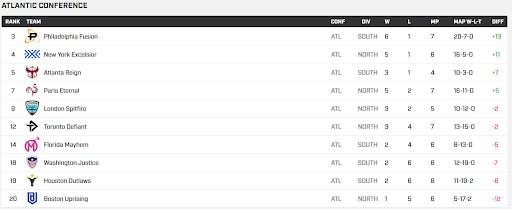 Overwatch League Week 10 Hero Bans
The heroes out of rotation for next week are:
Ana (Support)
D.Va (Tank)
Sombra (DPS)
Reaper (DPS)
OWL returns next Saturday, April 11th, with the match between Hangzhou Spark and Chengdu Hunters at 9 am GMT.