For people in the know, the inevitable implosion of the Vancouver Titans wasn't a matter of if, but rather, when.
After weeks of hints from the players and leaks from reputable sources, the Overwatch League Season 2 runner-ups announced the departures of head coach Hwang "PaJion" Jisub, and off-tank superstar HyunWoo "JJANU" Choi, via social media.
There's been a lot of rumours and management decisions surrounding Vancouver that have fueled speculation over the last months about the state of the organization.
If you've been out of the loop, here's a rundown of everything you need to know about the Vancouver Titan's roster splitting up:
The big catalyst for all the players' unhappiness comes from the treatment of now-former main tanks Sang-beom "Bumper" Park and Jang-hyeon "TiZi" Hwang.
Vancouver made a controversial decision by taking main tank Chan-hyung "Fissure" Bae out of retirement, offloading their former tanks in the process.
A member of the RunAway team that got picked up entirely by the Titans, Bumper served a three-year tenure with the squad, winning a Contenders title before his time in OWL.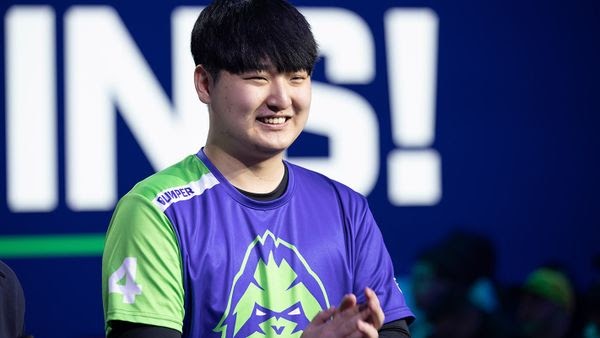 Bumper during a post-match interview (Credit: Overwatch League)
TiZi himself was part of the RunAway roster during 2017, before making his way to OWL by signing with eventual inaugural champions, London Spitfire in 2018. He reunited with his former Apex teammates in the second half of the 2019 season.
Being nurtured more comparable to a family than a professional esports team by Dae-hoon "Runner" Yoon and Hyun-Ah "Flowervin" Lee, it made sense for players to show discomfort at the disposable nature in which the owners, Canuck Sports & Entertainment, treated them now.
Things started escalating earlier this month when general manager Anthony Muraco, announced he was leaving Canuck Sports.
This led to most of the players dropping any mention of Vancouver Titans from their social media profiles, with sources close to the team claiming this was entirely deliberate, wanting to express their distaste by how Luminosity Gaming, the company assigned by Canuck Sports to handle the franchise, was operating.
After moving the squad to Korea, Vancouver Titans returned to action on April 11th and 12th, getting handily beaten by the Guangzhou Charge and the Chengdu Hunters showing an unexpected lack of synergy.
The final nail in the coffin that confirms all suspicions of a mass exodus was when the Titan management suddenly announced they were backtracking, bringing the team back to North America. One of the main reasons cited for relocating to Asia in the first place was the players' safety.
It seems like a matter of time before more departures are announced, we'll keep you updated on the latest involving Vancouver and OWL.