Battlegrounds Mobile India (BGMI) Season 19 will be ending this week and players will be welcoming Season 20 into the game. Krafton will be changing the season and royale pass system completely as starting from next season.
BGMI Season 20 will go run for one month and so do the seasons after that. In addition to this, the abbreviations for seasons will also be changed to M1, M2, M3, and so on. It means that Battlegrounds Mobile India Season 20 will be called BGMI M1 and here are the complete details about it including its release date and rewards.
BGMI Season 20 (M1) Release Date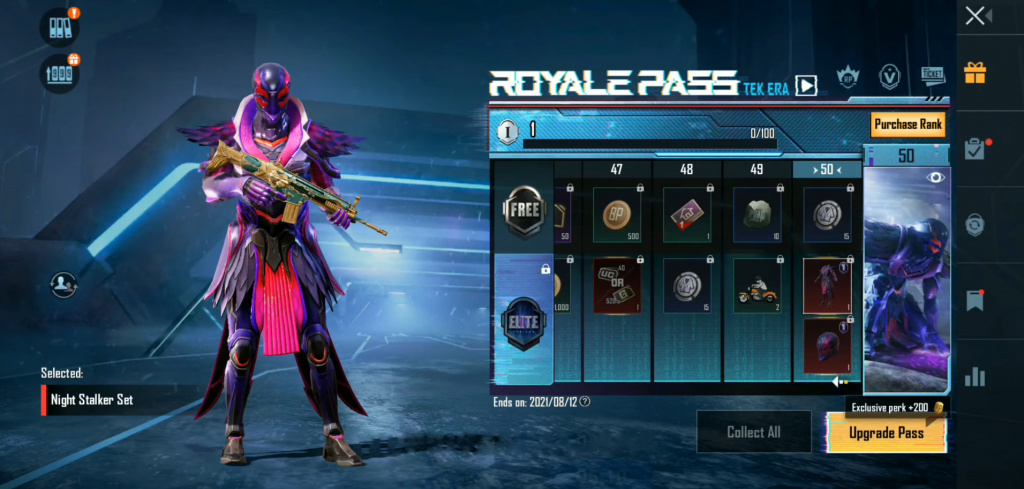 BGMI M1 will release on 14th July at 7:30 AM (IST) after Season 19 ends on 13th July at 05:29:59 AM and will bring a ton of rewards that players can unlock by completing various missions and challenges. 
BGMI Season 20 (M1) Free and Premium Rewards
As per the leaks, players will be getting the following free and premium rewards from BGMI Season 20 (M1):
Tidal Wargod Set and Dust Camo Soldier - M15A4: Unlock at RP 1
Tidal Wargod Mask: Unlock at RP 5
Tidal Wargod Helmet: Unlocks at RP 10
Night Stalker Parachute: Unlocks at RP 13
Hahaha Emote and RP Avatar (M1): Unlock at RP 15
Neon Hopper 2-Seat Motorcycle: Unlocks at RP 20
Groovy Teen Outfit: Unlock at RP 25
Tidal Wargod Ornament and Night Stalker Emote: Unlocks at RP 30
Alien Technology - QBU: Unlocks at RP 35
Tidal Wargod - Scar-L: Unlocks at RP 40
Night Stalker Cover and Night Stalker Set: Unlock at RP 50
You can have a look at these rewards in this video uploaded by Priyank Gaming:
Players will be able to buy Battlegrounds Mobile India (BGMI) Elite Pass Season 20 (M1) for 360 UC and Elite Pass Plus for 960 UC.
Don't forget to check out our dedicated BGMI section filled with guides, news, esports and much more for the franchise.