There is no name as synonymous with the Battle Royale genre as that of Brendan "PlayerUnknown" Greene. Oftentimes, he is credited as the father of Battle Royale games, with early work on ARMA 2 and DayZ mods. He is, however, most known for creating PlayerUnknown's Battlegrounds (it's in the name...) and since March 2019, he has been working on his brand-new project which we know very little about, entitled Prologue. On 2nd August 2021, something very peculiar happened. It appears Brendan Greene nuked his own Twitter account...
Brendan "PlayerUnknown" Greene's Twitter deletion spree
Brendan "PlayerUnknown" Greene recently removed his profile picture from Twitter and updated his banner.
On the morning of 2nd August 2021, he appears to have now unfollowed everyone. He further deleted every single mention of PlayerUnknown's Battlegrounds (PUBG) and even any tweets or likes he had. To make things more curious, all mentions of his upcoming title, Prologue, have also been removed.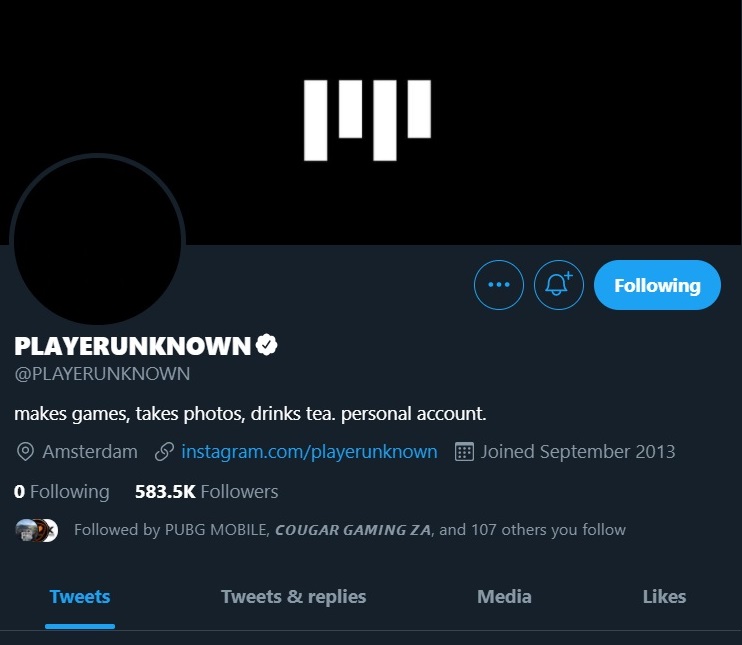 Known leaker, dataminer and insider PlayerIGN calls this move "worrisome" and also explained how Brendan "PlayerUnknown" Greene wasn't mentioned at all in Krafton's recent video regarding their history, how PUBG came to be and more.
This is fueling speculation surrounding Prologue.
While it appears as if Brendan "PlayerUnknown" Greene nuked his own Twitter account and nothing points towards the contrary, it is important to note his other social media is still active at the time of writing, for example, Instagram. 
His new game, Prologue, hasn't seen any updates in a very long time. The teaser page doesn't provide us with a lot of info either, simply noting: "Prologue is an exploration of new technologies and gameplay. Our aim with this game is to give players unique and memorable experiences, each and every time they play."
This move by PlayerUnknown to effectively nuke his own Twitter account, deleting everything in the process is a strange one. Speculations are running amok right now from fans of PUBG, and the Battle Royale genre in general.
At the time of writing, no additional information or an official statement from Brendan Greene is available. This is a developing story.
Check out our dedicated section for everything PUBG, from news to leaks, guides and more for the various titles in the ever-expanding franchise.