Cheaters are everywhere and due to tournaments taking place online, those who bend the rules can even enter esports tournaments. With the
PUBG Mobile
Club Open (PMCO) taking place, Tencent has found four teams in violation of the rules, using "prohibited third-party software" during the PMCO Spring Split 2021 in various regions.
Esports teams disqualified from PMCO
There's a whole lot on the line for the teams competing in the PMCO Spring Spit 2021. The tournament series is held in four regions across the world, with group stages already underway.
PUBG Mobile esports teams are competing for a spot at the Regional Finals, and the best teams from the Regional Finals will qualify for the Pro Leagues.
Therefore, it is great to see Tencent take action against those who violate the rules. In a Tweet from the official PUBG Mobile Esports Twitter account, Tencent revealed the four teams disqualified from PMCO Spring Split 2021 as:
DarkKnock - Europe Wildcard tournament
TeamMvrk - North America
KURD MAN - United Kingdom
FLVB - Turkey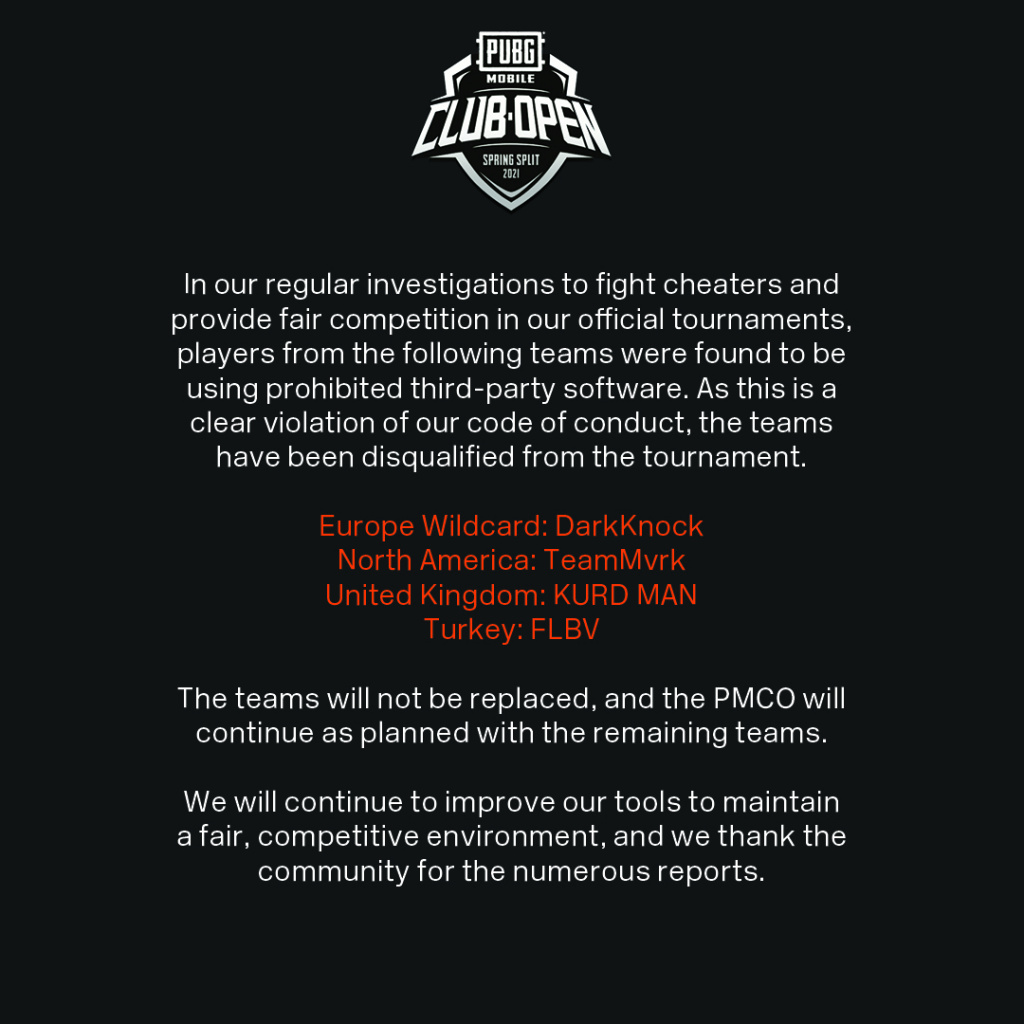 (Picture: Tencent)
PUBG Mobile Esports explains how in their fight against cheaters via investigations, they have found these four teams using "prohibited third-party software" which is in violation of the code of conduct.
Exactly what software these teams were using is unknown. These PUBG Mobile esports teams will not be replaced by others, and the tournaments will continue as planned with one less team.
Tencent explains that: "We will continue to improve our tools to maintain a fair, competitive tournament, and we thank the community for the numerous reports."
The teams in question have been disqualified from their respective PMCO Spring Split 2021 tournaments. At the time of writing, there's no indication if these teams will be able to compete in the next tournaments, or if they have been banned.