The live version of PUBG: Mobile has finally received the long-awaited Karakin map. This (2 x 2km) might not be what PUBG: Mobile players are used to, offering dense areas and it is, of course, way smaller than previous Battle Royale maps. The new map can quickly become chaotic, and if you are unsure which the best drop locations are in Karakin, we've got you covered with five suggestions.
PUBG: Mobile Karakin - 5 best drop locations
It goes without saying that if you are good enough, you can win on PUBG: Mobile's Karakin map no matter where you drop into the action.
However, some Karakin drop locations are simply better than others, depending on your playstyle and what you want to do. 
At first glance, some might think Karakin is a mini-Miramar, this couldn't be further from the truth. Karakin is absolutely packed with locations to explore, including underground tunnels to fight in, hidden loot caches and passageways to hide in. 
There's also the Black Zone mechanic, which can and will level buildings quickly. This means you should always be on the move and watch out for the purple highlight on your map.
Taking all this into consideration, we've marked the five best drop locations on Karakin on the map below.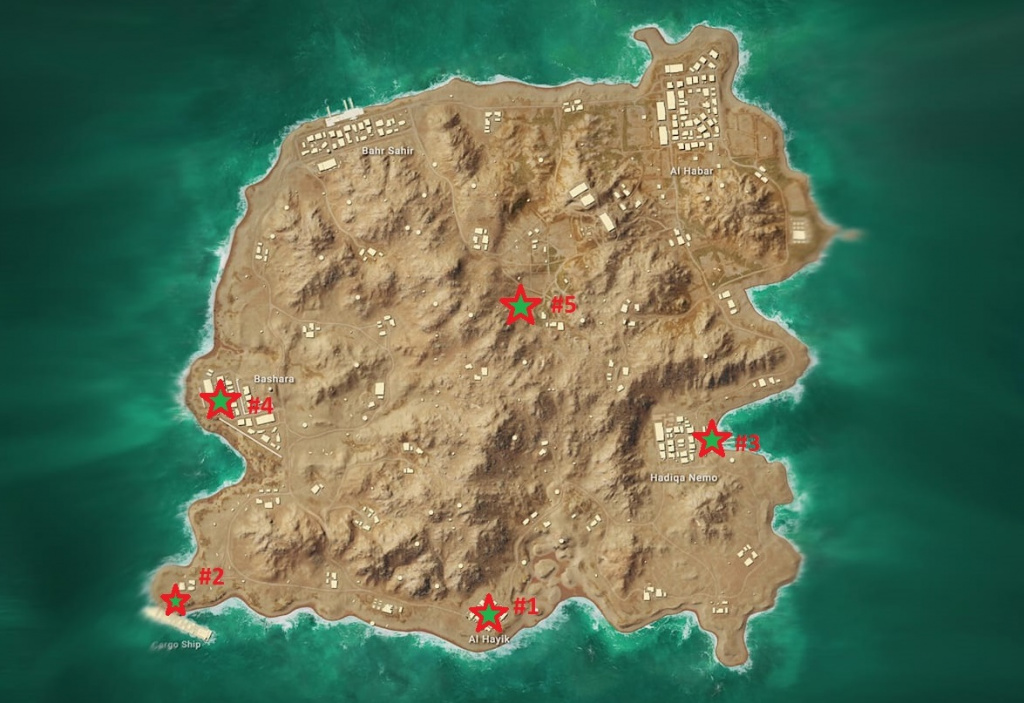 (Picture: PUBG Corporation)
These best drop locations for the Karakin map in PUBG: Mobile will net you some good loot early on, and some of them depend on your playstyle.
Al Hayik (#1 on map)
This is the smallest of the named locations on the Karakin map and a great place to drop into. You shouldn't find too much resistance here, allowing you to gear up quickly and move on.
Cargo Ship (#2 on map)
High risk, high reward. Here's a tonne of loot but you should only use this Karakin drop location if you are up for early fights.
Hadiqa Nemo (#3 on map)
If you are looking for medium risk, high reward drop location on Karakin in PUBG: Mobile, Hadiqa Nemo is one of your best bets. Use the shipping containers to your advantage to get loot and force 1v1 fights.
Bashara (#4 on map)
Bashara is one of the bigger locations on the Karakin map and could be perfect to drop into. This location offers high verticality, and if you decide to land there, you should aim for the highest rooftop to gain a height advantage. This is a highly-contest area, so stay sharp when landing in Bashara. 
Tunnels (#5 on map)
While named areas including all the compounds can lead to the underground, the centre of the map allows for a less risky way to get in, loot up and hide. This is a very safe drop location.
Inside the tunnels (Picture: PUBG Corporation)
So there you have it, the five best drop locations for the PUBG: Mobile Karakin map.
We encourage you to explore the map and find more drop locations that work best for your playstyle. As players get used to the map, you might find more resistance in certain areas than others, so the key here is to keep experimenting.