It's
Rocket League
vs. Joseph "Noly" Kidd, or at least that's how he's making it to be. 
After his team, Guild Esports, was eliminated from the European Championship with back-to-back set sweep losses, the 19-year-old let it rip on his personal Twitter.
Initially just screeching a big ol' "f*** this" after their upper bracket loss against Top Blokes the day before, it's their Team Queso win-or-go-home matchup only one day later that sent the English men into a spiral (and his controller across the room).
In a now-deleted tweet, Noly decided to brush off the loss and dismissed it as another day at the office in a very Conor "The Notorious" McGregor response.

(Picture: Twitter)
"I don't know why everyone is s*** talking me like I don't make f****** bank from this game and anything else is just bonus s*** my d***", he said.
The Guild member later apologized, acknowledging that he was speaking "out of pure frustration… for the past two days [only] to waste an entire season" which queued BS+ COMPETITION's Bruno Alexandre "AcroniK" dos Santos Lopes to chime in looking to trigger an already-startled Noly.
why do you act like you don't have an ego and you didn't ask archie to team and leave bs+ go make your 'super team'

— GUILD noly (@Nolystic) June 16, 2021
AcroniK immediately denied any rumours of teaming up with Top Blokes' Archie "archie" Pickthall, yet the interaction sparkled another conversation with Noly as the centre of attention as Twitter witnessed German Amigos' Ivan "ivn" Mohammad outing Noly as a toxic player on and off stream.
In a ranked in-game chat, Noly and Ivn exchanged harsh words as the former is convinced that money is all that matters. "I still make bank being depressed."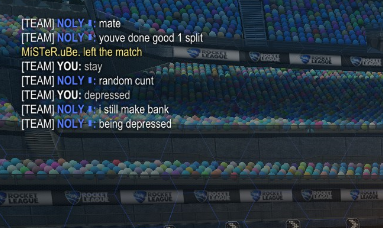 (Picture: Psyonix/Twitter)
It seems like Noly, Ivn and AcroniK have all logged off the platform for the day but knowing Rocket League antics, this might not be the end of it -- at least not until RLCS X officially finishes.
We'll keep you updated as the situation develops over at our GINX TV Rocket League portal over on Twitter @33Boost!