Jack "Speed" Packwood-Clarke announced himself on the Rocket League scene when he won the second season of the Gfinity Elite Series with Reason Gaming. 
His career went to another level when, on the eve of WSOE 4, FlipSid3 Tactics drafted him as a late replacement for Yukeo who had left for Dignitas. Against all the odds they won that tournament with Speed playing a crucial role.
Now at mousesports, I sat down to speak to him after a night of scrimmaging in preparation for Week 2 of RLCS Season 9.
How did the scrims go?
Yeah, the thing is we have never been a scrim team. Just never, no matter who I am with, we never win scrims. I try my hardest to simulate the game environment, but I just can't. So I always play a bit worse, so even though scrim performances are a bit 'meh' we know on the day it will be fine. It just always is.
You have a bit of history with that. Your first LAN with Flipsid3 you couldn't have had much time with those guys at all - do you just feel your best on the day?
It's all about pressure. It's like when you're at school, and you have homework, and you procrastinate, procrastinate, procrastinate until like literally 30 minutes before it's due and you're doing it in the lesson before. It's the same in Rocket League, the more pressure on me, the better I seem to do.
The big change for mouseports this season is Scrub Killa coming in from Renault Vitality - how do you feel about it?
Yeah, we are super excited to have Scrub on board, he's regarded as one of the best in the world for a reason.
And what would you say are your goals for the season? 
Anything less than LAN is a disappointment.
Looking back to last season, what did you think that roster was missing?
We just didn't have the offensive output. If I wasn't getting the passes, it wasn't popping. I felt like I had to do everything in attack.
Cloud9 looks like they could be in trouble again this year, any thoughts on what the problem is there?
I don't know about anything internally, or at least I wouldn't want to be starting rumours, but externally the playstyle is just wrong - it looks like S6 play. They're playing the wrong playstyle for the teams they're up against. It's too slow.
How would you characterise the difference between the S6 and S9 meta?
Barcelona changed a lot when they came in. The pace they played at, and the high rate of demolitions made everyone change their game. I actually hate the meta right now because the game is so dull - it promotes brainless plays. There is just no brain power necessary in this game anymore. I can go AFK and get top 10 in any leaderboard. 
What would bring back the excitement for you?
I don't know where you go with it. Something to take it away from just "go rush this ball, and smash the car", when Dignitas was in their period of domination between Season 4-6 the game was at its most fun, it was when passing was rewarded. For a passing play to be successful now, you have to eliminate 2/3rds of the team, and I just don't find it very fun.
In the battle of NA vs EU, who comes out on top?
I play better against NA teams. I don't quite understand why. I can't put my finger on it, to be honest with you. Though if there is a gap, it's closing, but Europe still has the edge. 
When you talk about being unhappy with the meta there is, of course, little you can change in Rocket League does that mean a move to 2v2 or 1v1 as the competitive mode?
2v2 is even more braindead than what we have now, and the problem is the players are braindead. It's like in Call of Duty when you're a kid and everyone is just running around like crazy.
Who would you say was the most "braindead" player?
Any player that can rely on their mechanics to mask their poor decision making.
Would you say it is the younger guys? The ones who haven't played a lot of 3s at the highest level but have become mechanical beasts on 1v1s?
I don't think you can blame 1v1s; it's just the meta now. We have gone backwards. You have players who are mechanical gods and others who have game sense but move like tanks. Look at guys like Ferra and Turbo they move so slow but know the game.
And who would you consider a smart player?
Kuxir, Fairy, Ferra, Chaussette, Panda, Yukeo is borderline.
Is there any player who you think possesses both mechanical skill and game sense?
The closest we have to that is Chaussette. He has great mechanics and game sense.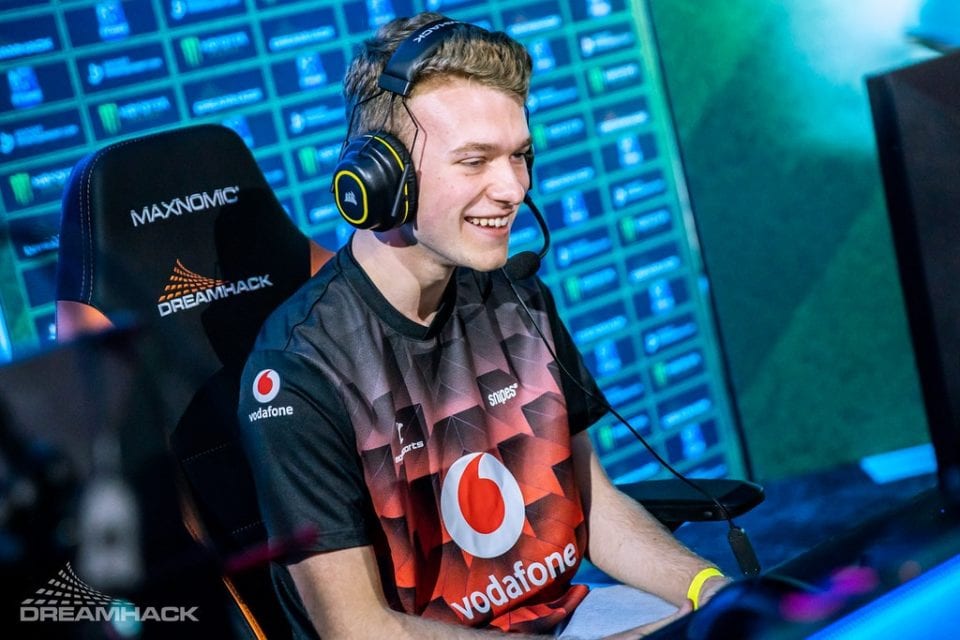 Image: Stephanie Lindgren/Dreamhack
Kuxir has been by your side the majority of your RL career, how would you describe your relationship?
It's very good. We talk most days. I spoke to him before this call, and I'll talk to him after. He's someone I would consider a friend for life.
Will you guys get together for a boot camp in Hamburg?
Maybe, maybe not, we played well last season until we had the boot camp then we played like crap! I play well when I have the same routine, and that can't be achieved from Hamburg.
The Intel World Open is going to be a big deal this year, have you been sounded out for a place in the team?
Not just yet.
But is it something you want to do?
Yeah definitely. I would love to represent England. You see guys representing their country at the Olympics and this would be my only chance to get to do that.
You are England coach. You can pick you and two others - who is making your team?
Tadpole, Noly and Bluey.
Since Epic's purchase of Psyonix have you noticed any differences on the ground?
It's been exactly the same. I was hoping they would make "quality of life" changes, but honestly, there hasn't been any change.
In your ideal world, what does Rocket League esports look like?
More LAN events like DreamHack. A circuit format similar to CS:GO would improve things. Currently, the off-season is too long. This season was an aberration because of the World Opens, but I want an off-season like that every year.
What could Psyonix do to improve the competitive scene?
Getting rid of the $5,000 would be a good start. In some ways, it's not what Psyonix isn't doing but what they aren't allowing others to do. There was a French tournament organiser (ZLAN) that wanted to put on an event, and they got denied, but it has to be said, things have been getting better, and since the server issues in Week 1 they have been making an effort to be more transparent with the players.
Europe is often looked at as neglected in Rocket League esports is that something you agree with?
Everyone complains about Europe compared to North America, and they do get more, but Europe gets more than Oceania and South America. They're the ones who should be complaining they get Fanny Adams compared to everyone else.
There are always rumours about a return of the Gfinity Series - would you welcome it?
I've heard rumblings of something happening from people close to Gfinity. When they announced they "fixed their debt" I kind of got hopeful, and their Rocket League content is still being posted, but I haven't heard anything concrete.
Do you have a post-playing career plan?
I am playing it by ear. I wouldn't mind going into coaching. I like streaming, but I don't like playing Rocket League and streaming. If there were a planet where people wanted to watch me play whatever, then that would be the dream job.
What impact has Lythemyr had since his arrival as coach?
He's brilliant. He's in 90% of all our scrims barring a disaster. He provides sound advice, even though he can't say much during the series themselves because he watches it on a delay. What Lethamyr does is provide us with a lot of information between games and that has proved really useful to the team. We could see more coach involvement like the way in-game leaders (IGL) used to be in CS:GO, but ultimately the way coaching shapes up is up to Psyonix. 
Is there a lot of what you could call classroom work?
Yeah, we dedicate time to in-depth analysis outside of the game - VOD reviews, looking at statistics, it's a part of the game I really love.
What is a game day like for you in the RLCS?
Wake up. Go gym. Eat well. Play game. Hopefully win game. That's it really. 
 
You can next see Speed in action in Week 2 to the RLCS when they will be playing Team Reciprocity. For a round up of all the action from last weekend check out our RLCS Week 1 Recap.
Want to hear more from Speed? Then you can keep up to date with him on Twitch and Twitter.
Feature image courtesy of mouseports.