Sea of Thieves ushers the Spring season with the latest content update, including quality of life improvements, new plunder pass rewards and new content. As the game
bids farewell to The Arena
, the recent changes echoes a fresh start for pirates, with new adventures and experiences to discover.
Before we set course for our next pirating adventure, what does the brand new season have in-store for all pirates? Here's all the content available in the Sea of Thieves Season 6 update, including a unique raid experience, the next chapter of Adventures and more.
Sea of Thieves Season 6 – Sea Forts
Rare had added a brand new raiding experience for pirates to get involved in, called Sea Forts. The Sea of Thieves is littered with six phantom-filled forts where brave crews can attempt to storm them to reap the rewards.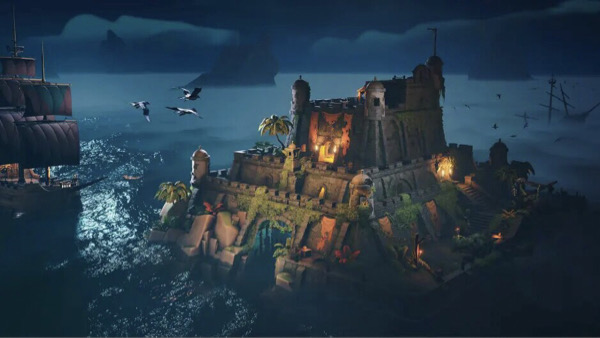 During the raiding of the fort, there is a formidable Sea Fort Captain that awaits hardened pirates who have come to loot his plunder. Defeating the phantom captain will grant you the key to access the fort's treasury and claim the treasures that lie inside.
Pirates who don't have the time to commit to playing Voyage can earn fantastic rewards by partaking in Sea Forts. Additionally, you can use the raided Sea Fort as a hideout for your crewmates to gather after a hard day at sea, store your treasures or imprison rival pirates.
So, be on guard because pirates will be looking to raid the fort for themselves. Therefore, prepare your defences and protect your fort with honour and glory.
Sea of Thieves Season 6 – New Voyage experience for Pirate Legends
Voyage has received a much-needed overhaul with a "multi-stage adventure" called Legend of the Veil. Available exclusively to Pirate Legends, you're tasked with embarking on a treasure hunt voyage in locating the lost Veil Stones.
This Voyage experience has you exploring new island locations, facing dangerous enemies and encountering ghostly shipwrecks in a series of challenges. The adventure concludes with an epic naval battle against a sizeable ghostly garrison to prepare.
Additionally, the developer has raised the stakes by increasing the level cap with Athena's Fortune Trading Company from Level 20 to Level 30. The new level cap is highlighted by including new Commendations, achievements and cosmetics for pirates to grind.
Sea of Thieves Season 6 – New Adventures looms
Following the conclusion of Shrouded Islands that concluded on 3rd March 2022, the following Adventure experience is arriving in Sea of Thieves later this month. The developer hasn't made any new announcements regarding the next chapter in this narrative-driven series; we know when it will launch.
Continuing the adventures from Shrouded Islands, the next chapter, Forts of the Forgotten, speaks of tales of despair and destruction being unleashed has spread across the Sea of Thieves. This was coincidentally marked by the arrival of Belle, who may have some connections to the Pirate Lord, that may spark his return to the high seas.
Furthermore, your crew has been asked to investigate the occurrence of an ominous fog that has overrun islands, threatening the Golden Sands Outpost. The next chapter of this Adventure, Forts of the Forgotten, arrives in Sea of Thieves on 24th March 2022.
In the meantime, pirates can read about the adventures of the Pirate Lord and other characters in the Sea of Thieves: Origins comic book series and the Athena's Fortune novel and audiobook available now. We'll continue to update this story with breaking news and updates on what to expect in Adventures in Season Six.
Featured image courtesy of Rare / Xbox Game Studios.