There are a ton of villains to choose from in LEGO Star Wars The Skywalker Saga, and General Grievous is certainly one of the most popular. His multiple lightsabers and unique character design have always made him an iconic prequel character.
Of the over 300 characters that players can obtain in The Skywalker Saga, most of them need to be unlocked in one way or another. Those methods can vary wildly, and for many of the iconic villains, you'll need to take them on directly to earn the ability to use them in the future.
LEGO Star Wars The Skywalker Saga - Unlocking General Grievous
To get General Grievous as a character in LEGO Star Wars The Skywalker Saga, you'll need to fight him in Episode III as one of the first parts of the chapter. While it may be early into Revenge of the Sith, you'll still need to complete the previous episodes for the prequel section of the game.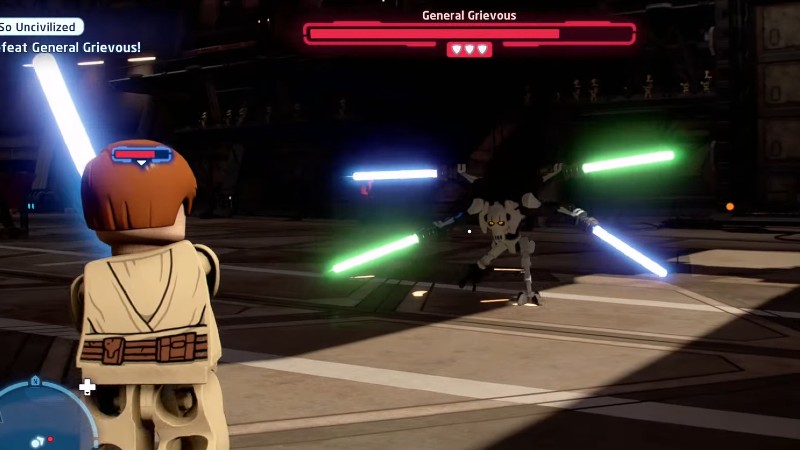 Once Episodes I and II are done, the path to General Grievous is open, and the battle is a recreation of the scene from the movies like always. The mission itself is called "So Uncivilized" and you will take control of Obi-Wan Kenobi as you battle the General. 
The fight is fairly long compared to others in the game, and it forces Obi-Wan into a dynamic situation with different phases. Grievous will essentially have 3 major shields under his health that indicate progress in the fight. Each time he loses a limb and a saber, the shields go down, until ultimately, General Grievous is taken down.
Along the way, you'll need to deal with enemy soldiers and some smaller lift puzzles to access new points against the General. The fight definitely takes more time than many others, but when all is said and done, the villain will be available for use in the rest of the game.
However, he will require a good amount of studs before he can be selected. His full cost is 200,000 and he can be found under the Villain category when selecting characters for purchase.
It's important to note that you will need to beat an Episode before using Grievous in that area unless you explore through the Free Play environment. With him equipped, you'll be able to dish out tons of damage with four sabers on hand.
That's all there is to know about unlocking Grievous in LEGO Star Wars The Skywalker Saga, and there are plenty of other unlocks along the way.
Featured image courtesy of YouTube / BIGDADDYJENDE