Remember when a bunch of influencers took part in a rock paper scissors tournament earlier this year?
MrBeast
is booting up the format once again for Creator Games 2. 
Taking place on Saturday 17th October, the Creator Games 2 will see 24 top YouTubers, streamers and online personalities showcase their trivia knowledge for 0,000 prize money to give away to their subscribers. 
100 Thieves founder Matthew "Nadeshot" Haag managed to win the first event, but who will come out on top this time around? Here's what you need to know about Creator Games 2. 
When is the Creator Games 2 and what time does it start?
The Creator Games 2, curated by YouTuber Jimmy Donaldson aka MrBeast, will take place Saturday 17th October starting at 2pm PST/10pm BST/11pm CEST.
The event will span three hours in total, with the winner receiving $300,000 to give away to their subscribers however they see fit. 
While the first event was a rock paper scissors tournament, this timearound contestants will face trivia questions - in battle to see who is the smartest influencer around. 
Who is on the line-up?
You can check out the full list of online personalities below, along with the starting bracket.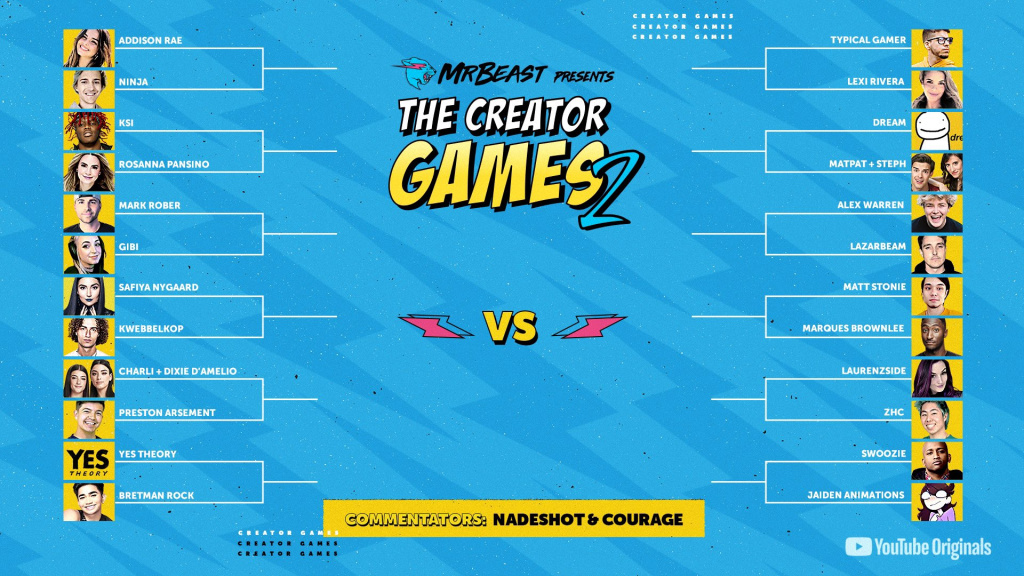 The Creator Games 2 starting bracket (Picture: MrBeast/YouTube)
Addison Rae
Ninja
KSI
Rosanna Pansino
Mark Rober
Gibi
Safiya Nygaard
Kwebbelkop
Charli + Dixie D'Amelio
Preston Arsement
Yes Theory
Bretman Rock
Typical Gamer
Lexi Rivera
Dream
Matpat + Steph
Alex Warren
Lazarbeam
Matt Stonie
Marques Brownlee
Laurenzside
ZHC
Swoozie
Jaiden Animations
There are likely to be plenty of surprises along the way however, with actor Jack Black making an appearance on the first Creator Games. 
If that wasn't enough, Matthew "Nadeshot" Haag and Jack "CouRage" Dunlop will be commentating the whole event - so expect some ridicule for any terrible answers. 
Where can I watch the Creator Games 2? 
The whole event will be streamed on MrBeast's YouTube channel. We'll update this page with a link once it goes live.