There was a point in time where Nick "NICKMERCS" Kolcheff and Matthew "Nadeshot" Haag relationship looked rock-solid, two ex-COD pros and best friends, moving to LA to start what one become one of the most recognizable esport organisations in the world.
But two year's later their relationship was in tatters with NICKMERCS accusing Nadeshot of reneging on a gentlemen's agreement to award him 5% of the company, a deal that lost him "millions of dollars".
Nadeshot has never spoken out about the incident, leaving just NICKMERCS side of the story and during a recent live stream, the latter provided yet more details that paint Nadeshot in a poor light including, one instance where Nadeshot reportedly said to Nick's dad that he would "look after your son" a statement that left Nick baffled at the time.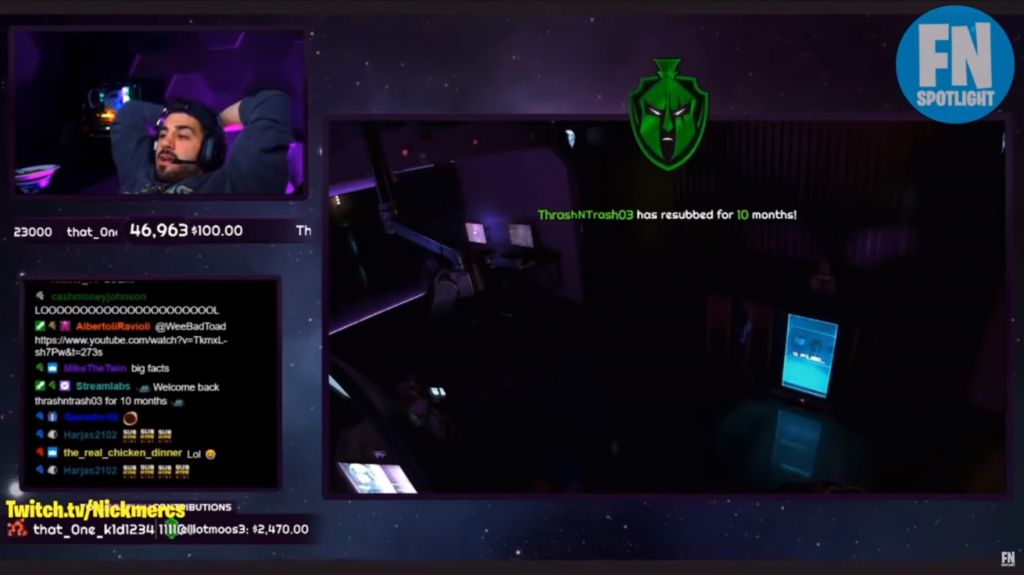 NICKMERCS let loose on his stream. (Picture: FN Spotlight)
Nick also took offence to an esport panel discussion featuring Scott Samuel "Scooter" Braun and Nadeshot, which he had seen in the months following his exit.
During the panel, Nadeshot refuses to answer any questions about the incident, which he describes as "delicate", prompting Scooter to come to his defence.
"Matt never broke his word on anything he did, I think sometimes people use their platform in this world to say whatever they want to say as long as they have an audience to say it to," said Scooter before describing Nadeshot's decision to stay silent over the incident as "taking the high road".

A TechCrunch panel discussion featuring Nadeshot and Scooter Braun got Nick incensed. (Picture: TechCrunch)
It was a video that had Nick on the phone to Scooter, recounting the conversation Nick said:
"I got on the phone with Scooter, this f**king guy and I ask him what the f**k is he talking about, I ask him why he would say those things."
Nick then revealed the conversation got heated, "I was in my front yard man... and I remember telling Scooter at one point on that phone call, I literally said 'you know when people go up there and lie like that, on your f**king name, from where I am from, they get slapped in the f**king mouth," he revealed before adding, "is it like that where you're from?"
What apparently got Nick so riled was the fact that Scooter couldn't be privy to the conversations Nick and Nadeshot had had before Scooter had even invested into 100 Thieves.
"He woulda had to of been there! This motherf**ker came in way later."
Nick also had short thrift for any suggestions he was only a content creator for 100 Thieves.

At one point Nadeshot and NICKMERCS looked unbreakable. (Picture: 100 Thieves)
"I was at the meetings!" Explained Nick, adding "I went to the Cavaliers game and sat with those guys, I went to every LEC match and sat with the 100 Thieves crew."
Nick also recalls an incident back in 2018, when in a Uber to a party during the week of the Fortnite Pro-Am, Nadeshot reportedly turned to Nick's dad and said, "don't worry I am going to take care of your son you know that right?"
"I remember watching that and going 'WTF?'" recounts Nick.
Nick does reserve some sympathy for his former friend and business partner though, describing the latter's decision to cut him out and retain his stake as "difficult spot".
Nick also describes how the relationship between him and Nadeshot isn't the only one that has deteriorated since their fall out, explaining how there is an "awkwardness" between friends they share.
While NICKMERCS undoubtedly lost out if his story is to be believed, he has gone from strength to strength in the gaming and content creation world, building up his "MFAM" brand and joining FaZe Clan. He currently has 3.6 million followers on Twitch making him one of the platform's biggest stars.
100 Thieves were valued at $125M in 2019 and count rap superstar Drake, music manager Scooter Braun, and Cleveland Cavaliers owner Dan Gilbert as investors. In January of this year, they revealed a brand new purpose-built gaming facility in Los Angeles.
Watch NICKMERCS discuss his beef with Nadeshot in full
The relevant clips start at 00:13s.