After the initial rush and thrill of setting up your base, going on story missions and discovering what the world of Planet 4546B has to offer, there's a side quest of sorts to go in Subnautica: Below Zero. 
While not officially classified as a side quest, finding every creature egg in the game was a challenge players set for themselves in the original Subnautica. In Below Zero, the eggs are back and ready to be hatched in your base's alien containment. 
However, finding each one is a herculean task without knowing the location of every egg. Luckily, we happen to know where you can find all of the creature eggs so you can start your own habitat in Below Zero. 
Finding every creature egg in Subnautica: Below Zero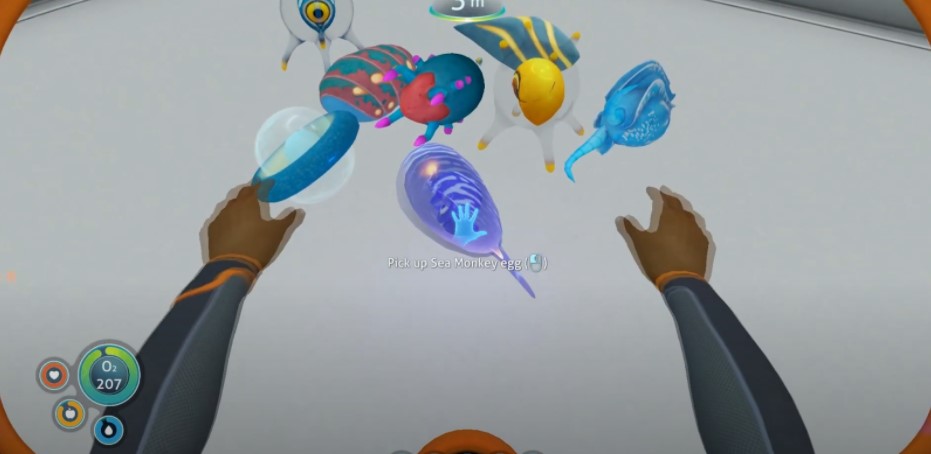 Some of the eggs within Subnautica: Below Zero. (Picture: Unknown Worlds)
In total, there are 16 creature eggs that you can find on Planet 4546B, not including the ones from the original game. Each can be found in a specific biome or two and can be hatched in an alien containment within your base. Bigger creatures take a bit longer to hatch while smaller creatures can hatch within a day of in-game time. 
Nearly every creature can be hatched inside of the containment but all can die inside of it if you put too many eggs. To start filling your containment up, you can look for all 16 eggs, which can be found below along with the biome they're found in. 
Arctic Ray Egg - Sparse Arctic
Brinewing Egg - Sparse Arctic
Brute Shark Egg - Twisty Bridges Caves
Crashfish Egg - Arctic Kelp Caves, Crystal Caves, Purple Vents, Twisty Bridges, Twisty Bridges Caves
Cryptosuchus Egg - Thermal Spires Caves
Glow Whale Egg - Lilypad Islands, Lilypad Islands Caves
Eye Jelly Egg - Glacial Connection
Lily Paddler Egg - Lilypads Crevice
Pengwing Egg - Arctic Kelp Forest, East and West Arctic
Pinnacarid Egg - Arctic Kelp Forest
Rock Puncher Egg - Crystal Caves, Koppa Mining Site
Sea Monkey Egg - Sea Monkey Nests
Squidshark Egg - Deep Lilypads Caves
Titan Holefish Egg - East and West Arctic
Blue Trivalve Egg - Arctic Spires, West Arctic
Yellow Trivalve Egg - Deep Lilypads Caves 
For more Subnautica: Below Zero guides, check out our dedicated Subnautica section.