It was always going to happen, but no one quite thought it would be as quick as this. Owner and CEO Matthew "Nadeshot" Haag had come out publically to address 100 Thieves' recent underperformance across all the games it fields players, but with the Valorant roster being the org's most recent acquisition, picked up at the end of June, the prevailing view was that the roster, which consists of Spencer "Hiko" Martin and four former PUBG pro players, would be given more time.
That will not be the case though, with the opportunity to sign Nick "nitr0" Cannella, who recently retired from CS:GO after five years at Team Liquid, too good to pass up. The talented IGL will be joining the 100 Thieves' Valorant team with all four former PUBG players dropped, leaving just Hiko and Nitr0 as they seek to build a truly competitive roster.
Nitr0's move to desire to move to Valorant was an open secret with a number of North American organisations in discussions to sign the player after he had announced his retirement. 100 Thieves won out for his signature though, with reports stating he is earning anywhere between $250,000 to $300,000 a year.
In many ways nitr0 is the perfect 100 Thieves signing, hugely popular after five years at Team Liquid, with his own inbuilt fanbase and a personality built around Captain America, he ticks all the boxes for the organisation.
The 100 Thieves roster had struggled since it's inception, former Counter-Strike players have been the obvious pick-up for nascent rosters, and eyebrows were raised when 100 Thieves initially paired Hiko with four PUBG players. Performances did nothing to dispel the cynicism with the roster dumped out by FaZe Clan in the first round of knockouts from the FaZe Clan Invitational.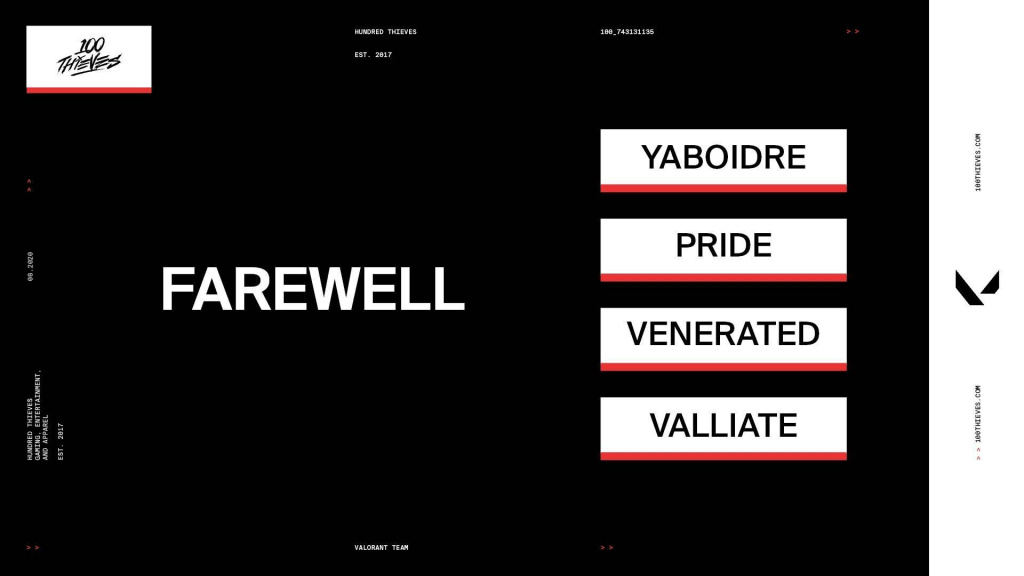 100T said goodbye to 4/5s of their Valorant roster after a poor showing in the FaZe Invitational. (Picture: 100 Thieves) 
100 Thieves and Nadeshot will be hoping that this new iteration of the roster will prove more successful, Hiko and Nitr0 are no stranger to each other having both played on Team Liquid for just over a year between 2015 and 2017. 
Three more players will need to join them, and the chances of them being former PUBG players are slim.