In a few short weeks, Valorant has become one of the most popular games on the planet - still only in closed beta - the sheer enthusiasm for the game makes it a dead cert to become the next big esport success story.
One of the reasons for that is the enthusiasm for the player base to play and enjoy the game as competitively as possible, with a number of tournaments already springing up and the games biggest stars' all being ex-pros from other esports.
That enthusiasm has had players clamouring for a ranked mode - and while we know it was coming - there had been few details up til now of when and what it would look like, until now.
In a blog post on 24th April, Riot's Ian "Brighteyz" Fielding wrote that Competitive Play would be coming to Valorant in v0.49.
"Valorant's Competitive mode uses the same in-game rules and format as the Unrated mode, but with a focus on higher-stakes competition," Brighteyz said. "Valorant's competitive system is still in its early stages, and we plan to evolve it over time, but we have a core experience we wanted to share with you all in closed beta so that we can build and evolve the mode together."
Brighteyz then went on to say that the ranked mode may go down "for short periods during the beta" as the refine the mode before launch.
Valorant's ranked mode will feature eight levels, each split into three tiers:
Bronze |-|||
Silver |-|||
Gold |-|||
Platinum |-|||
Diamon |-|||
Immortal |-||| 
and finally the Valorant rank for the very highest performing players.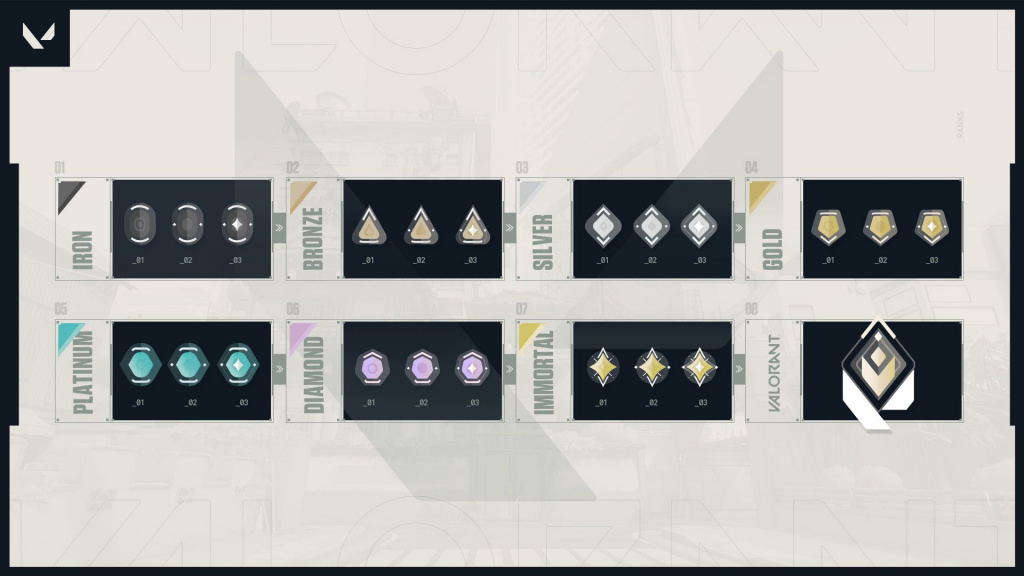 (Credit: Riot Games)
Players will start in as unrated and will need to complete 20 matches to gain their initial placement. Ranked matches during the beta will not translate over to the official release.
Ranking up will be easy, as long as you are good at the game that is with winning matches key to climbing the leaderboards. Personal performance will also play a part meaning if you regularly top the leaderboard you will go higher, faster.
You will be able to queue with friends, but they will have to be within 2 ranks of one another, Riot will also aim to match parties with other parties of a similar average level meaning in an attempt to make it a level playing field each and every match.
There will not be a separate playlist for parties at launch.
It was also revealed that ranked play won't be available until the v0.49 patch, which is at least two weeks away. There has been one major update since the Valorant closed beta started with v0.47 bringing a nerf to the controversial Raze agent.