The North American division of the Valorant Champions Tour (VCT) has issued an official competitive ruling on behalf of Riot Games, detailing the rationale behind its decision to ban Team Polaris Valorant pro, Sophia "Slaze" Ramirez, from all Riot-sanctioned competitions.
This followed after she was barred from competing amidst allegations that she was involved in account boosting. According to a Twitlonger posted by Team Polaris on 30th September, they were unaware of Slaze's actions, which they condemned and have subsequently dropped her from the team.
Riot Games officially reveal why they banned Valorant pro Slaze
An official competitive ruling was issued on 30th September after an internal investigation was conducted. According to the ruling, Slaze was "found to have repeatedly queued together into Competitive with cheaters." Riot added that the cheater was "banned mid-game" multiple times and proceeded to queue with Slaze using a different account "even after she had received a notification of cheater detection."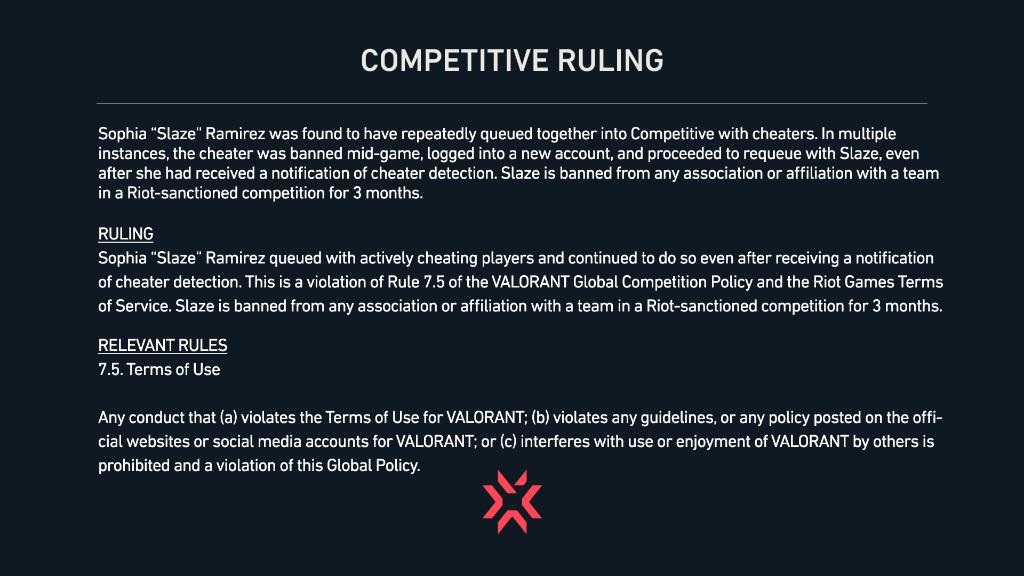 The duration of Slaze's ban will last for 3 months, during which time she will be barred from "any association or affiliation with a team in a Riot-sanction competition."
Upon further investigation, it was also revealed that Slaze had consistently queued (and re-queued) with cheaters on "multiple occasions" over the past 28 days, "with at least 4 new accounts employed by cheaters after the initial ban."
The analysis revealed that 77% of the Competitive MMR Slaze received came from games played while duo-queued with an actively cheating player, whilst 60% of Slaze's Competitive matches were played while duo-queued with a cheater.
Responses from the broader Valorant community were mixed, with many players believing that the ban duration should have been significantly longer. "You only get banned 3 months for queueing with a cheater?" a Twitter user commented.
you only get banned 3 months for queuing with a cheater???????

— Zack🍍 (@DekyFPS) September 29, 2021
Another Twitter thought she was lucky for not receiving a permaban. 
She is incredibly lucky that Riot didn't permanently ban her since I don't see the difference between cheating and actively playing with a cheater to climb the ladder.

— NRG Flexinja (@flexinja) September 30, 2021
Other players criticized Riot's soft ban on cheaters, with one Twitter user saying: "So cheating is as easy as logging in to a new account and immediately cheating again after getting banned over and over [again]."
Prior to the competitive ruling being release, Slaze posted a Twit longer denying the allegations and claiming that "someone in the anti-cheat" department at Riot was targeting her, saying: "since they have the power, their (sic) abusing it."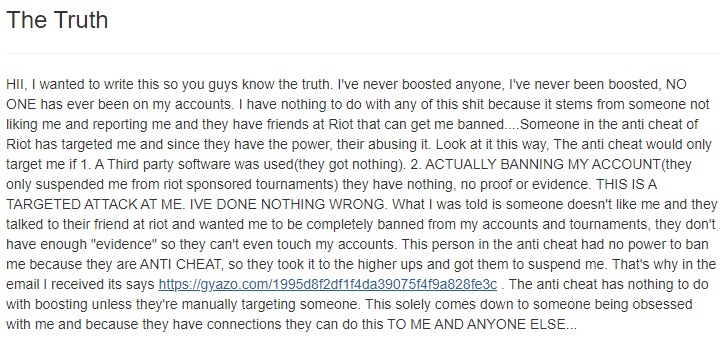 In Slaze's tweet, she said: "This is a targeted attack on me. I've done nothing wrong. Slaze continued to say that the person in the anti-cheat department had 'no power to ban' her and thus 'took it to the higher-ups' to get her suspended.
Shortly after the official ruling was communicated, Slaze ushered her response, saying that she has "never played with someone that's cheating."
I've never played with someone that's cheating, i've never seen anyone i've played with banned for cheating. The guy Ive played with also isn't banned & asked me to q yesterday so that just doesn't make sense. He's not banned and im not banned, so how am i playing with a cheater? https://t.co/ICFvvGLbBx

— 💚 (@slaze444) September 30, 2021
We'll leave it to you to decide what you think of this. Slaze will not be eligible to compete in the upcoming VCT Game Changers and has been dropped from the Team Polaris Valorant team.
For more on all things Valorant, check out our dedicated section with news, guides, tier lists and more. 
Featured image courtesy of Riot Games / Valorant Game Changers.