The recent pump and dump crypto scandal involving multiple members of FaZe Clan continues to grow as Twitch streamer Adin Ross has found himself coming in for similar criticism after tweets emerged showing him utilizing the same shady tactics to promote the $MILF cryptocurrency.
Adin Ross, is a member of the Clout Gang alongside people like FaZe Banks, with both living under the same roof known as the Clout House. Yesterday, Adin Ross tweeted out that his beef with Bryan "RiceGum" Quang, who was also accused alongside FaZe Clan's Kay, Jarvis, Teeqo, and Nikan of pumping and dumping the Save the Children coin, was not a fabrication designed to divert attention from what is a growing scandal engulfing the organisation.
Adin Ross claims that he "never did" such a scam and that his beef with RiceGum is real, he urges those suggesting otherwise to "stop being stupid".
People think this shit fake so I can take minds off of a crypto scam which I never did, haven't done any scams. So stfu.When u get my ex involved and start fucking with my $ by ending my stream it's serious , stop being stupid . Rice try to stream today and see what happens 😈 pic.twitter.com/EjiLVSY6Zm

— adin (@adinross) July 2, 2021
Despite his claims to have never been involved in a "crypto scam", it seems Ross was at least involved in promoting altcoins in a similar way to those that were later found to be "pumping and dumping", the act of promoting a share or cryptocurrency you have bought in at a much lower price, once promoted the public moves to buy pushing up the price, it is at this point that those promoting it "dump" it, selling it off at vast profits and leaving those who bought in based off that promotion with massive losses.
In a reply to Adin Ross's tweet disputing his beef with RiceGum is fake, a user shared a screenshot of Ross doing a cryptocurrency giveaway, giving up to $10k in $MILF coin to "lucky winners" who proved they have invested into the cryptocurrency in the first place.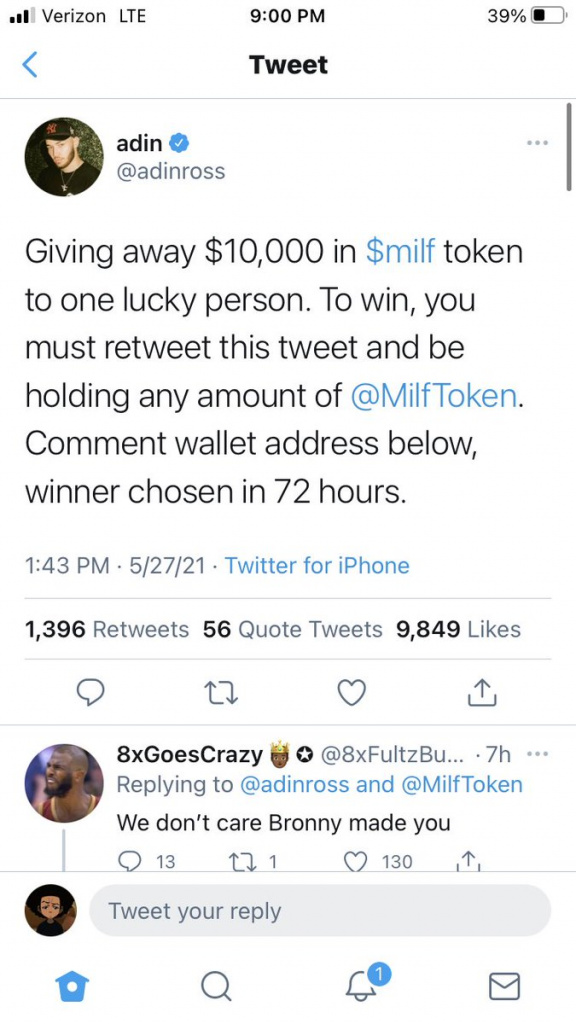 Rubbing salt on the wound, another Twitter user shared a clip of Adin dismissing the coin, advising viewers to "not buy that sh*t," admitting he "got paid a bag" for that sponsorship and doesn't support it at all.
Literally caught in 4K pic.twitter.com/u6Z1Ov2pJx

— Stanley (@BooIinboi) July 2, 2021
At the time of writing, Adin has yet to address the situation in any way, shape, or form.