In the early hours of 25th November, Blizzard America's Customer Support Twitter account announced that they were experiencing Distributed Denial of Service (DDoS) attacks, causing widespread server connectivity issues with their Battle.Net launcher.
The attacks reportedly lasted almost an hour long and resulted in players being unable to access Overwatch, Warzone, Hearthstone, or Diablo's online features.
Blizzard recovered from DDoS attack
Blizzard first announced that they were investigating an issue affecting their authentication servers following an influx of reports regarding failed or slow login attempts at around 00:17 AM CET on 25th November.
We're currently investigating an issue affecting our authentication servers, which may result in failed or slow login attempts. #BlizzCS

— Blizzard CS - The Americas (@BlizzardCS) November 24, 2021
Blizzard subsequently confirmed that they were "experiencing a DDoS attack" and were actively working to mitigate the issue a few minutes later. Accordingly, the DDoS attack was reportedly resulting in "high latency and disconnections for some players."
[#BNet] We are currently experiencing a DDoS attack, which may result in high latency and disconnections for some players. We are actively working to mitigate this issue.

— Blizzard CS - The Americas (@BlizzardCS) November 24, 2021
For those unfamiliar with the term, DDoS attacks are coordinated malicious attacks on targeted servers whereby an attacker (or group of attackers) flood a machine or network resource with traffic to disrupt its service or functioning.
During the attack, players were met with an in-game "Breaking News" notification informing players attempting to log in of the attack.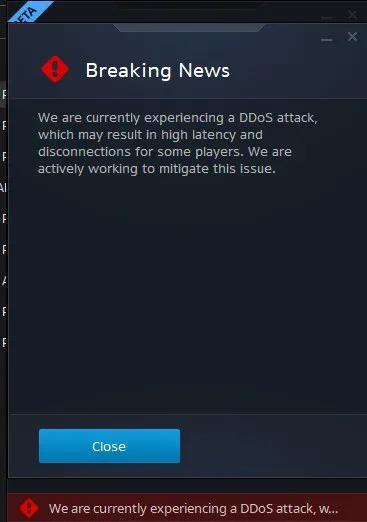 Players that managed to log in to Battle.net were unfortunately met with a lengthy waiting queue, further warning the players of unusually high server traffic. Fortunately, after about 1 hour, Blizzard announced that the DDoS attacks had ended.
Blizzard did not provide any further information regarding the attack's origins, so we are left in the dark regarding whether the DDoS attack was an isolated incident for formed part of a larger, organised protest.
However, thankfully, with the DDoS attack now over, players can resume their regular gameplay. We will provide further updates regarding this attack should more information become available.
Don't forget to check out our dedicated Video Games section for the latest news, updates, esports coverage, guides, leaks and more.
Featured image courtesy of Activision Blizzard.