It's widely known withing esports that fighting games are not a particularly lucrative endeavor, despite certain developers like Capcom or Bandai Namco supporting the competitive scenes around their titles, however, it seems Blue Mammoth Games will blow that assistance out of the water after announcing their plans for Brawlhalla Esports Year Six.
The free-to-play 2D platform fighting game that plays similar to the Smash Bros. series has been a resounding success thanks to its cosmetic offerings, multiple crossovers, and ease of access, as the game features crossplay among its different versions: Xbox One, PS4, Nintendo Switch, iOS, and Android.
Brawlhalla Esports Year Six - Prize pool
Blue Mammoth revealed via YouTube that the 2021 circuit will feature a total of $1 million as a prize pool, an unprecedented amount for the FGC.

(Image: Blue Mammoth Games)
"Throughout the season there will be four seasonal championships, the Brawlhalla Pro Series, and the Brawlhalla World Championship 2021," Blue Mammoth explained in a follow-up blog post.
Brawlhalla Esports Year Six - Events
So far, there's a total of six different events confirmed for 2021. Here's the rundown.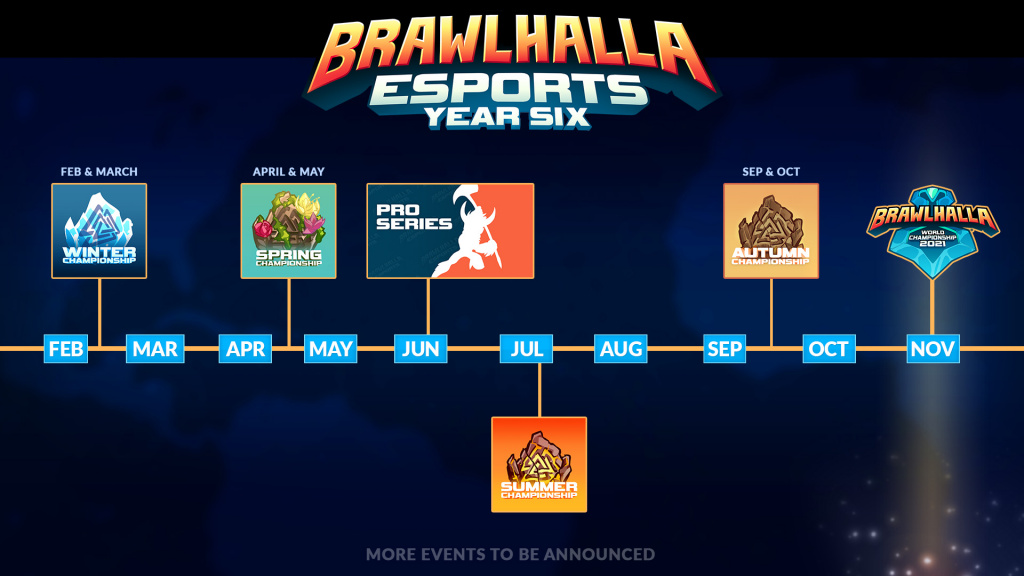 (Image: Blue Mammoth Games)
Winter Championship (February and March)
Spring Championship (April and May)
Pro Series (June)
Summer Championship (July)
Autumn Championship (September and October)
Brawlhalla World Championship 2021 (November)
The devs confirmed all the events will be held online for the time being, with open signups for all those interested in participating, on top of this, there will be viewership rewards in place, with no specifics as to what they are.
For more FGC related content, check out how to play as Bernie Sanders in Soulcalibur VI.