Bungie's vision for Destiny, that of an evergreen gaming ecosystem that constantly changes and evolves, might become a reality in the next few years, as the developers laid out their plans for the future of the title with multiple expansions as well as a new approach to content management.
During a stream hosted by game director Luke Smith, expansions planned up until 2022 were confirmed. The first one, Beyond Light, will release next September 22nd.
Check out the trailer that shows Eris Morn, The Drifter, and the Exo Stranger.
Beyond Light will bring a new location, Europa, to the roster of destinations players can travel to, as well as the overall DLC package that includes new story missions, strikes, and a new raid set in the Deep Stone Crypt of Europa.
A surprise that will get fans excited is the introduction of an entire new subclass, Stasis, that will play a major role in the expansion's story.
Moments later, it was revealed two more DLC's are already planned for the next couple of years, with both targeting a Fall release, called The Witch Queen and Lightfall.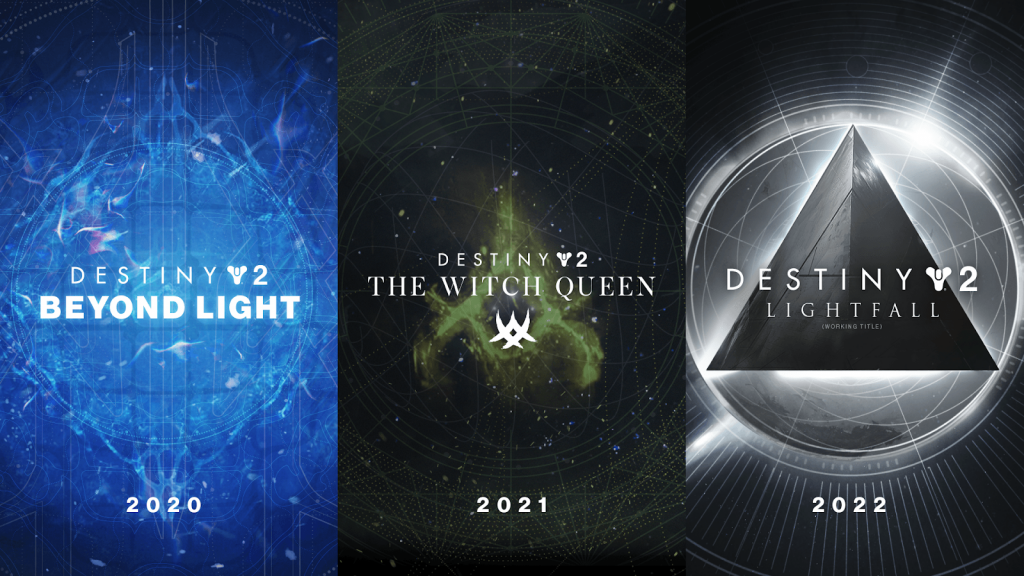 (Picture: Bungie)
Beyond long-term plans, the immediate future for Destiny 2 will see the first-person shooter change substantially.
Let's break it all down.
Bungie shut down rumours of an impending Destiny 3 by introducing to what they are calling the Destiny Vault Content. The DVC will let the devs cycle activities that players might not be paying too much attention to, reintroducing old ones in the process, including bringing back long-lost favourites from Destiny 1.
Starting in "Year 4 of Destiny 2," in other words, after Beyond Light releases, the first wave of content to make its way back from D1 are the Cosmodrome destination, three strikes, and the Vault of Glass raid held by many original Destiny fans as one the best ones to date.
The return of these oldies but goldies comes at a cost, as locations from Destiny 2 will go away for an unspecified amount of time - Mars, Io, Titan, Mercury, and Leviathan will no longer be accessible (for a while) once Beyond Light launches later this year.
This leads to the next following locations being available starting September 22nd:
Europa (Beyond Light location)
Cosmodrome (unvaulted) 
Moon 
Tangled Shore 
Dreaming City 
European Dead Zone 
Nessus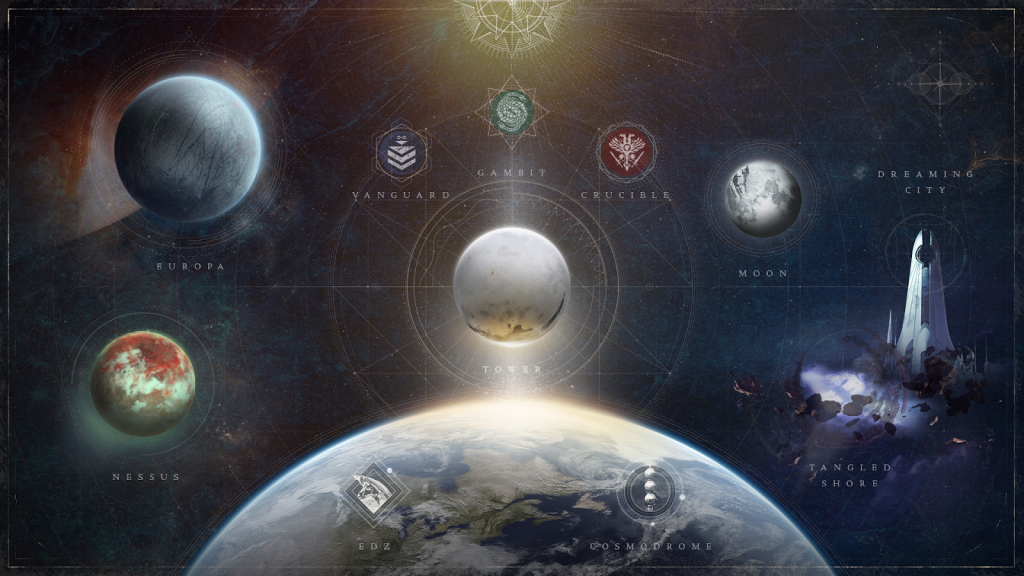 This is how the DVC will eventually look for players (Picture: Bungie)

Another important reason for the cycling of content is to try and maintain Destiny 2 as accessible as possible. The current base game requires a download of 115GB, and the developers want to avoid irrelevant content to flood players' hard drives while giving them the ability to patch the game faster.

"Warmind's campaign represents only 0.3% of all-time played in Season of the Worthy and yet the Warmind Expansion accounts for 5% of our total install size," Bungie elaborated on a blog post.

Unto next-gen talk, Luke Smith gave the player base a lot of reassurance in terms of how the process of migrating to new hardware will go down. PlayStation and Xbox users will get a free-of-charge upgrade if they decide to move their Destiny 2 content to the PS5 and Xbox Series X, including any expansions they've previously purchased.  
A huge benefit of upgrading will be that the game will finally run at 60 frames per second and at 4K resolution.
Furthermore, Smith said players in the same ecosystem of consoles will be able to play together, meaning users on PS4 can join players in PS5. Crossplay was mentioned, and is a feature in the works with their sights set in 2021 as the year it's finally implemented.
Finally, the Season of Arrivals kicked off immediately after the stream ended. A whole new set of activities including a public event and a neo-futuristic styled looking dungeon revolving around the Nines are free-to-play for all Destiny 2 users. If you decide to buy the Season Pass, you can get your hands on a new Witherhoard Exotic Grenade Launcher and seasonal armour set.
Destiny 2 is currently free-to-play on PC, Xbox One and PS4, with its latest released expansion, Shadowkeep, available for purchase on all platforms.