In a year from now, when we look back at 2020 (when it comes to gaming) one of the biggest stories will surely be a controversy surrounding the latest anti-cheating systems.
For months we had Riot Games' Vanguard anti-cheat system, used in Valorant, as one of the main topics in the gaming world, and now another anti-cheat comes as a hot topic in gaming subreddits, news headlines and Youtube videos.
Denuvo Anti-Cheat arrived in DOOM Eternal with Update 1 and raised many concerns and overall dissatisfaction amongst players.

DOOM Eternal has been praised for its gameplay, soundtrack and overall quality. (Picture: idSofware)
Players aren't happy that it operates on the kernel level, which gives full freedom to it to interfere with the system without any need to ask for permission.
Many of them like to play Doom games solely for their single-player content, and they don't like being forced to have an intrusive anti-cheat if they don't intend to play multiplayer modes.
Both Denuvo and Bethesda are assuring players that there's nothing to worry about and that everything is perfectly fine, but many players were reporting problems during the weekend.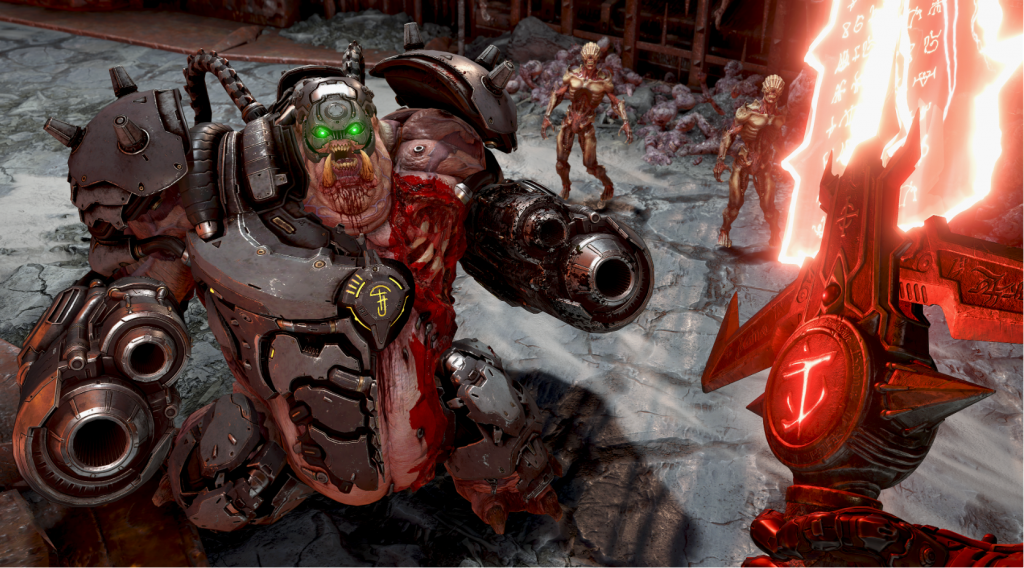 In theory, Denuvo Anti-Cheat should only work when you play multiplayer. (Picture: idSoftware)
"Doom Eternal is now unplayable on my system. It ran the game beautifully before the Denuvo patch," says Reddit user Octiceps about Denuvo Anti-Cheat. 
He further explains his situation: "Constant, massive stuttering. Horrendous screen tearing despite having G-Sync. Locks my 120Hz display at 60Hz, both in-game and on the Windows desktop."
This is only one of many reports from the last few days. DOOM Eternal is currently being review-bombed on Steam because many people owning the game aren't happy with this change.
Many players are experiencing that their antivirus software is detecting Denuvo Anti-Cheat as a virus. User DrDoomSkywalker posted on PCGaming subreddit about Kaspersky flagging Denuvo Anti-Cheat in DOOM Eternal as a virus, and other people are reporting similar issues.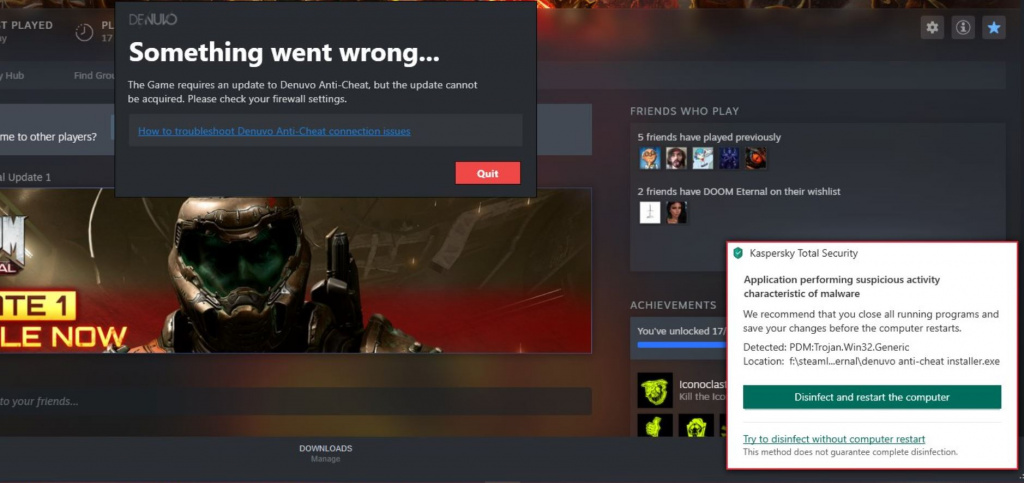 Kaspersky marks Denuvo Anti-Cheat as malware. (Picture: u/DrDoomSkywalker)
It is definitely not a good picture for both Bethesda and id Software, and many players are already requesting a refund from Steam because of this, with some players even reporting that Steam is giving them one.
Someone even founded and old press release saying that Denuvo Anti-cheat will protect microtransactions, which puts another red flag in the eyes of players: "Denuvo's Anti-Cheat technology, which is soon to be launched as a full end-to-end solution, will prevent hackers in multiplayer games from manipulating and distorting data and code to gain an advantage over other gamers or bypass in-game micro-transactions."
Denuvo Anti-Cheat launched last Friday, and Denuvo and Bethesda are yet to respond to all these critics.