At launch, Fallout 76 was probably one of the biggest failures in Bethesda's history, something even Todd Howard openly admitted, who recently said that there was "very little we didn't screw up" in regards to Fallout 76 launch.
Still, the game has managed to somehow survive its disastrous launch and subsequent bad decisions, and over the years Bethesda worked hard to make the game a better experience, with new content, new features and even complete new gameplay mechanics, like NPCs and dialogues.
What started as a ridiculed meme game, which was seen as being dead on arrival, is now a game with a stable players base and fans who actually have a lot of nice words to say about the game's current state.
And Bethesda doesn't have plans to stop anytime soon with improvements, especially now when they are an official part of Xbox.
Bethesda has just released a new roadmap which includes their content plans for Fallout 76 in 2021 and beyond. Just like with 2019 and 2020, the content for 2021 is also split into four seasons: Spring, Summer, Autumn and Winter content. 
The spring update is called Locked & Loaded, and if you are impatient to try it immediately, it is available right now on the PTS, but only for those players who own the game on the Bethesda.net launcher.
The update brings S.P.E.C.I.A.L. Loadouts, C.A.M.P. Slots, Mannequins, Daily Ops expansion, and much more.
S.P.E.C.I.A.L. Loadouts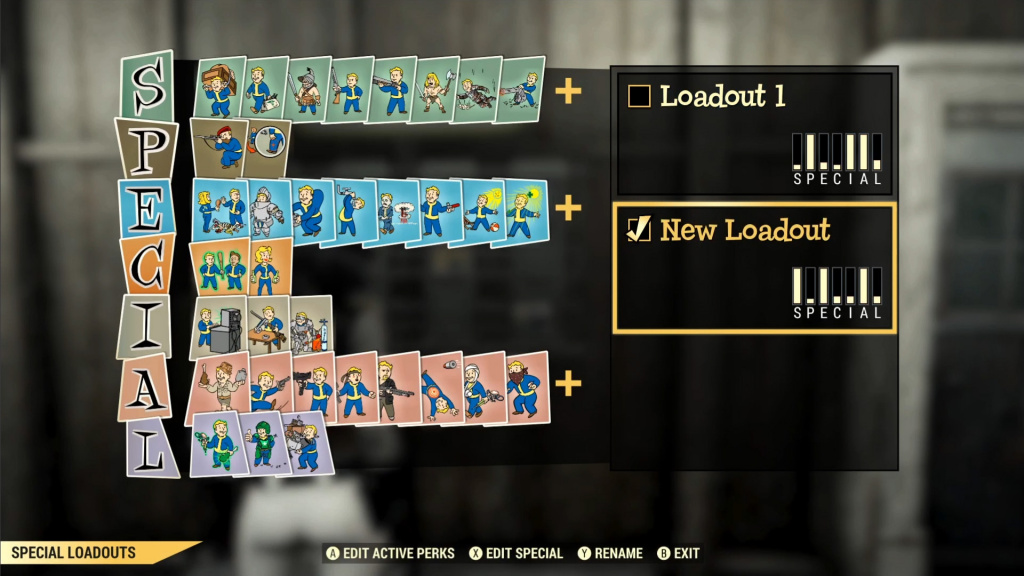 (Picture: Bethesda)
S.P.E.C.I.A.L. Loadouts will become available for all players at level 25 and above, and it will allow you to completely reset and reallocate all of your S.P.E.C.I.A.L. points and perks, for free. This includes the option to create and save custom builds, and switch between them in a few clicks.
This will be possible via Punch Card Machines, which you can build in your C.A.M.P. or find at Train Stations around Appalachia. All players will have access to two loadout slots, while additional slot will probably be available for purchase as Bethesda says they are "exploring additional ways to unlock more Loadouts in the future."
C.A.M.P. Slots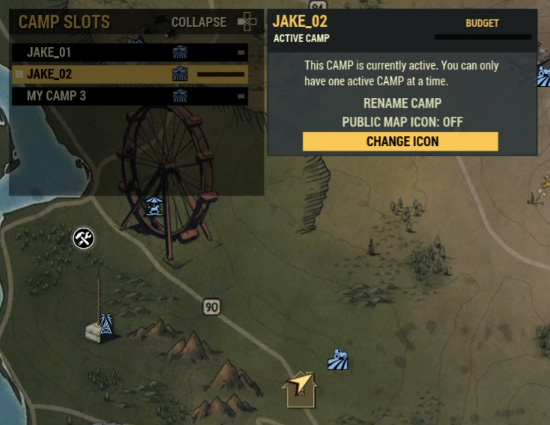 (Picture: Bethesda)
C.A.M.P. Slots, as the name suggests, will allow players to have more than one C.A.M.P. and each with a completely separate location, build budget, custom name and map icon.
While players will be able to have several bases, only one C.A.M.P. can be active at a time, and you will be able to switch between them through the C.A.M.P. Builds widget or your C.A.M.P. icons on the map.
Daily Ops expansion
The update will bring a whole lot of new content for Daily Ops, and Bethesda says that it will almost double the number of options in the randomized content pool.
The expansion brings the new "Decryption" game mode, where players will team up to hunt down "Code Carriers" and in this way stop radio interceptors for Vernon Dodge.
The expansion also brings a set of new Daily Ops locations, including Vault 96 and the Watoga Raider Arena, new enemies such as the Scorched and Mothman Cultists, and some completely new mutations. An example given by Bethesda is a mutation where an enemy group can heal each other or the one where enemies leave toxic hazards upon dying.
Other additions coming this spring are new Aim Assist settings, crafting sliders that will allow you to craft items in batches, World Activity Menu updates (active Nuke Zones, nearby player Vending Machines, etc), and melee attack improvements.
Of course, this is all just for the spring update, and there's a lot more coming throughout the whole year.
Fallout 76 2021 roadmap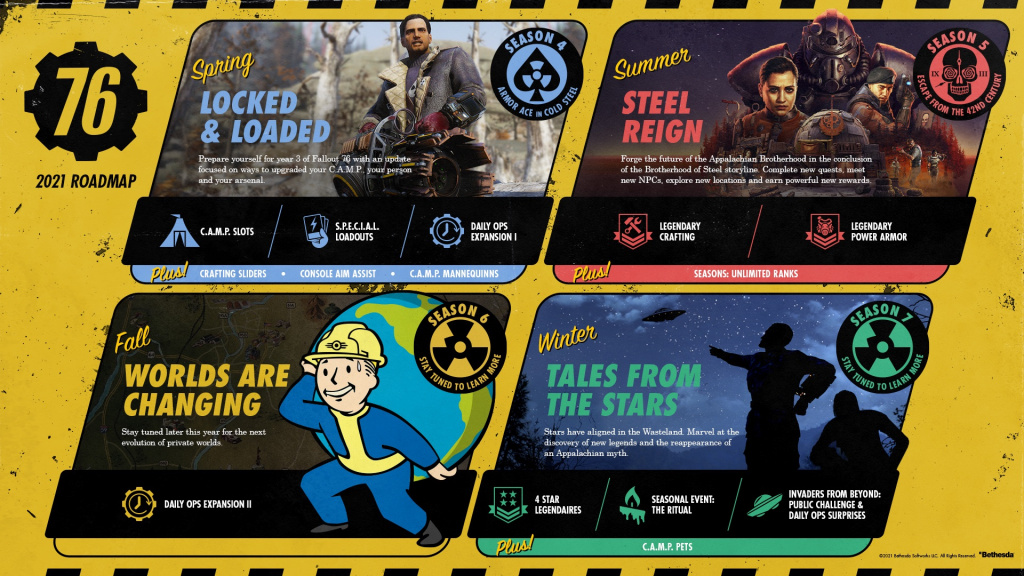 (Picture: Bethesda)
The summer update, called Steel Reign, will conclude the story of the Appalachian Brotherhood of Steel, with new quests, locations, NPCs, and "powerful new rewards". It will also introduce the ability to craft specific Legendary items using Legendary modules.
We don't know much about the Fall update, called Worlds are changing, but Bethesda says it will bring "an evolution to Private Worlds", along with another expansion to Daily Ops.
Finally, the winter update, Tales from the stars, will bring four-star Legendary Weapons and Armor, a seasonal event called The Ritual and some mysterious visitors from outer space.
For more details about the roadmap and future updates, visit the official Bethesda post about the Fallout 76 2021 roadmap.