After several games, the Fallout franchise is finally being created as a TV series, and there are some amazingly talented people behind the project. Bethesda and Amazing Studios have announced a Fallout TV series, with the creators of Westworld, producing the show.
Fallout TV series announcement
The Fallout TV series will be an Amazon Original, produced by Kilter Films, with Jonathan Nolan and Lisa Joy of Kilter Films leading production. Joining them are Bethesda's Todd Howard and James Altman.
The iconic Fallout video game series' latest entry, Fallout 76, didn't go down too well with gamers. However, a Fallout TV series has lots of potential, especially since there's simply so much lore to pull from.
The announcement video didn't show any footage, but the "please stand by" should give Fallout fans nerd chills.
Lisa Joy and Jonathan Nolan from Kilter Films explains: "Fallout is one of the greatest game series of all time. Each chapter of this insanely imaginative story has cost us countless hours we could have spent with family and friends.
"So we're incredibly excited to partner with Todd Howard and the rest of the brilliant lunatics at Bethesda to bring this massive, subversive, and darkly funny universe to life with Amazon Studios."
Fans of the franchise will definitely hold thumbs and wait with anticipation to see the first footage of the Fallout TV series. The hope is that Kilter Films does the iconic video game franchise justice.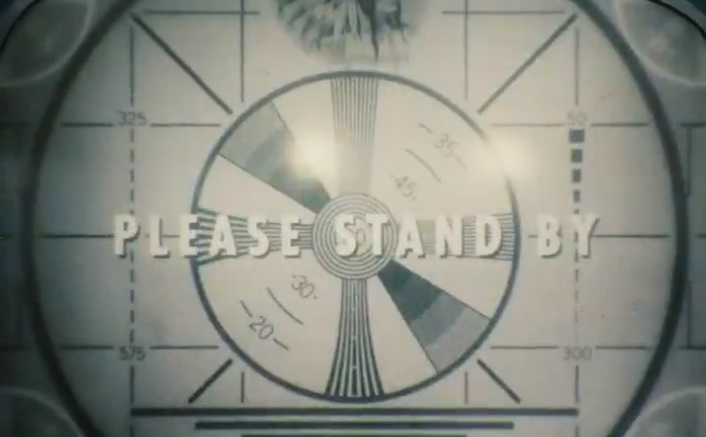 A Fallout TV series is in the works, so please stand by. (Picture: Amazon Studios)
Todd Howard seems to think they have found the perfect match, stating: "Over the last decade, we looked at many ways to bring Fallout to the screen. 
"But it was clear from the moment I first spoke with Jonah and Lisa a few years ago, that they and the team at Kilter were the ones to do it right. We're enormous fans of their work and couldn't be more excited to work with them and Amazon Studios."
At the time of writing, there is no indication when the Fallout TV series will release. Due to the COVID-19 pandemic, it is quite difficult to film a show, with many big TV series filming getting delayed, including the brilliant The Witcher.
While you wait for the first footage of the Fallout TV series to drop, spend some time watching the latest episode of our Lockdown video series.
Lockdown: New Valorant Agent and a Harry Potter RPG? (01.07.2020)