There's no better way to get rid of the Monday blues than to pick up and play a free game. This is where Armillo comes in, which you can grab on Steam right now. 
Free game on Steam: Armillo
PC gamers can simply head to the free game's page on Steam, click "Play Game" to add it to your library, then proceed to play this sci-fi rolling platformer for free.
There are no strings attached, so if you add it to your library before the freebie expires, it will be yours to keep and play at your leisure. At the time of writing, no end date for this freebie has been provided. 
What is Armillo?
This free game on Steam was developed by Fuzzy Wuzzy Games. While it released for the Nintendo Wii back in 2014, it only released on Steam this month. The developers decided to give Armillo away for free, and it looks like a whole lot of fun to play.
Armillo is a sci-fi-style rolling 3D platformer, which has received an average of "positive" user review rating on Steam since it's release. You can read the game's description below the image.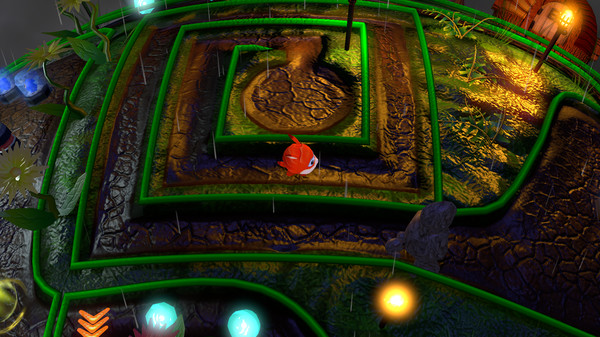 Keep on rolling (Picture: Fuzzy Wuzzy Games)
Rock and roll your way through a colourful world in Armillo, a sci-fi-style rolling platformer. In a once-peaceful galaxy, invading Darkbot forces are cruelly capturing small, blue critters.
Flying from planet to planet, help Armillo rescue them and take back his home: a series of spherical 3D worlds featuring all manner of obstacles and enemies. Your main weapon against the Darkbots is Armillo's roll, which lets you navigate paths, dodging or wrecking anything in your way. Jump and boost your roll to destroy tougher enemies, or collect power-ups to gain special abilities.
Along the way, solve cheeky puzzles and grab orbs, which you can spend on bolstering Armillo's powers for improved Darkbot routing. And that's something you'll need, as you battle multi-stage bosses in their own worlds.
Within every level, track down a hidden Parallel World, where you'll be challenged to speed run through a 2D zone. You'll need lightning reflexes and your best, old-school platforming skills in these special stages – especially as you're pushed to beat each stage against the clock!
With snappy action, vibrant graphics and puzzles to stretch your mind, Armillo is rolling to defeat the Darkbots in this riveting 3D platformer.