The
Fallout 76 Steel Reign
update has been unleashed across all platforms, and it introduces a tonne of new content. One of the most exciting additions for many Wastelanders out there is the
Legendary weapon and upgrade crafting
. For the latter, you will need to get your hands on Legendary Cores, a relatively rare item players can obtain by completing a variety of activities. However, we all know efficiency is key to survival, right? With that in mind, we've got the fastest way to get Fallout 76 Legendary Cores, explaining exactly which are the best events to farm.
Fallout 76 Legendary Cores - Best ways to farm
In the Fallout 76 Steel Reign update, you can apply Legendary Upgrades to your gear. We've already got a complete, detailed guide to the Legendary Upgrade system for you to read.
To upgrade your gear to Legendary status, you need Legendary Cores. Makes sense, right? The issue is, Legendary Cores are quite difficult to come by, and if you want that tasty 3-Star Legendary Mod, well, you will need to spend five Legendary Cores and 4 Legendary Modules!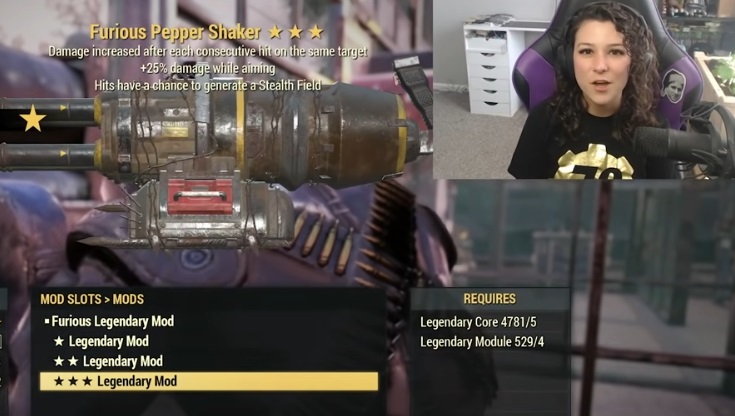 While Bethesda has explained that you can get Legendary Cores as rewards for completing Dialy Ops, Seasonal Events and Public Events, everyone wants to know what the fastest way is to farm these shiny, extremely useful crafting materials.
The best Fallout 76 Public Events to farm for Legendary Cores are also the most difficult, and while Daily Ops can give you some, your time will be much better spent farming these events.
Best Fallout 76 Public Events to farm:
A Colossal Problem - 8 Legendary Cores
Encryptid - 8 Legendary Cores
Scorched Earth - 5 Legendary Cores
Project Paradise - 1 to 8 depending on how many creatures survive.
Free Range - 1 to 8 depending on how many creatures survive.
Every other Fallout 76 Public Event will give the player either one, two or three Legendary Cores upon completion. You only have a 20% chance to get 3 Legendary Cores from other Public Events.
To efficiently farm Legendary Cores in Fallout 76, you will need to take on the bigger, more difficult events mentioned above. We suggest you bring several friends along and move between these events for the most efficient farming method.
Don't forget to check out our general video games section, where you can find all the latest news, guides on your favourite titles and more.