A huge part of Diablo 2 Resurrected is the loot, and we have no doubt players will find themselves not being able to carry all the items dropped by enemies every single hour. It is an element of Diablo 2 Resurrected that new players will have to get used to, and one that even veterans can sometimes get frustrated by. 
For those who want to increase their character's inventory size in Diablo 2 Resurrected, we've got you covered. Let's first get to the bad news, then detail management tips to make the limited space last a bit longer.
How to increase inventory size in Diablo 2 Resurrected
Blizzard is staying true to the original gameplay of Diablo 2, and therefore, has not added a way to actually increase your inventory size in Diablo 2 Resurrected. 
We know, it's frustrating, but at least you get more Stash space and a Shared Stash across characters.
While there's no way to increase your inventory size, there are several ways to be more efficient, which brings us to our inventory management tips.
Diablo 2 Resurrected inventory management tips
Since you can not increase your inventory size in Diablo 2 Resurrected, you need to make every little space count, right? That's where our inventory management tips come in, with the goal of helping players free up some space with relative ease. Let's just jump right in with the first tip.
Purchase Tomes ASAP:
Throughout your journey, hundreds of scrolls will drop. We are talking about the Scroll of Town Portal and the Scroll of Identify. Each scroll takes up one space in your Diablo 2 Resurrected inventory.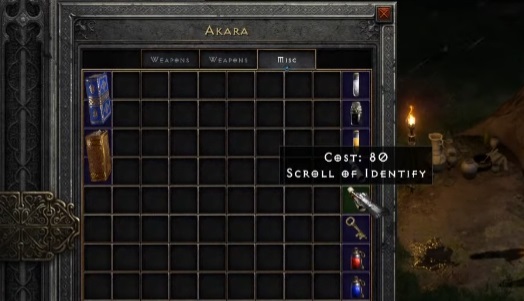 As our first tip, we suggest that as soon as you have enough gold, you should purchase both a Tome of Town Portal and a Tome of Identify from Akara in the Rogue Encampment. These items carry 20 scrolls of their type, and they are automatically added as you pick them up.
Use mercenaries as pack mules
Mercenaries fight alongside players and can be of great help in battle. For example, a sorceress can get a melee mercenary to tank the hordes of hell. Mercenaries also have another useful feature: carrying items.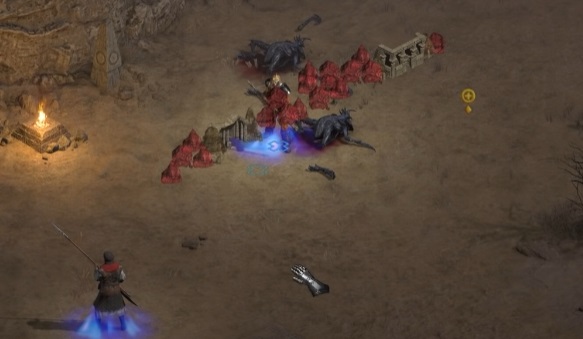 If you want to save an item but you simply don't want to go back to town right now, equip it on your mercenary to free up inventory space.
Take advantage of the Horadric Cube
Once you've found the Horadric Cude by using our step-by-step guide, you can transmute items with a variety of recipes. 

The Horadric Cube has another great use as well, storing precious items. This is due to the Horadric Cube only taking up 2x2 spaces in your inventory but has 3x4 space inside. Leave valuable items in there to free up some inventory space.
Secondary weapon slots
To free up even more space in your Diablo 2 Resurrected inventory, use your secondary weapon slots to "store" items.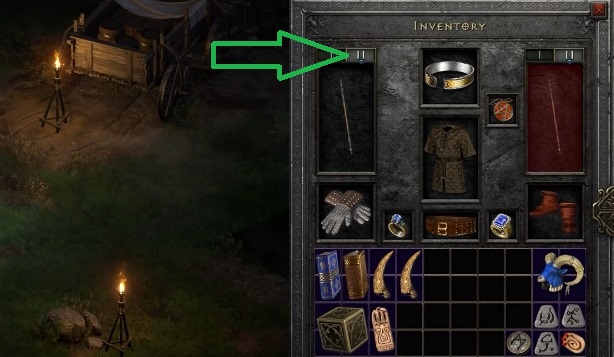 Let's say you want to keep your current weapon but found something better to use out in the wilds of Sanctuary. Simply move your old weapon over to the secondary weapon slot, and add the new one to your primary slots. This way, you can carry more items without taking a trip back to town.
Use a 16-slot belt
Belts carry potions in Diablo 2 Resurrected, and upgrading your current one is one of the easiest ways to artificially increase your inventory space.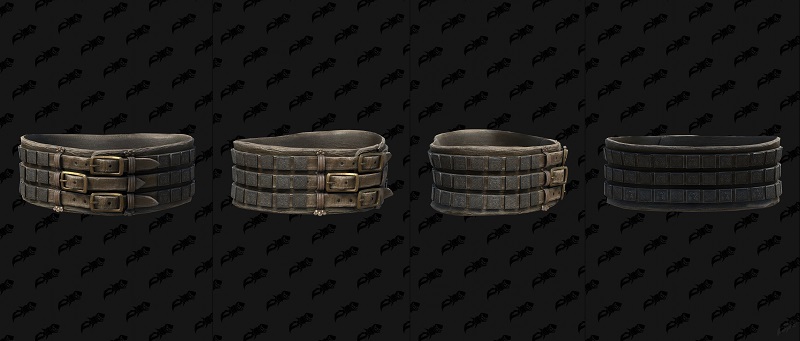 Starter belts can hold 8 potions, while higher-level belts can hold 16 potions. A plated belt, even in normal, can hold 16, and you don't have to be good at math to figure out that 16 potion slots are better than 8. Once you've found a belt with 16 slots compared to one with 8, this effectively opens up 8 slots in your inventory.
With these tips, you should be able to free up more space in your inventory with relative ease, avoiding a few fewer trips back to town in the process.
Don't forget to check out our dedicated Diablo section for guides, news, leaks and much more so that fans of the iconic ARPG franchise stay up to date with the latest information.