Many voice actors in the gaming industry are becoming personalities in their own right, with a lot of them embracing fan support to the point they become an interest to people outside of the game characters they represent.
Such is the case for Yuri Lowenthal, a voice actor whose major roles in video games include Peter Parker in Insomniac's Spider-Man, Marth in the Fire Emblem/Smash series, and most recently, Johnny in the Final Fantasy VII remake.
Smash Ultimate pro, Nairoby "Nairo" Quezada, invited Yuri to his Twitch stream on April 20th, which served as a fundraiser for the Extra Life charity while also celebrating Fire Emblem's 30th anniversary.
The voice actor opened about his lack of Smash Bros skills, telling a story about how he would give out free t-shirts to anyone that could beat him.
"At a convention, they asked if I would, for charity, play Smash Bros with people. They would pay money and it would all go to charity" he recalled, before amping up the ante by telling the organizers to "print out a whole bunch of shirts that said 'I beat Yuri Lowenthal's ass at Smash Bros' (...) inevitably, everybody who played got that shirt."
The real highlight of Yuri's cameo, however, was when Nairo's chat convinced him to say 'poggers', a classic Twitch slang commonly used when an exciting moment happens on stream.
"Let me just make sure I'm pronouncing it right" Yuri stated as he prepared for the moment Twitch chat was waiting for.
Naturally, Nairo's chat exploded, getting filled up with hundreds upon hundreds of poggers to commemorate the occasion.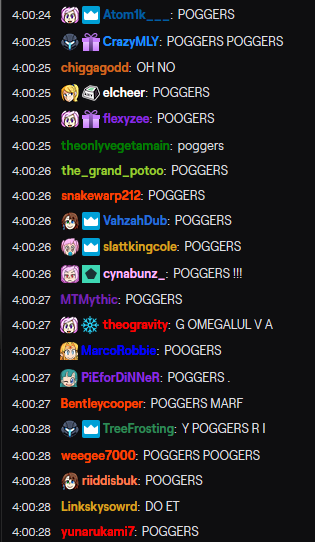 (Credit: Nairo)
Once people on Twitter got their hands on the clip, they gave us amazing edits using the voice line in the context of Smash Bros Ultimate.
Want to stay in the know with all things Smash? Swing by ZeRo's return to competitive Ultimate.