While Square Enix
continues to improve on Marvel's Avengers
, the game didn't have the smoothest of launches, with the developer even handing out some
free rewards for Marvel's Avengers players
. Now, Square Enix has updated the game's community, delaying the Kate Bishop DLC, as well as the next-gen console upgrades. 
Kate Bishop DLC & next-gen upgrades
In an update on the state of Marvel's Avengers, Square Enix has delayed Kate Bishop's Operation DLC launch out of October, explaining how the team is dedicated to quality first when it comes to content.
The Kate Bishop DLC description reads: "Kate's new Operation will be a must-play for fans wanting to know what's next in the story! In Marvel's Avengers: Kate Bishop - Taking AIM, Tachyon Rifts become a harbinger of a new threat. As players investigate the source of them, they will pick up on a story that begins shortly after the conclusion of the Reassemble campaign."
(Picture: Square Enix)
Square Enix has also decided to push back the next-gen upgrades for Marvel's Avengers into 2021. No exact new release date has been provided.
The developer notes they have delayed the Marvel's Avengers next-gen upgrades to "ensure that we give our team the time to deliver a next-gen experience showcasing all that this game is meant to be."
Not everything is negative news, however, as the developer is working on community-driven features, namely:
Avengers Initiative Ping System: A system that will allow players to mark objectives, resources, health crates, and enemies, allowing players to command AI companions to hack/smash doors or prioritize specific enemies.
Reassemble Campaign Replay: An option to reset the Reassemble campaign and replay it with your Super Hero's level and gear intact.
High Contrast Mode: An accessibility feature that will allow the player to apply solid darken veils behind text to improve readability.
Hero Icon Visibility: An option to adjust the display of identifying icons above a Super Hero's head to be on by default or dynamic.
Mission Reward Clarity: Improved clarity around mission-specific rewards when viewed on the WAR TABLE. This will allow players to more strategically take on missions to meet their current goals and seek out specific gear and resources. 
Offscreen & Ranged Enemy Attack Indicators: Better feedback for players to avoid offscreen and ranged enemy attacks.
Then, there's also another bunch of free rewards for players to pick up in Marvel's Avengers.
Marvel's Avengers free rewards: How to get
As a sign of Square Enix's appreciation to players for being with them from the start of this mammoth journey, you will be able to pick up some free Marvel's Avengers rewards in a Thank You bundle.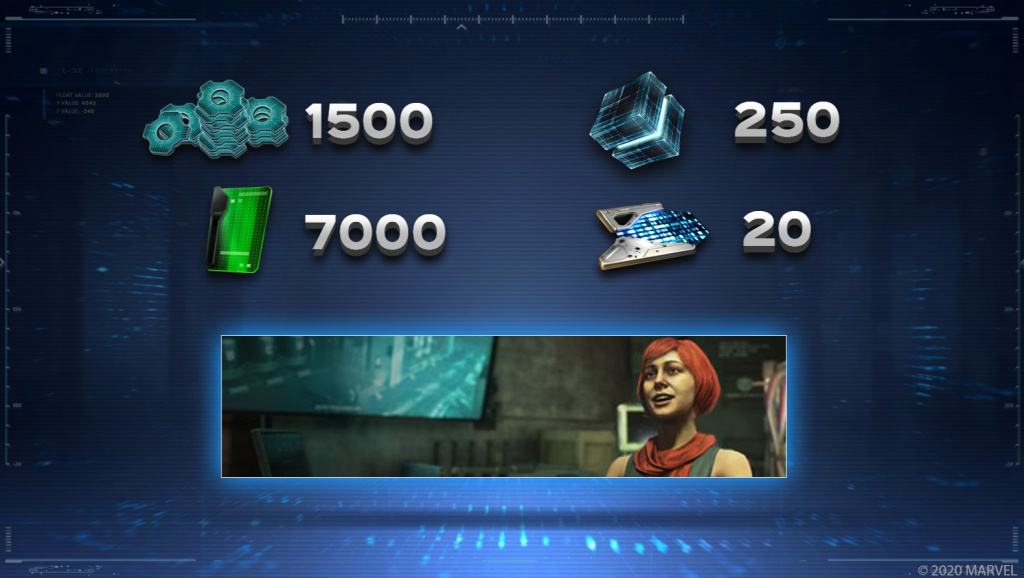 (Picture: Square Enix)
Starting on 22nd October, players will receive a digital Thank You bundle, which includes:
Credits: 1500 - Enough for a Legendary Skin and Nameplate from the Marketplace       
Units: 7000       
Upgrade Modules: 250       
DNA Keys: 20       
A Sarah Garza-Inspired Nameplate   
This bundle filled with free rewards will be available until 5th November 2020, so be sure to log in to Marvel's Avengers to claim it.