Console wars are very much a thing in 2020, and whenever a high-profile exclusive hits the market (regardless of platform), what usually follows is a barrage of people trying to bring its Metacritic user score down.
The most recent example of this egregious way of showing discomfort involves The Last of Us Part II — the Naughty Dog game currently sits on a 5.5 Metacritic user score as opposed to the 95 obtained from critics.
Due to this constant pain and in order to combat review bombing, the site has decided to update its policies, disabling user-generated scores for 36 hours following the release of any videogame, with Sucker Punch's Ghost of Tsushima being the first to fall under this new rule.
In a statement provided to Engadget, a Metacritic spokesperson said: "We recently implemented the 36 hour waiting period for all user reviews in our games section to ensure our gamers have time to play these games before writing their reviews. This new waiting period for user reviews has been rolled out across Metacritic's Games section and was based on data-driven research and with the input of critics and industry experts."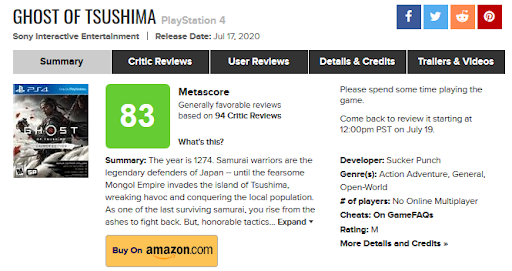 "Please spend some time playing the game." (Credit: Metacritic)
As it stands, players will have to wait until July 19 at noon PST (8 pm BST) to voice their opinions regarding the latest PS4 exclusive. Of course, this extended waiting period doesn't mean the review bombing will stop, but it's good that Metacritic is finally addressing some of the biggest issues plaguing the site and are taking steps to fix them.