Over the course of the last 2 weeks, pro gamer and steamer Moonmoon has been facing off in the fight of his life against speedrunner Clint Stevens in an epic battle for the highest score on the remastered Tony Hawk's Pro Skater 1+2.
Taking to the iconic Hangar level, the two have been grinding the stage both figuratively and literally, aiming to best one another in a showdown that has finally reached its climax.
Your move, @clintstevensTV.

It's gonna be tough to best @MOONMOON_OW's 60 million in The Hangar. pic.twitter.com/dpmSHk1thx

— Twitch (@Twitch) September 11, 2020
For context, AdmrlThrawn on Reddit has put together an excellent, detailed recap of the events. What started with a competition to reach 4 million points in a single combo has escalated between the two passionate gamers. Moonmoon reached 4 million first, only to be beaten by Clint just hours later with the speedrunning legend getting his revenge with 4.4 million. 
Days later, the duo were up to staggering figures, before Clint Stevens managed to land a whopping 82 million point combo. Moonmoon spent fifteen hours straight attempting to beat Stevens' record, only to finally admit defeat. At this point, the defeated Moonmoon shared a Cameo call with Tony Hawk himself.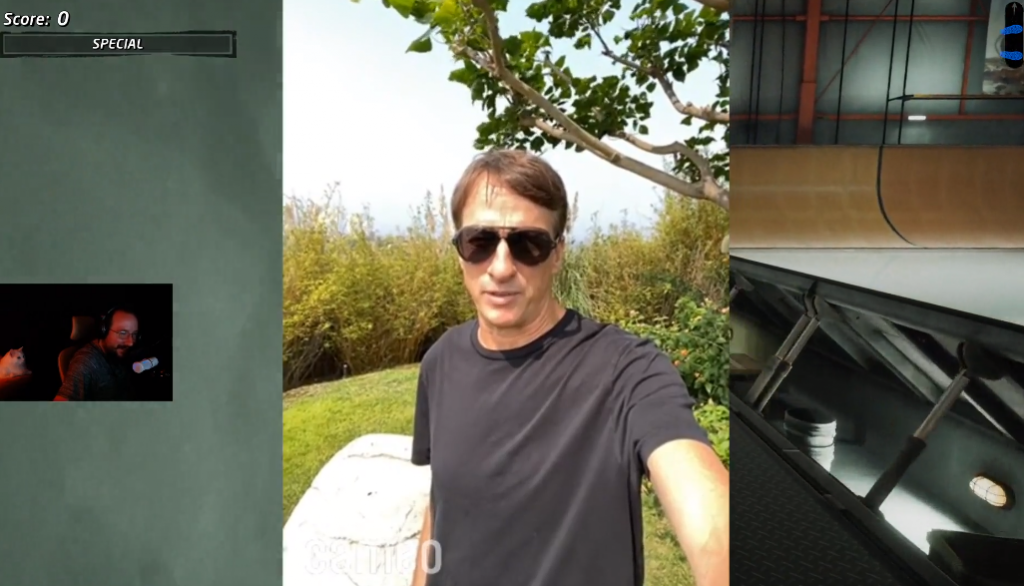 Moonmoon claimed to receive a "zoom call" from the legend himself. (Picture: Moonmoon)
"Oh hey, what's up, Clint? Uhh, hey, I just want to say that I'm really sorry to hear that you ended up in second place after trying so hard," Tony Hawk states. "I know you're practising, and you thought you were gonna have it but - maybe next time! Don't suck so much!"
The pro-skater finishes his message by suggesting that Clint and others subscribe to Moonmoon on Twitch. This paid promotion was made so much more tragic by the fact that Moonmoon didn't actually emerge the winner of the competition. 
Collapsing into a laughing fit after hours of gameplay, Moonmoon even replies to Tony Hawk's message with: "But I lost! I give up. Well done."
Regardless of the results though, this has been a truly incredible display of endurance and effort between the two gamers, with hours of content streamed live to their communities. It just goes to show that even after all these years, there was absolutely good cause to bring back Tony Hawk's gaming legacy.