Oddworld: Soulstorm,
Days Gone
and Zombie Army 4: Dead War have been announced as the free PS Plus games for April 2021. 
Oddworld: Soulstorm, both a continuation of 2014's Oddworld: New 'n' Tasty and a reimagining of 1998's Oddworld: Abe's Exoddus, was previously announced as the PS5 addition for April's line-up back in February. The game will be available for PS5 owners for free through PS Plus the same day it releases across PlayStation 4, Xbox and PC on 6th April.
For PS4 owners, Days Gone and Zombie Army 4: Dead War will be available. The former is a post-apocalyptic open-world action game from studio Sony Bend, who previously created Syphon Filter and Uncharted: Golden Abyss.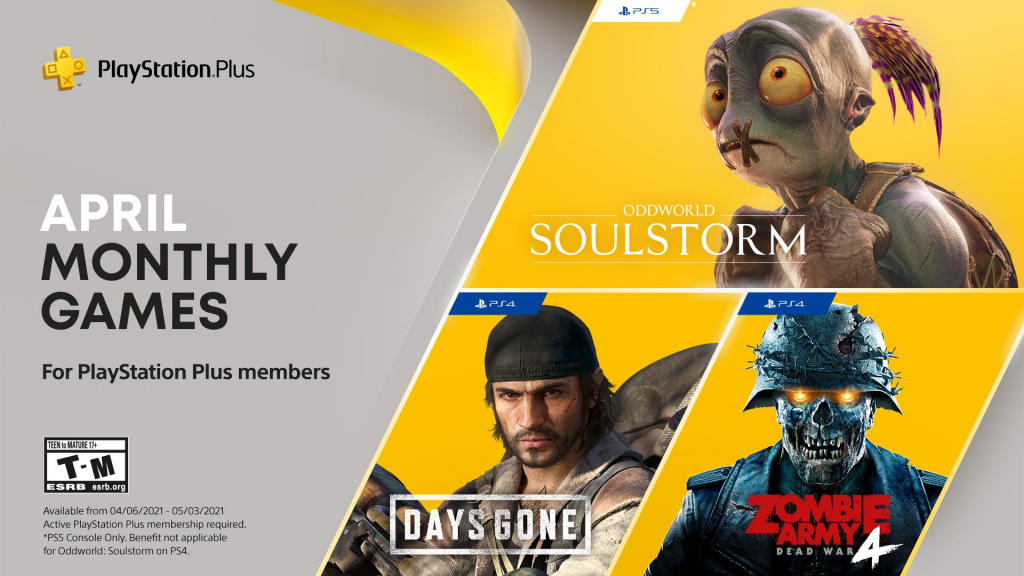 Here's your April line-up (Picture: Sony) 
While it's great for PS4 owners yet to try it, PS5 owners with PS Plus can already download Days Gone for free through the PS Plus Collection — so it might be considered a weaker line-up in comparison to previous months. 
Zombie Army 4 is the latest entry in a series which has quietly become very popular. It's a third-person shooter which originally began as a spin-off to the Sniper Elite series, but that's taken on a whole new fanbase of its own. 
All the PS Plus games for April will be available to download from Tuesday 6th April. You can also add them to your library from that point and simply download them at a later date for free.