Throughout the year, Sony has been killing it with the PlayStation Plus monthly free game offerings. With the launch of the PS5 in November, Sony had to do something special, setting the tone for next-gen. Now, Sony has revealed the PlayStation Plus free games lineup for November 2020, which includes PS5 title Bugsnax, and provided more details on the PlayStation Collection.
Bugsnax on PS5: How to get
Bugsnax, from developer Young Horses, is a charming, whimsical first-person adventure. Players will take on the role of an investigative journalist who has set out to explore Snaktooth Island, home to legendary half-bug half-snack creatures, Bugsnax.
When the PS5 launches in your region, you will be able to discover, hunt and capture all 100 critters while also tracking down and reuniting the island's inhabitants. If you have an active PlayStation Plus subscription.

(Picture: Sony)
In short, Bugsnax will be free with PlayStation Plus, not only for the month of November but until 4 January 2021.
Bugsnax will be available for free with PlayStation Plus starting 12th November or 19th November, depending on when the PS5 launches in your region. Simply grab it for free when your PS5 arrives.
It is important to note Bugsnax will not be free for PS4, as Sony explains the benefit is only available to PS5 owners.
November PlayStation Plus free games lineup
Starting on 3rd November, you can pick up two great PS4 games for free, if you are a PlayStation Plus subscriber. You will also be able to play these titles on PS5 thanks to backward compatibility. 
You have until 30th November to claim these games and keep them forever. Check out the free games lineup and their descriptions, as well as a trailer for each below.
Middle-Earth: Shadow of War
Set between the events of The Hobbit and The Lord of the Rings, Middle-earth: Shadow of War beckons you once more into JRR Tolkien's iconic world of wizards, orcs and elves. Go behind enemy lines to forge your army, conquer Fortresses and dominate Mordor from within.
Experience how the Nemesis System creates unique personal stories with every enemy and follower, and confront the full power of the Dark Lord Sauron and his Ringwraiths in this epic new story of Middle-earth.
Hollow Knight: Voidheart Edition
In Team Cherry's engrossing 2D explorative platformer, descend into a sprawling underground world of Hollownest to battle tainted creatures and befriend bizarre bugs.
Unlock new skills and tailor your power sets to fit your playstyle to help you explore twisting caverns, ancient cities and deadly wastes. Uncover a kingdom's ancient history, taking on epic bosses that'll challenge your combat and platforming skills as you strive to solve the mysteries buried at its heart.
PlayStation Collection: Full list of games
When the PS5 launches in your region, PlayStation Plus subscribers will also be able to enjoy 20 games for free.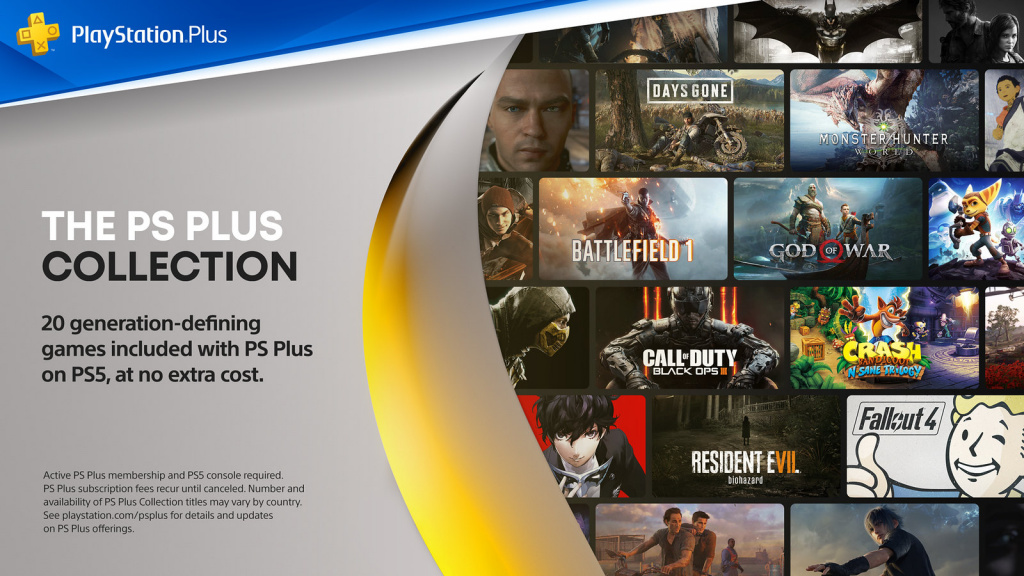 (Picture: Sony)
Sony has announced the full list of titles available via the PlayStation Collection, and no extra subscription will be required. You simply need to be a PlayStation Plus subscriber to enjoy the benefits, and all the games listed below.
From Worldwide Studios:
Bloodborne
Days Gone
Detroit: Become Human
God of War
Infamous Second Son
Ratchet and Clank 
The Last Guardian
The Last of Us Remastered
Until Dawn
Uncharted 4: A Thief's End
From third-party publishers and developers:
Batman: Arkham Knight
Battlefield 1
Call of Duty: Black Ops III – Zombies Chronicles Edition
Crash Bandicoot N. Sane Trilogy
Fallout 4
Final Fantasy XV Royal Edition
Monster Hunter: World
Mortal Kombat X
Persona 5
Resident Evil 7 biohazard
Once you redeem a game from the PlayStation Plus Collection, you can keep the games for as long as you are an active PlayStation Plus member.