The Scartsu Debris Field, or Zurkie's as it's more commonly called, holds the second major boss battle of Ratchet and Clank: Rift Apart. However, unlike the first on Sargasso with the Seekerpeede, this one is a little less complicated.
Although, the giant robot that Rivet sends in to fight you, Francois, is no pushover. It has a pretty simple moveset but the amount of objects and hazards on the battlefield is what makes the fight so difficult to manage. 
Without a guide, it surely will take you a couple of tries to understand what's going on with Francois and how you can combat it. Luckily, we have a full guide on what to do when you go up against the huge mech. 
Fighting Francois in Ratchet and Clank: Rift Apart
The biggest hazard on the battlefield is the fire that will randomly spurt out from the rings that litter the area. The fire will ignite after flashing for a few seconds so make sure you're not near any flames when this happens. If you are, you'll take some hefty damage.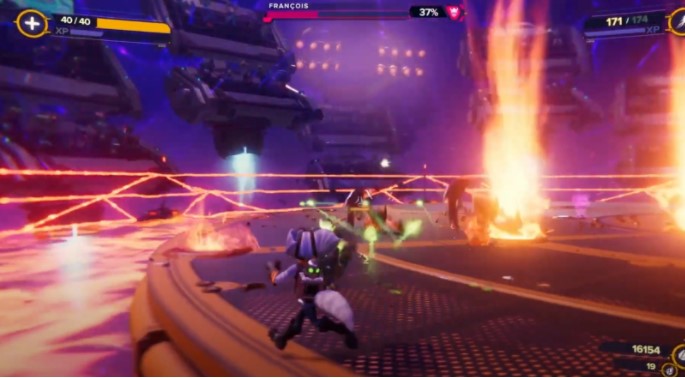 The fire igniting in the fight. (Picture: Insomniac Games)
Of course, the next biggest hazard is Francois itself. He launches explosive bombs at you consistently that explode into smaller bombs after the initial impact. All you need to do is stay away from where the bombs will land, even if this means you stop shooting at it for a couple of seconds. Unfortunately, this process will repeat the entire fight, as Francois loves to fire his bombs. 
During the times Francois isn't firing bombs in your direction, it will jump around the area and try to smush you. Like with the bombs, just stay away from his hulking body and shoot when he recovers from the fall. 
After you've done enough damage, Francois will begin to bring out secondary enemies. The smaller robots will just be a distraction but they can hurt you if you ignore them completely. The wise thing to do is simply destroy them with a few shots when they first appear.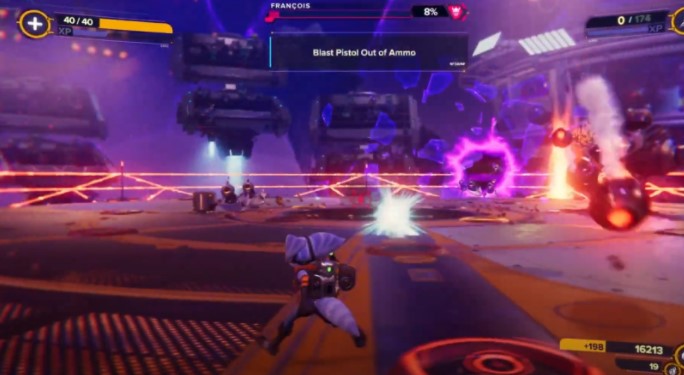 The small robots and Francois's bombs incoming. (Picture: Insomniac Games)
Once the small robots are dealt with, Francois has no other card left to play. He'll continue to fire and jump at you but from this point on, nothing new enters the playing field. So keep firing until you've gotten his health down and the victory will be yours. Any of your favourite weapons work for this fight but we recommend the Mr. Fungi to distract the enemies and the Blast Pistol for sheer damage.