In case you missed the Xbox & Bethesda Games Showcase at E3 this year, you probably missed Microsoft's announcement of its latest exclusive title release, "Redfall". It's a brand new co-op shooter game from Arkane Austin; the same group of developers that brought us the game titles, "Prey" and "Dishonored".
In what looks a bit like Left for Dead, you'll be armed and commissioned to slay - not zombies, but a legion of vampires. If that doesn't pique your interest, then get this: Redfall is an open world co-op shooter, set in the quaint island town of Redfall, Massachusetts. This means that you can team up with other would-be vampire slayers. So, are you ready to venture into the darkness? Alrighty then. Let's get right into it.
What is the Redfall release date?
If fighting off hordes of vampires is your thing, then you'll be pleased to know that Redfall is set to launch in the Summer of 2022. And yes; we get it. It's some time away. But this does give you enough time to assemble your team of vampire slayers, right? The game will launch exclusively on the PC and Xbox Series X/S consoles. It will also be available with Game Pass on launch, from day one.
In case you missed the announcement, check out the official launch trailer below.
Redfall - Gameplay and development
The premise of the game follows the infiltration of vampires into the quaint town of Redfall, in Massachusetts. Bringing with them seemingly unending darkness, the vampires walled off the island to the rest of society and now rule the town by night.
Oh - by the way, Redfall's vampires aren't your run-of-the-mill vamps. They evolved after a scientific experiment went awry and now wield powerful abilities. If that wasn't enough, there are also separatist groups, who worship the vampire legion in hopes of becoming bloodsuckers themselves.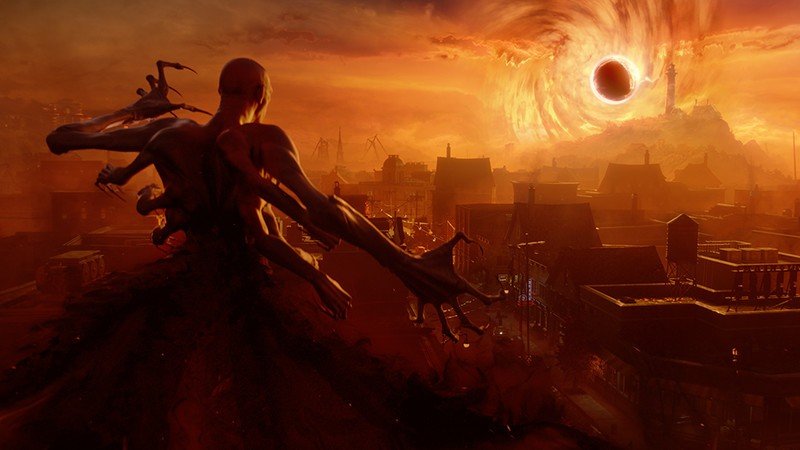 (Picture: Redfall / Arkane Austin)
As mentioned previously, Redfall will be co-op, blending both the single- and multiplayer experience. So if you're too afraid to venture into the darkness alone, you need not worry. Players will be able to form squads of up to four players, each playing their own unique hero in the battle to rid the town of the blood-crazed vermin. We detail the different heroes and their abilities in the next section.
Ricardo Bare, co-creative director at Arkane Austin, said: 
"We wanted players to have an Arkane experience, but with the option of playing with friends this time. As a result, we thought going for heroes with strong personalities and distinctive backgrounds would make for a stronger game. We think players are going to enjoy not only the interaction of their various abilities as they fight the vampires, but also seeing their chemistry develop over time as they liberate Redfall."
(Picture: Redfall / Arkane Austin)
Redfall - The Characters
As previously mentioned, players can look forward to exploring the darkness with four heroes, each with their own, unique backstories and abilities.
Layla Ellison - The youngest member of the team. Layla studied biomedical engineering, before interning at Aevum Therapeutics research facility, where a scientific experiment went horribly wrong. After waking up with a killer headache (literally), she now wields powerful telekinetic powers.
Jacob Boyer - Is an ex-military sharpshooter forcibly gone rogue, who was sent to Redfall before the darkness arrived. Jacob stalks the streets of Redfall, neutralizing his enemy with his supernatural precision.
Remi de la Rosa - Is a combat engineer who lives on the frontlines of the battlefield with her robot compatriot, Bribón.
Devinder Crousley - Is an aspiring inventor and internet-famous paranormal investigator, who wants to prove to the world that vampires exist - if he gets out alive, that is.
Is this enough to get you excited to play the game? We hope so! Redfall looks to be an exciting new addition to our game libraries, with their novel take on the vampire franchise.
Complete with a mix of playstyles, abilities and unique character plots, this co-op game promises to slay big time. So get ready to bite back and reign in blood.
Redfall will be released during the Summer of 2022, exclusively on the PC and Xbox Series X/S game consoles.
For more E3 2021 coverage, check out our general video games section, filled with announcements and explainers on the latest titles.