Frosty Fest is underway in Rocket League, and starting 14th December you can pick up new item rewards, along with thousands of XP points, the new Golden Gift crates and play Limited Time Mode Winter Breakaway.
Here is everything you need to know about the Christmas event and how to get the best out of Rocket League Frosty Fest.
Rocket League Frosty Fest rewards
This year, we see the return of some fan favourite Christmas-themed items like the Peppermint wheels and the Fireworks boost, alongside the Holiday Bow topper to turn your battle car into a present.
(Picture: Psyonix)
The poster boy item though, the Cold Sweater decal, is probably the best looking with a Knitted Yarn paint finish-look screaming holiday cheer. A throwback to Frosty Fest 2017.
Of course, all the rewards are available to players only after completing objectives by playing in the many different playlists that Rocket League offers.
The full list of items and objectives can be checked down below:
Holiday Bow topper: Gain 1 XP Level
Sleigh Queen title: Win one game in a Snow Day Extra Modes Match
Cold Sweater banner: Play 3 Online Matches
Cold Sweater decal: Get  20 Clears in Online Matches
Peppermint wheels: Get 15 Goals, Assists, or Saves in Online Matches
Snowstorm decal: Get 20 shots on Goal in Online Matches
Snowman border: Get a Save and a Win in a single Online Match
Holiday Hearth wheels: Get 20 Centers in Snow Day Extra Modes Matches
Firewords boost: Get 20 Assists in Online Matches
Xmas Lights Decal: Get 15 Saves or Epic Saves in Online Matches
Golden Gift '20: Play 20 Online Matches (Repeatable 5 times)
20,000 XP: Win 10 Online Matches (Repeatable)
These last two are the ones that will help you out the most if you are knee-deep in the Trading community.
You can also pick up a Mr. Floeberg antenna for free in the Item Shop for a limited time. How about that for a Secret Santa?
Rocket League Golden Gift '20 
The Golden Gift crate makes its triumphant return with the 2020 edition. We can expect any item from Uncommon all the way to Black Market from Accelerator, Elevation, and Triumph series.
Playing Rocket League Russian roulette is fun, but if you are not into these luck-based drops, you can always get credits from the Golden Gift '20 crates.
(Picture: Psyonix)
Right now, RLInsider has the Golden Gift '20 crate is priced between 150 to 300 credits each depending on your platform, so you can easily walk away with a 1,000 credit profit or more.
For more Rocket League tips, make sure to check out our Ultimate Trading Guide so you get the best out of every deal.
Rocket League Frosty Fest new game mode and arena
Psyonix hinted at the return of Rocket Labs when announcing Season 2, and it might've blindsided us in the Frosty Fest update, as the new Limited Time Mode Winter Breakaway features 3v3 Snow Day gameplay exclusively on the snowy version of the Throwback Stadium.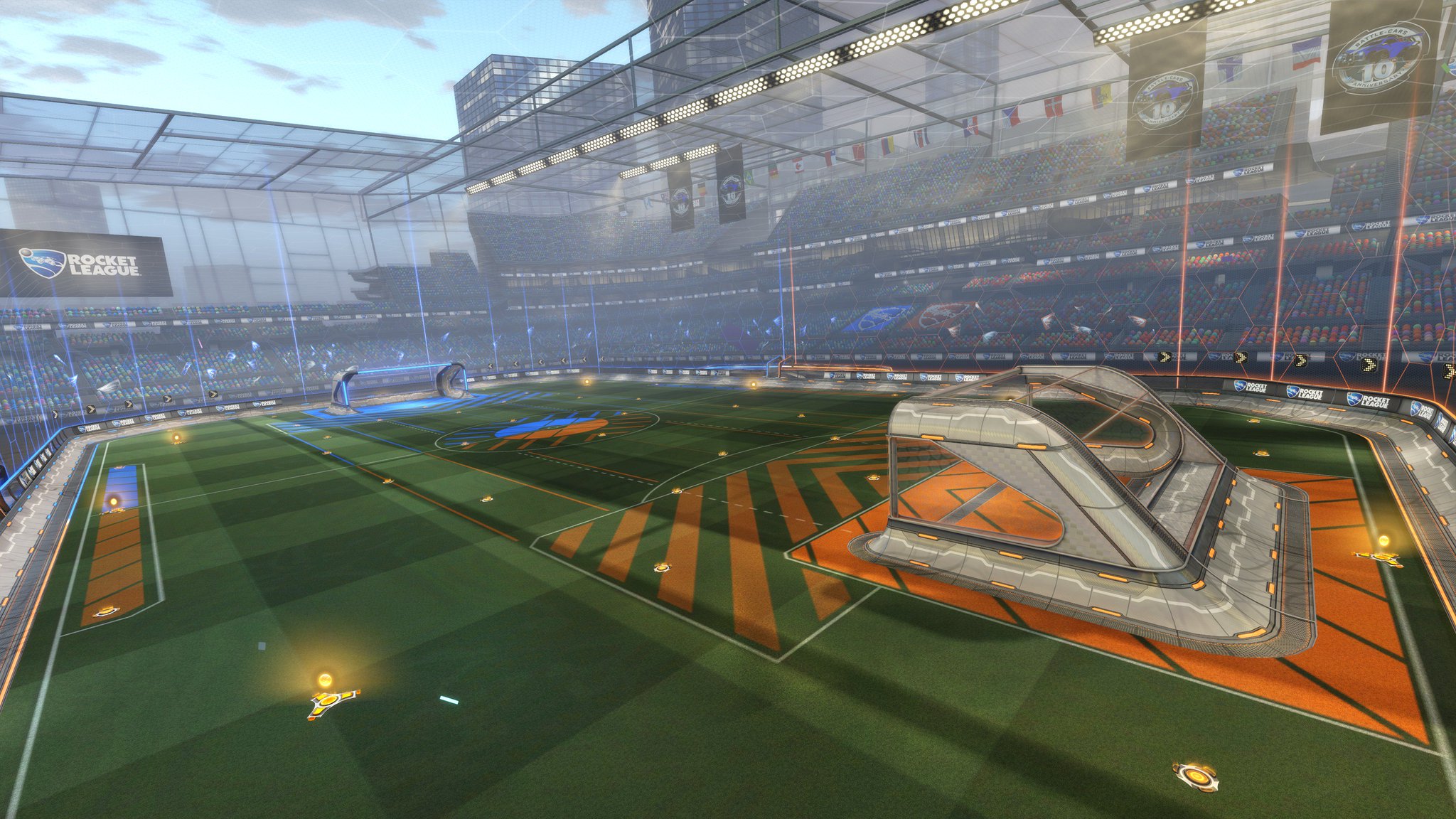 (Picture: Psyonix)
This Throwback Stadium goes way back in the Rocket League lore, being the predecessor of standardized maps. The pitch features two nets separated from the back walls with an added full boost pad behind each goal.
Frosty Fest ends on 4th January, so remember to play the new LTM, redeem your rewards and play Rocket League in holiday-fashion before it's too late.