Devolver Digital once again outdid themselves, delivering another wacky teaser trailer with their trademark humour and silliness.
After several leaks in the last few days, Shadow Warrior 3 is now officially confirmed with the funny and "self-aware" teaser trailer which break the fourth wall and acts as a parody of the reveal trailers.
Legendary fallen corporate shogun Lo Wang is back, along with his not-so-trusty sidekick Orochi Zilla, and together they are on a mission to recapture an ancient dragon they unwillingly unleashed from its eternal prison.

Lo Wang now has hair! (Picture: Devolver DIgital)
The basic premise is the same as the previous two Shadow Warrior games (2013, 2016) developed by Polish studio Flying Wild Hog - fight through levels of demonic hordes in a brutal and bloody fashion by using firepower with devastatingly precise katana strikes, Wang's signature weapon.
In the teaser, Lo Wang(who is not bald anymore!) acts like he's on the line with the marketing team, who's telling him what he needs to showcase during the reveal.
We can see some elements of the gameplay, like the wall running, grappling hook and of course, a fight with demons, full of blood and flying limbs.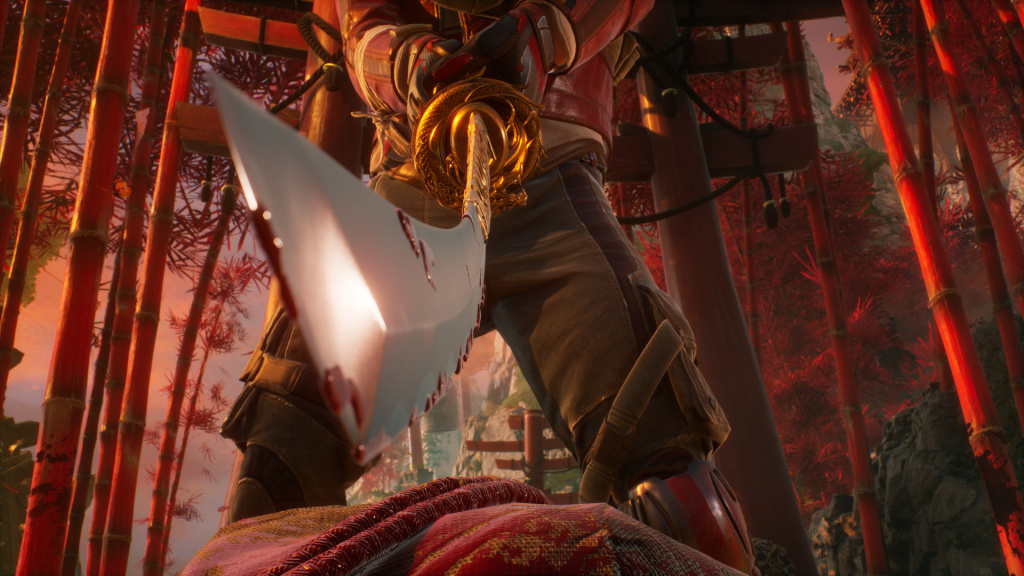 Signature katana is back.(Picture: Devolver DIgital)
Game director Kuba Opoń explains that they are aiming for "a completely fresh experience," and adds: "We hope that Shadow Warrior 3 will feel like a homecoming for those fans that have been with us since the beginning."
We can expect more Shadow Warrior 3 details to be revealed at Devolver Direct digital showcase, scheduled for this Saturday, 11th July at 12 p.m, which you can watch live on Devolver's Digital Twitch Channel.
Shadow Warrior 3 is slated for release in 2021, with PC(Steam) as the currently only confirmed platform.