During the last couple of weeks, Venturebeat journalist Jeff Grubb has been playing an interesting "Twitter game" with his followers and other people interested in what's coming next in the world of gaming.
Apparently, he has a lot of insider information from the gaming industry. And he uses that to make a guessing game where he gives some obscure hints about what will be revealed and when, and people all over the internet are trying to guess what that means.
So far,  he correctly predicted things like Tony Hawk's Pro Skater 1 + 2 announcement and Unreal Engine 5 presentation.
One of the strangest things on his list was "June 2 - Mel Gibson picture" entry. People theorized that this was either Mad Max 2 or something Metal Gear related.
The first one is rather obvious (he's the original Mad Max actor), and the second one is because Snake's portrait in the Metal Gear 2: Solid Snake MSX2 version is based on the likeness of Mel Gibson.
It looks like both of these assumptions were incorrect.
We're here!👋The Motive family is excited to be joining on social platforms to share on who we are, and the work we do. Really, we couldn't imagine a better time to start connecting with everyone online. Let's go. #ourmotive pic.twitter.com/jvT04zmTG3

— Motive Montreal (@motivemtl) May 28, 2020
Motive(Electronic Arts studio in Montreal) has been working on Star Wars: Project Maverick for quite some time, as reported by ex-Kotaku reporter Jason Schreier.
And it looks like this is exactly the game that will be announced on 2 June. You're probably wondering now what Star Wars has to do with Mel Gibson, and the answer is - nothing. The connection is the movie "Maverick" from 1994 with Mel Gibson.
Both Jeff Grubb and Jason Schreier confirmed that this will be about Project Maverick.
Little is known about this game, except for the image you see below, which was data-mined from European PSN store back in March.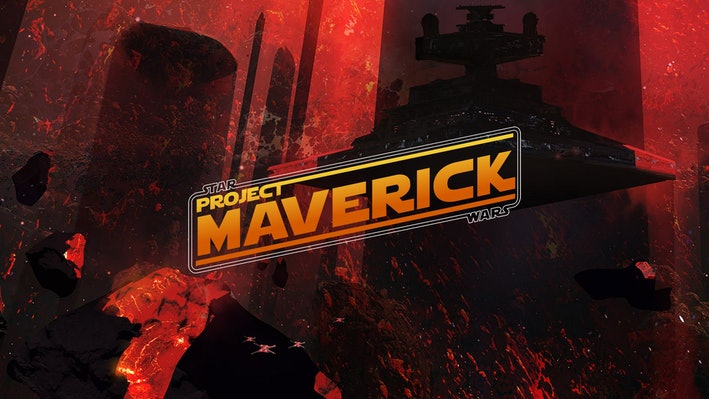 Picture: PSN Store
The teaser image shows a single Imperial Star Destroyer and a small squadron of X-wing fighters on some kind of fiery planet that might be Mustafar, but it is not certain.
The game might be about X-wing fighters and it might be either a co-op or just a multiplayer. Some type of multiplayer is confirmed by the game's Play Together rating of five.
It was also data-mined that beta will possibly come sometime in late 2020.
This, of course, doesn't mean that the game will not have a single-player campaign, but we simply don't have all the pieces of the puzzle right now, and this is all just a guessing game.
Jedi: Fallen Order sequel is rumoured for 2022, so this game will probably be released sometime in 2021. And it will probably be a cross-gen title, given that we already know from leaks that the game will be released for PS4.
Expect more news about this project on 2 June.