Did you read our list of the best Switch exclusives and pick up Nintendo's hybrid console? If so, you're in for a treat. 
Operating between a full home console and a handheld (unless you have the Switch Lite which operates solely as the latter), the Switch's popularity, the rising adoption of USB-C as standard, and the customisation offered by the handheld market has led to plenty of new accessories for the machine.  
That can make it tough to pick the best addition to your console, but you're in luck: we've put together the following list of some handy gadgets and gizmos to help you get the most out of your Switch. 
Honourable mention: If you're fed up of the basic grey or red and blue controllers, there's a ridiculous number of colourful combos of the Switch's trademark Joy Con.  
Pro Controller
Our highest recommendation, Nintendo's Pro Controller is a much more comfortable way of exploring Hyrule or battling friends in Super Smash Bros Ultimate. 
With HR Rumble and Amiibo support, as well as some motion functionality, it's not quite as versatile as the bundled Joy Con controllers (and can seem quite expensive) but it does offer bigger, more comfortable buttons, a much better D-Pad, and improved triggers. 
There aren't quite as many colours as the Joy Con's numerous options, but there are some themed controllers from Super Smash Bros. and Splatoon 2 to find. 
Cases and portable charger 
If you play your Switch primarily on the go, or if you're a Switch Lite owner and have no choice, a case is a must. 
Of course, there's hundreds to choose from. Some carry your Switch and a handful of games, others carry everything from an AC adapter, your dock, and even have space for a Pro Controller. 
For original Switch owners, we'd recommend the Power Shell Case from Nyko. This offers enough room for the console, twelve game cartridges, four SD cards, and has a 5000mAh battery to charge your console when you aren't using it. 
If you're not looking for a case but need something to give your Switch the kiss of life when you're out and about (particularly if you have the older version), we can't recommend a portable battery pack enough – as long as you remember a USB-C cable to plug it in!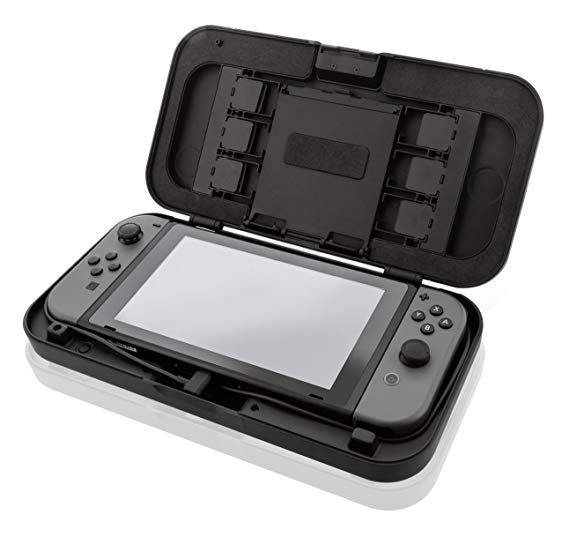 The Power Shell case from Nyko (Picture: Amazon) 
LAN Adapter
Okay, so it isn't the most exciting of accessories, but Nintendo's LAN adapter is the ideal purchase for the budding competitive Super Smash Bros player. 
By connecting to one of your dock's USB ports, the LAN Adapter will let you hardwire your Switch to your router; strengthening (and often improving) your connection to a game's online component. 
You can also link up to ten consoles together by doing this, meaning you're able to give your Mario Kart 8 Deluxe tournaments the network stability they deserve. 
Charging grip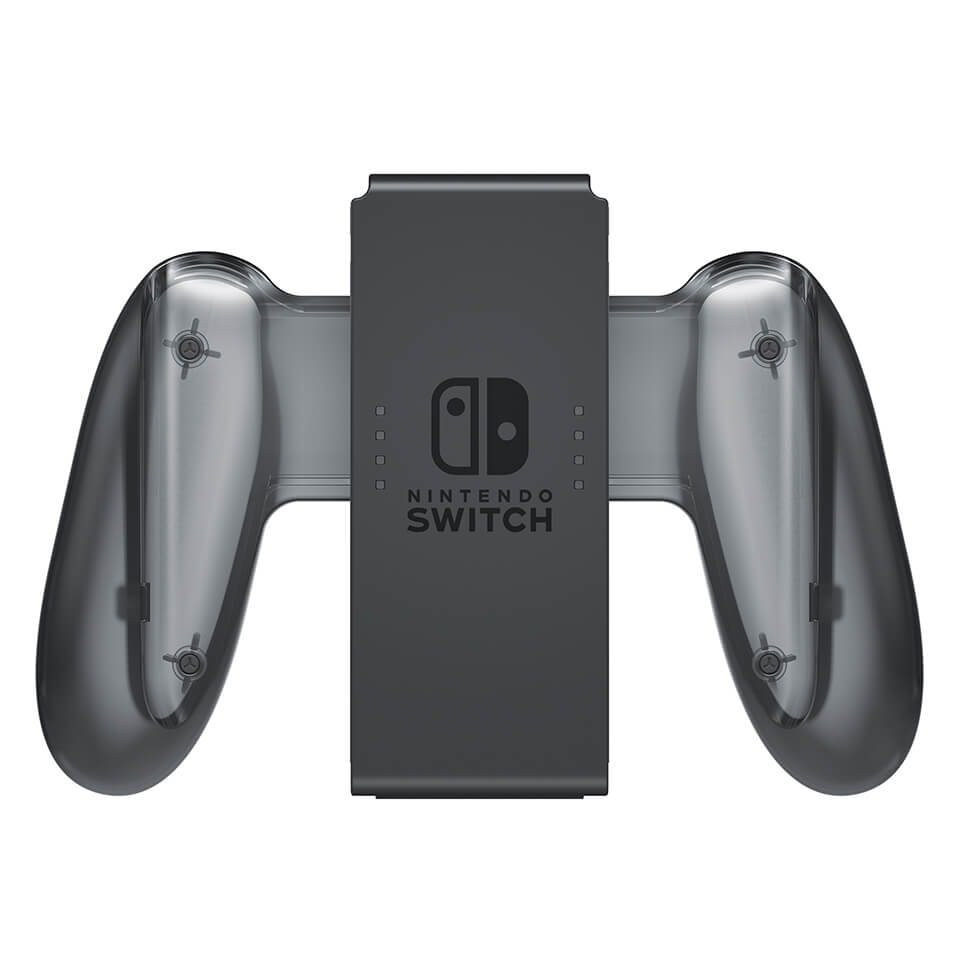 The charging grip is a must-buy (Picture: Nintendo) 
Ideal for players who are most at home with the Joy Con controllers in the grip formation, the official Nintendo Switch charging grip means your controller can last as long as you do. 
It's not the cheapest purchase (£24.99 on Amazon), and we wish Nintendo would put it in the box instead of the standard, non-charging grip – but for now it's a handy add-on, although we'd still recommend the Pro Controller for most people. 
MicroSD card 
This might be a no-brainer, but with so many excellent Switch indies only being available on the eShop (i.e, not as physical media), it can be easy to fill the Switch's measly 32GB of internal storage. 
Thankfully, microSD Cards are cheaper than ever. If you only play physical games you can probably opt for something nice and small, but with cards available up to 2TB (if you're willing to pay), there's plenty of choice.