The general population may have forgotten about the craze of rhythm games that took over videogames in the early 00s, particularly Guitar Hero and Rock Band, however, for a handful of committed enthusiasts, the hype never died. 
One of these die-hard Guitar Hero fans, Twitch streamer CarnyJared, completed a feat that in the eyes of every sane person seemed impossible -- Full Combo Soulless 6, a song so hard not even bots designed to FC tracks could pull it off.
Talking with GINX, Jared explains that this particular song was released as an April Fool's joke back in 2011, coming out before Soulless 4 or 5 as it was deemed "too hard" by ExileLord.
"It was made to be impossible, just comically difficult. The bot that is used for the song preview that is supposed to never miss a note couldn't even do it. Nobody figured it could even be passed, let alone Full Combo'd."
Soulless 6 is part of a collection of tracks created by ExileLord, hailed by the Guitar Hero community as the hardest songs to complete,  with veteran players spending months cracking each section of these tunes to try and come up with an optimized solution for each. These are called Tech FCs.
"Fast forward to 2019 and FrostedGH (now Frifraff) thought that he might be able to achieve a Tech FC, meaning he hits every individual section of the song like a sort of spliced speedrun," Jared reveals. Frifraff uploaded a video of the first Tech FC of Soulless 6 in October of said year. 
The road to completion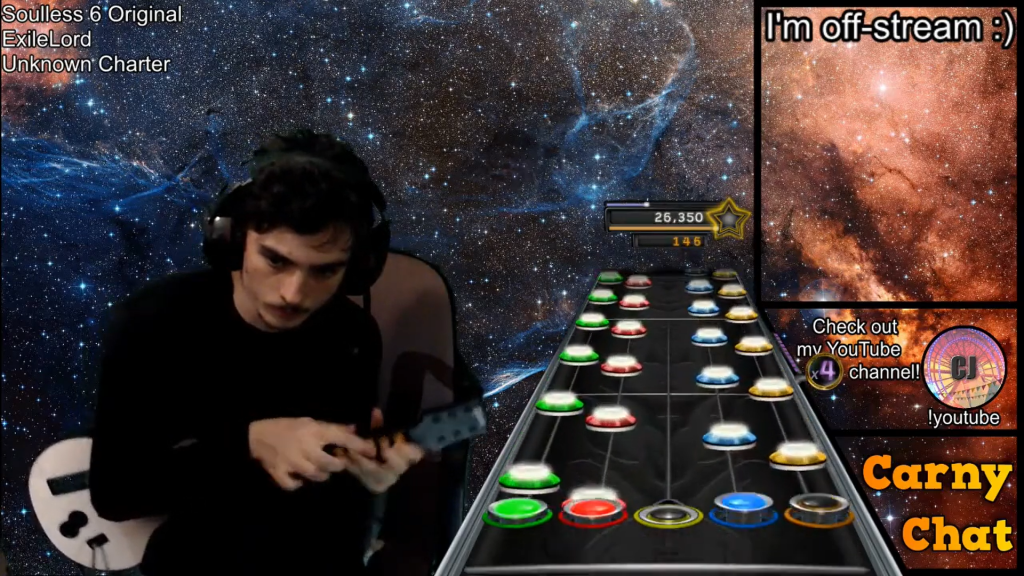 (Picture: CarnyJared)
As Jared pointed out, Frifraff's Tech FC involved multiple guitars with different strum bars and even stance changes that you normally wouldn't have time to pull off while trying a regular Full Combo.
"I wanted to get the Tech FC for myself, but instead prove that it was possible to FC the whole song by doing it on one guitar and never changing guitar position."
In September 2020, Jared managed an already impressive feat, by doing a Tech FC of Soulless 6 using a single guitar. His method involved, strangely enough, a bottle of lube to make his guitar strum bar keep pace with the feared Chorded Verse of the track. 
Yet, that wasn't enough for Jared, who was considering pushing his limits once more by accomplishing a Full Combo. "Since the very first stream after that [the Tech FC], I grinded the whole song and all of the progress is documented on my channel. I even had counters set up on the stream to see how many runs past the certain hard sections it took."
As fate would have it, Jared's will to succeed was tested one final time, as he got ever so close to fulfilling his goal with a slight misinput on the last section of Soulless delaying his dream on 18th April, if only for a day, as he would achieve the impossible on the 19th. 
The legend behind the madness
Like many, gaming for Jared came at a very early age, explaining that Guitar Hero was part of his life since childhood, reigniting his interest years later due to the antics of "mind-blowing" top players.
"My brother and I always competed over the game and a few years down the line when he wasn't really interested anymore, I still loved to play it on my own. I played the console Guitar Hero games every once in a while for many years until about 2017 when I saw that there was still a small community for the game, specifically the PC version of Guitar Hero 3 (GH3) where you could easily modify the game to play custom songs."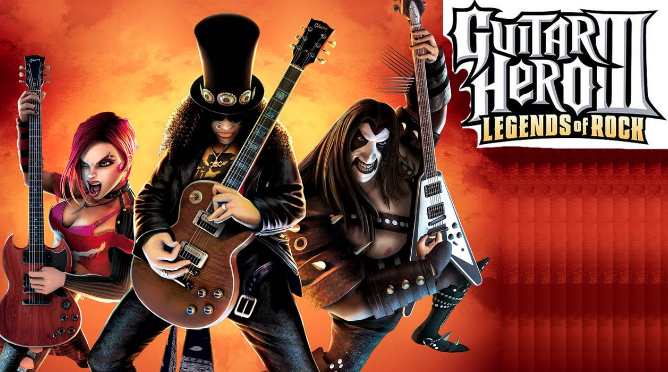 (Picture: Activision)
The current version of the game he and most of the community plays is Clone Hero, a fanmade title that mixes the aesthetics of Guitar Hero Warriors of Rock with the general gameplay of GHIII with some added functionalities players have been asking for. "If you were just a casual player you would notice no difference aside from Open Notes being added to Clone Hero."
You can check out (we highly suggest that you do) CarnyJared on Twitch and YouTube where he regularly streams and updates fans with highlights of his Clone/Guitar Hero journey.